KWPN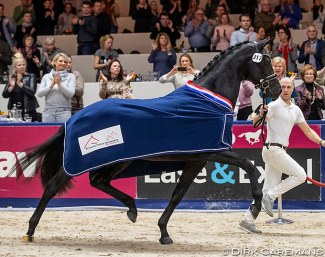 The KWPN breed society has made several changes to its stallion licensing trajectory, following the example of implementations the German studbooks made years ago. There will no longer be a KWPN licensing champion and lunging has become a mandatory phase. 
The Breeding Board Riding Horse and Gelderlander decided on the changes, which will go into effect for the 2019 - 2020 KWPN Stallion Licensing trajectory, starting on 27 November with the pre-selection. 
The changes are the following:
The KWPN Stallion Licensing process will no longer include three phases (first phase was the pre-selection, and phase two and three were held at the Licensing itself), but will be restricted to two phases. 
Dressage stallions will be lunged, but not at the licensing itself like in Germany, but between the first and second phase at the KWPN head quarters in Ermelo. Lunging was first introduced in Germany by the Oldenburg society in 2008.  The KWPN lunging is done by the stallion owner/handler themselves and is not considered an official selection moment, but will provide the licensing committee extra information. 
There will no longer be a KWPN Licensing Champion, but just a lot of premium stallions. KWPN follows the example of the Hanoverian society here, which stopped naming licensing champions back in 2008. The results is that the price highlight of the auction is unofficially considered the licensing champion by the crowds and the absence of the champion's proclamation is by many felt as a greatly missed moment of excitement at the licensing. 
"By doing a premium lot of stallions, the most complete stallions will be extra in the spotlight," the KWPN stated. "This will show in which direction we want to go with breeding. 
Some of the changes the KWPN want to include still need final approval from the Board, which meets on 23 October 2019.
Photo © KWPN
Related Links
Oldenburg Society Revolutionizes Stallion Licensing
Hanoverian Society to Include Lunging in Stallion Licensing Program
Le Formidable, Champion of the 2019 KWPN Stallion Licensing