Germany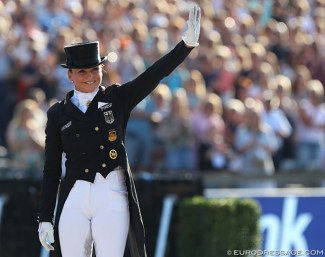 Brand new European Dressage reserve champion Dorothee Schneider has been hospitalized overnight after a riding accident that took place at Gut Ising on 5 September 2019.
Schneider had planned on competing her upcoming Grand Prix horse Quantum Vis in the Louisdor Cup qualifier at Gut Ising this weekend.
Dorothee was about to school 10-year old Hanoverian stallion Quantum Vis (by Quaterback x Gloster) on Thursday, when the accident happened. The normally calm natured stallion spooked while she was mounting him and he bolted.
Schneider fell and injured herself. She was transported to the hospital and stayed overnight for observation, but was not diagnosed with any severe injuries aside from some bruises. 
"She is in the hospital, but will leave this afternoon," Dorothee's husband Jobst Krumhoff told Eurodressage. "There are no severe injuries but she needs some days rest."
Jobst stressed that it was a very unusual situation for the horse to get scared, as "normally he is lovely."
In 2013 Schneider was hospitalized for a head injury when her stallion Kaiserkult knocked her against the head at the 2013 CDI Mannheim horse inspection. She was stitched, but allowed to return home after observation. 
The 50-year old Schneider had a big career highlight year this year, finishing second at the CDIO Aachen and scoring team gold and double individual silver at the 2019 European Dressage Championships in Rotterdam three weeks ago.
Photo © Astrid Appels
Related Links
Dorothee Schneider Celebrates 50th Birthday at 2019 CDI-W Neumunster
Dorothee Schneider Tops 2018 German National Riders Ranking
Dorothee Schneider Sustains Head Injury at 2013 CDI Mannheim