F.O.C.U.S.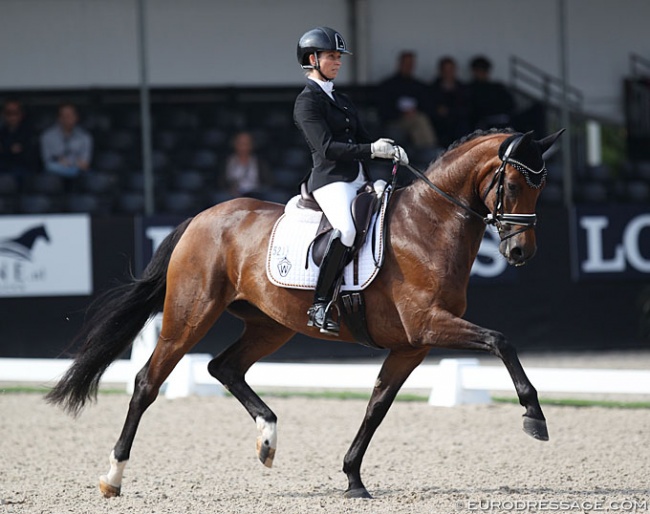 For 32-year old Hedda Droege her breeding project at her yard based in the German Münsterland is reaping the fruits of labour as no less than two of her horses competed at this year's World Championship for Young Dressage Horses in Ermelo.
Hedda bred the 5-year-old Westfalian mare Espe (by Escolar x Dimaggio), which finished 11th with a score of 8.68, as well as the 7-year-old Bonderman (by Belarus x Alabaster), who placed 7th with a score of 80.843 %.
Time to catch up with Hedda, who operates the breeding business as well as trains the young prospects herself. We wondered what the secret to her success is. 
How thrilled are you with the performance of your offspring in Ermelo?
Hedda Droege: Both horses have shown themselves in an excellent way and were able to show off their quality. Their ranking is rather secondary for us, especially in such a field of competitors and with mainly big, tall licensed stallions. At the World Championships, the world's best horses of the same vintage meet. The fact that Espe and Bonderman both qualified is a strong result for our breeding programme in itself. Both horses were sold to Andreas Helgstrand only a few weeks before the World Championships and their new riders, Eva Möller and Betina Jaeger Jensen, were able to ride away on them through the qualifiers with the greatest ease.  I followed the competitions of the two horses very closely and it is fantastic to see how our breeding and training concept works out. Both horses are very cooperative and willing to work under the rider, they always give their best at a show. It goes without saying that a young horse like Espe, with hardly any show experience, can make a mistake in such a setting and with a new rider in the saddle but Espe is really our "proof of concept". I'm thrilled to have her two full siblings, Emma Peel (2015) and Ellis (2016), in the barn. They are developing very promisingly and have already won riding horse tests in Germany. 
How did you build your breeding programme?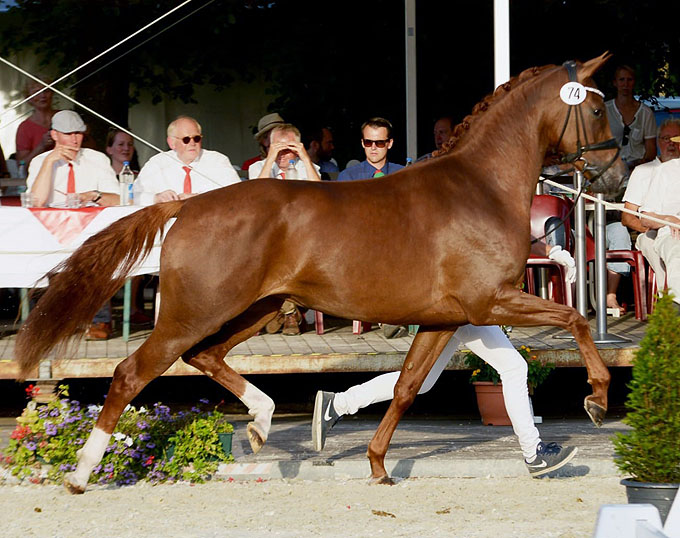 Hedda Droege: My father (Walter) laid the basis for our current mare line. Now it mainly consists of home-bred state premium mares, but if we are really excited by a mare or a certain bloodline, we also buy selected broodmares. When the breeding we often select stallions that have proven their qualities in the big tour and who have proven their character.
We keep some of the best fillies from our mares for future breeding, because only from the best you can get good things. Our Ballerina (by Belarus x Florestan x Upan la Jahrte) is a good example. She was Westphalian Champion Mare in 2016 and would certainly have been an exciting sport horse, but since she comes from our foundation mare Franziska and is one of the few offspring by Belarus, we decided to take her directly into breeding. Last year she got her first foal by Escolar and we are very curious about his development. From our 2016 crop we showed some high-quality mares this year. Lolita (by Vivaldi x Donnerhall) was the first ever Hanoverian registered mare to qualify for the Westphalian Elite Mare Show and she became Reserve Champion. Mayflower (by Millenium x Dimaggio) also placed in the champion's ring. Many of our mares, just like Espe, have so much quality for sport, that we put them under saddle.  Espe already showed such expressive movements as a three-year-old and her active hindquarters in combination with a strong, swinging back made it obvious that this mare belongs into the dressage arena!
You seem to be very careful to compete your youngsters on a regular basis?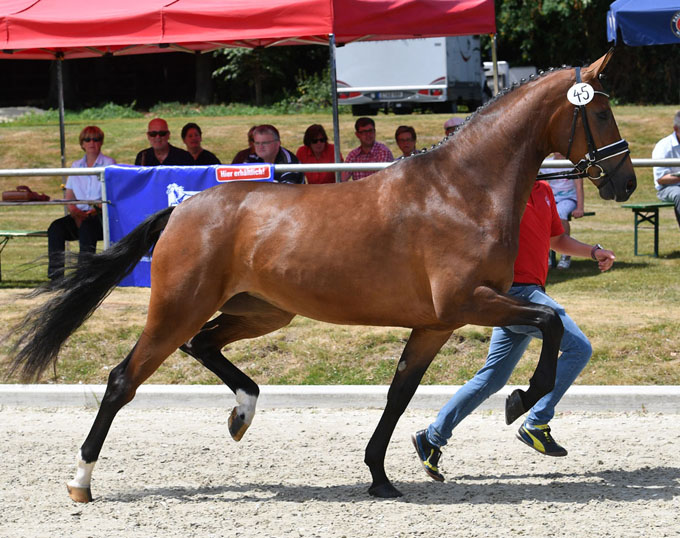 Hedda Droege: We train our young horses very carefully and individually. We use the young horse tests to check their performance and to slowly familiarize them with competition sport. However, the training takes place at home. A well-developed rideability with a high willingness to work are much more important for a young horse than a lengthy list of achievements. We notice that our breeding products are successful from the start and then we know enough.
It is my ambition that new owners will be able to directly compete our horses which have been kept highly motivated by not over-showing them too much. I would like to develop horses that are easy to handle and that master the required movements and exercises both accurately and with confidence. The greatest success for me is when my horses are successful with their new owners. Then I know that we have done a number of things right in breeding as well as in training.
Related Links
Hedda Droege: Homebred Dressage Horses from Youngster up to Grand Prix
Fabelle Noir, Champion of the 2019 Westfalian Elite Mare Show
Hedda Droege's Ernesto Sold to Helgstrand
Ballerina, Champion of the 2016 Westfalian Elite Mare Show
Vienna, Champion of the 2015 Westfalian Elite Mare Show
Hedda Droege Rises to the Top in Under 25 Competition at 2011 CDI Hagen