Westfalian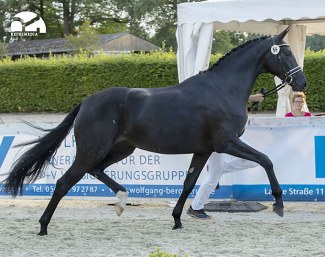 Fabelle Noir was named the champion of the 2019 Westfalian Elite Mare Show in Munster-Handorf on 26 July 2019. 
The Westfalian Breed Championships took place in tropical temperatures and 84 irding horses and coldblood mares were presented for assessment to the committee, headed by Wilken Treu. 
For the 54th time the Westfalian Elite Mare Show took place and this year Fabelle Noir (by For Romance x Gribaldi) became the champion dressage mare. 
Bred and owned by Breeders' Group Fenger, Fabelle Noir scored 8.15 in her mare performance test.
The reserve champion was Lolita (by Vivaldi x Donnerhall), bred by Walter Droege and owned by his daughter, Grand Prix rider Hedda Droege. 
The third ranked mare out of eight that were invited to the champion's ring, was Diagonale (by Dimaggio x Lord Loxley), bred and owned by Karl-August Schulte-Varendorff. 
The next day, on 27 July, the breed show for Westfalian riding ponies took place and Dance Wonder (by D-Day x Genesis) was named the pony mare champion. She's a half sister to the 2014 Licensing Champion Dating AT. Bred and owned by Adolf Theo Schurf, Dance Wonder scored 8.40 in her mare test. 
Results - 2019 Westfalian Elite Mare Championship
1. Fabelle Noir (by For Romance x Gribaldi) - Bred and owned by  Breeders' Group Fenger
2. Lolita (by Vivaldi x Donnerhall) - bred by Walter Droege - owned by Hedda Droege
3. Diagonale (by Dimaggio x Lord Loxely) - bred and owned by Karl-August Schulte-Varendorff
4. Venezia (by Veneziano x Wolkentanz II)  - bred and owned Franz-Georg Ottmann
5. Beliza (by Benicio x Status Quo) - bred and owned by FK Sporthorses
6. Deia HS (by Dimaggio x Show Star) - bred and owned by Henrike Sommer
7. Bella (by Benicio x Ehrenpreis) - bred and owned byZG Ulmker
8. Mayflower (by Millennium x Dimaggio) - bred and owned by Hedda Droege
Photo © Guido Recki
Related Links
Gloria Named Champion of the 2018 Westfalian Elite Mare Show
Ratina B Named Champion of the 2017 Westfalian Elite Mare Show
Ballerina, Champion of the 2016 Westfalian Elite Mare Show
Vienna, Champion of the 2015 Westfalian Elite Mare Show
Rhianna, Champion of the 2014 Westfalian Elite Mare Show
Dimma, Champion of the 2012 Westfalian Elite Mare Show in Handorf
Florenciana F Named 2011 Westfalian Elite Mare Champion in Munster-Handorf