Italy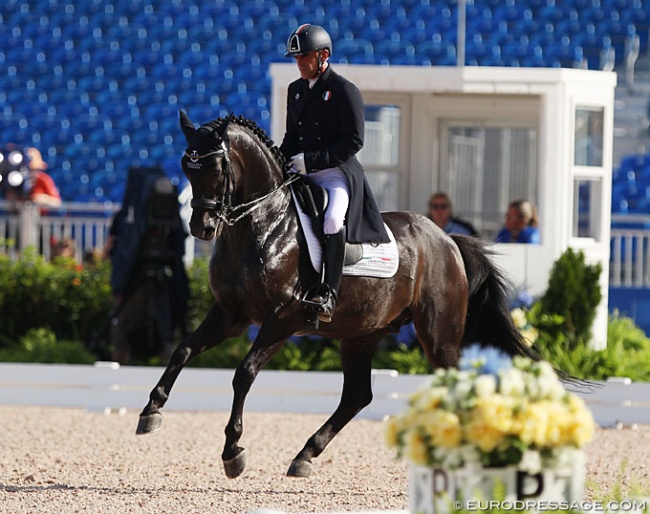 Totally befitting the inexplicable modus operandi of the Italian Equestrian Federation (FISE), Italy has decided last minute not to send any riders at all to the 2019 European Dressage Championships in Rotterdam, The Netherlands, on 20 - 25 August 2019.
Yet another undisclosed, last minute rule change/interpretation of the qualification criteria has led to the non-selection of Italian riders for a major championship. FISE has a year-long history in dodgy team selections and rule changes.
Italy's two highest scoring riders (Pia Laus-Scheider, Riccardo Sanavio in 2018 as he did not show in 2019 with an injured horse) are not in the Rotterdam because of disinterest or injury. Russian Miloserdova, who declared for Italy last year, is not yet eligible to compete for Italy at a Championship until 2020.  However, there were five more riders that achieved the FEI Minimum Eligibility Scores of 2x 65% and were eager to represent their country at the  2019 show season highlight. A sixth rider, Valentina Truppa, has the same score average as the other five candidates but her horse is injured so not up for team selection.
FISE asked the five, which included 2018 WEG Team rider Pierluigi Sangiorgi, Francesco Zaza, Silvia Rizzo, Nausica Maroni and Roberto Brenna, to go to  Milan on 15 July for a closed meeting about Rotterdam selection. They were asked by FISE Dressage Director Cesare Croce to write a personal letter in which they had to admit that they would not be big scorers in Rotterdam, but beg the FISE board to be allowed to represent their country and gain valuable experience.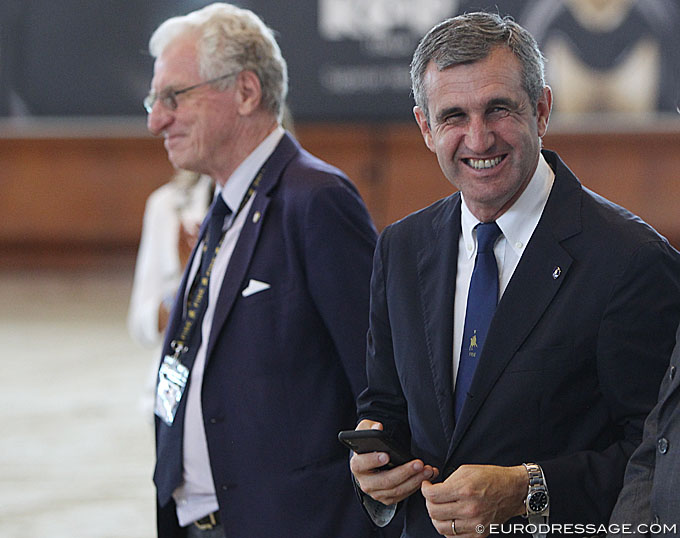 On 1 August 2019, one day before the definite entry closing date, FISE led by managing director Marco di Paola decided that these riders were not allowed to go on a self-funded trip to Rotterdam. They based their decision on the report and recommendations provided by the technical dressage staff.
"In Italy all technical sport decisions are in the exclusive responsibility of FISE President and Board," Croce told Eurodressage. "The President and Board decided on the basis of what was deliberated with the dressage program 2019 and well known to all athletes (sent to them) in a 20 march 2019 letter." 
The 20 March letter re-iterated the selection criteria set in February.
"Nobody had the minimum FISE requirements expected from the Department FISE Program," Croce added.
Remarkable Rule Interpretation For Non Selection
The riders were initially given no explanation by FISE but after strong pleading and with threats of legal action, they were sent a letter in which FISE sport director Francesco Girardi stated that "the technical growth of the discipline was highly appreciated, highlighted by the development of international activity and by the presence at competitions abroad of a growing number of pairs also in the Senior level".
Astoundingly Girardi called in an unexisting rule that the riders had to have "participated and completed three Grand Prix AND three Grand Prix Specials as required by the Dressage 2019 Department program."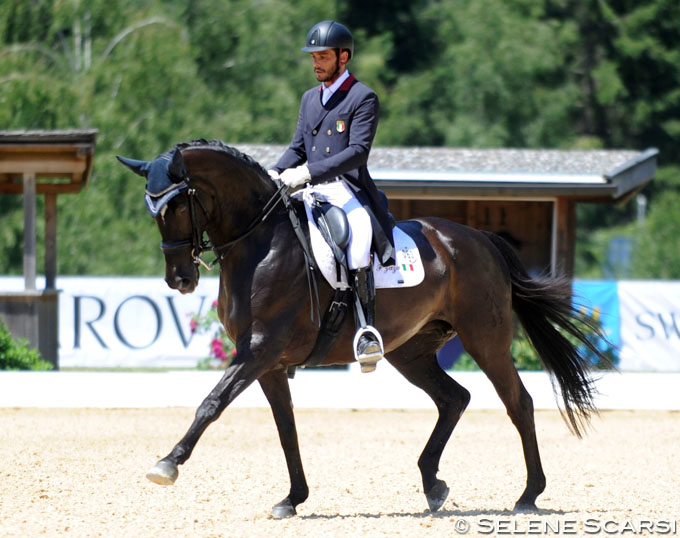 This rule seems an interpretation of what FISE had originally announced as their way of sorting the Grand Prix riders for team selection. If more than four riders were to achieve the MES, than the average of 3 Grand Prix tests and 3 GP Special tests would be calculated to rank the riders up for team selection. It was never set as a selection criterium.
The FISE Rotterdam selection criteria were clearly set in February 2019 and were:
the average of the three best results in a GP and GP Special in a CDI or CDIO as of 15 February 2019
the top score in the GP and GPS in a CDI / CDIO in the last 3 months before the nominative entries for the European Championships
the FEI Riders ranking
Only results achieved at CDI's outside of Italy were taken into account.
Sangiorgi, Zaza, Rizzo and Nausica as well as Roberto Brenna fulfiled these criteria but were the only five riders willing and able to go to Rotterdam, yet were denied a starting place, not as a team rider, nor as individuals.
Losing Face over a Last Team Place or Gaining Experience?
Only two weeks ago, Italy successfully hosted the 2019 European Youth Riders Championships at Horses Riviera Resort in San Giovanni in Marignano. Riders were thrilled about the organisation, the facilities, the location, and the atmosphere and Italy had made a tremendous effort in setting the bar high for future European Championships for all four age categories (Children, Junior, Young Rider and Under 25 Grand Prix).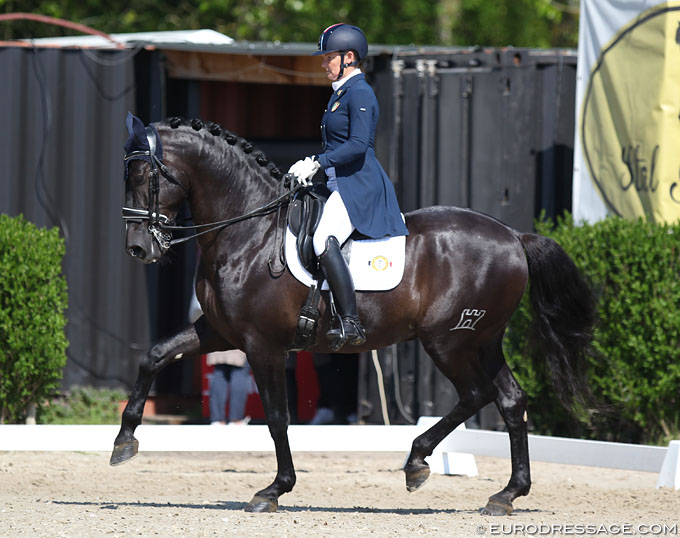 During the main press conference it was stressed by the FEI and chef d'equipes that is paramount for youth divisions to be kept together at one event, so that the younger generation can see the elder, higher level Grand Prix riders compete and be inspired and motivated by them.
Italy was one of four countries that was able to present complete teams of four riders in all four age categories, including Under 25 Grand Prix. The Under 25 GP team ended last, but the riders got the opportunity to immerse themselves in the educational experience of competing at the highest level for their age group. Hereby Italy made a strong effort and statement as a developing dressage nation. It is gaining ground each year  and FISE had shown their willingness to promote dressage as a discipline in its own country.
Unfortunately for the senior Grand Prix riders the tables are turned and do not get sent to their continental Championships with the excuse that Italy would lose face if a last team place would be achieved. Girardi stated in his letter to the riders that the Rotterdam team was expected to finish "between fourteenth and sixteenth (last) place giving Italian Dressage a technically less qualitative image."
The country's developing and senior Grand Prix riders experience this as a massive blow to their work hard to achieve their qualifications, no matter what their ranking as a team in Rotterdam would be. By not sending riders to Rotterdam, FISE gives a clear sign to its youth riders that their federation will not support them at the highest level of dressage sport until they score close to 70%.
"The experience must be achieved in international competition in order to participate with a competitive team at European Championships," Croce concluded. 
Fifteen teams have been declared for Rotterdam. Eurodressage inquired with dressage score statistician David Stickland what the estimated team placings would be if Italy were to send a team. The difference between FISE's preferred team and the riders that wanted to go as a learning experience would likely have been just one or two spots.
Related Links
Italian Team Selection Criteria for 2019 European Championships Set
Francesco Girardi Appointed Ad Interim FISE Dressage Director
Cesare Croce Suspended as Italy's Dressage Director After Arrest
Enzo Truppa's Students Not Available for 2017 Italian Team Selection
FISE Drops Lawsuit Against Enzo Truppa and Reaches Settlement
FISE Sues Truppa for the Sale of Eremo del Castegno
Italy Bends Own Rules and Sends Team of Four to 2013 European Dressage Championships
Italian Tragedy: Italian Equestrian Federation's Board of Directors Disbanded
Italian Equestrian Federation Elects New Board and Hires David Holmes