Italian Dressage News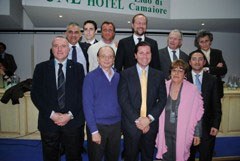 New changes to the organization of the Italian Equestrian Federation have been made. A new board of directors has been elected by the Italian Equestrian Federation (FISE) on 27th February 2010 and president Andrea Paulgrosss hired Brit David Holmes as FISE Sport Director.
On 4 January 2010 six old board members resigned to enforce the minority four to step down as well and have a new board elected. It was said by Italian insiders that this resignation was a strategic act to remove those four, who were more critical of Paulgross' management.
The new members of the board include Mariuccia Grandinetti, Francesco Vergine, Franco Guerzoni, Federico Forcelloni , Antonio Giovannoni, Mario Gatti, Antonio Verro as well as rider representatives Stefano Brecciaroli and Fabrizio Ambrosetti and trainer representative Lalla Novo.
The newly elected members stated on the official FISE website that they are all in favour of the current president. Paulgross said that, "the crisis is behind us. Now I can show all my enthusiasm to finally have a Board that I am convinced of will allow a big job to be done."
David Holmes Appointed FISE Sports Director, Succeeding Danese
On of the first initiatives Paulgross took since the election of the new board was hiring Brit David Holmes as sports director. Holmes was previously chief executive of British Dressage and briefly worked for the FEI as Director of Sports. The FEI surprisingly thanked Holmes for his services in November 2009. Holmes will now be active in Italy to develop the internal structure of the federation and stimulate Italian equestrianism nationally and internationally.
"I am confident that the competence and enthusiasm of an internationally renowned director such as David will be the ideal basis to work in the best interest of our federation. Like this we can grow to new heights," said Paulgross.
David Holmes is replacing Marco Danese who is leaving FISE as sports director on 1 April 2010 after 28 years of loyal duty. "It was a very sad decision for me to leave FISE," Danese told Eurodressage. "I had to realise that in spite of my co-operation the work conditions of serenity and mutual trust were no longer existant."
The Italian Equestrian Federation not only covers the Olympic disciplines but also supports equestrian disciplines not recognised by the FEI. The FISE has to show great commitment and co-ordination to fulfil the needs of each discipline. "The path for FISE is to provide more suitable services for the specific requests of its members," Danese explained. "This means we have to take advantage of the positive impact of top level sport results (editor's note: for Italy this is show jumping), which surely have an important impact on our sport and media."
Holmes is very enthusiastic about taking op his new Italian position. "I can't wait to start working with President Paulgross, with the board of directors, the staff of FISE and anyone involved in the Italian equestrian world to make the sport grow nationally and internationally. I am extremely grateful to the Italian Federation for giving me this great opportunity. It will be wonderful to engage myself in support of the athletes in the upcoming months and in other trialing situations. I will put all my enthusiasm and experience at the service of my new team today. "
Related Links
Italian Tragedy: Italian Equestrian Federation's Board of Directors Disbanded 
Abrupt Exit for David Holmes, FEI Director of Sports