2019 Preis der Besten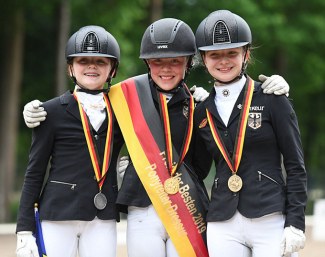 Pony rider Antonia Busch-Kuffner, children rider Alegra Schmitz-Morkramer, junior Valentina Pistner, and young rider Semmieke Rothenberger became the winners of their divisions at the 2019 Preis der Besten in Warendorf on 25 - 26 May 2019.
The Preis der Besten is a youth riders championships held exclusively in Germany. It is also the first important selection event for team nomination for the summer's European Championships for pony, children, junior and young riders. 
Antonia Busch-Kuffner left no doubt about it that she was in charge of the pony division aboard her former Bundeschampion, 8-year old stallion Daily Pleasure (by HB Daylight x Dressman). With two winning rounds that earned her 73.333% and 76.195%, she climbed on the highest step of the podium. FEI pony level new comer Rose Oatley showed much routine and ease on the 9-year old palomino Daddy Moon (by Daddy Cool x Capri Moon) and finished in silver medal position. They scored 72.205% and 74.634%. The more experienced Johanna Kullmann and her routinier, 15-year old buckskin gelding Champ of Class (by Champion de Luxe x Dornik B) slotted in third overall after placing second in round one (72.744%) and third in the second round (72.366%).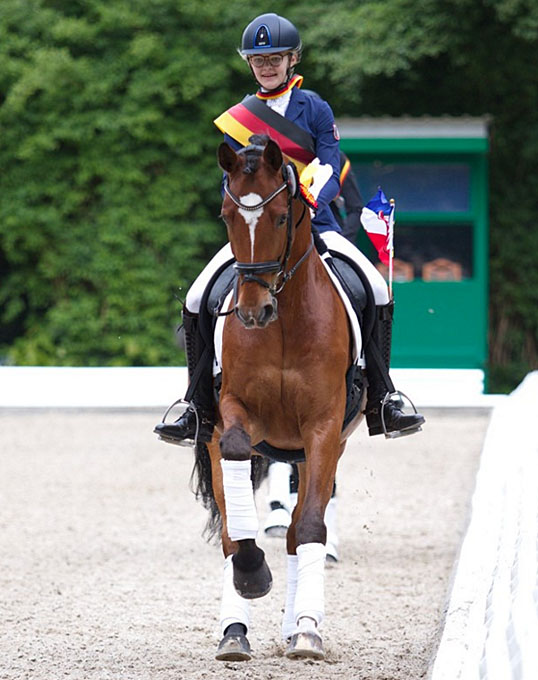 "Rose is only 11 years old and rode her first FEI tests 8 weeks ago. She has developed herself well, just like Antonia. She made a quantum leap between 2018 and 2019. Of course these girls are riding good ponies, but it's notable how well they develop as riders," said German pony team trainer Connie Endres. "It's nice to see that many young, strong combinations are coming up. We have a good developing group in pony dressage, also in quantity."
In the Children's division for 12 to 14-year olds, Alegra Schmitz-Morkramer was in command placing first and second overall. As the results of only the best scoring horse counts, in  her case the 7-year old Holstein Lavissaro (by Lissaro van de Helle x Aljano) with 75.867% and 74.438%, the silver medal went to Lisa Steisslinger on the 14-year old Hanoverian mare Havanna Negra (by Hohenstein x Wolkenstein II). This pair, which already won individual silver at the 2018 European Children Championships, scored 70.967% and 71.594% in Warendorf. The bronze medal went to podium new comer Clara Paschertz aboard her 15-year old Hanoverian Belvedere (by Belissimo M x Dream of Glory). They posted 71.567% and 70.406%
"I'm always quite nervous before my tests, but as soon as I'm riding it goes better," said Schmit-Morkramer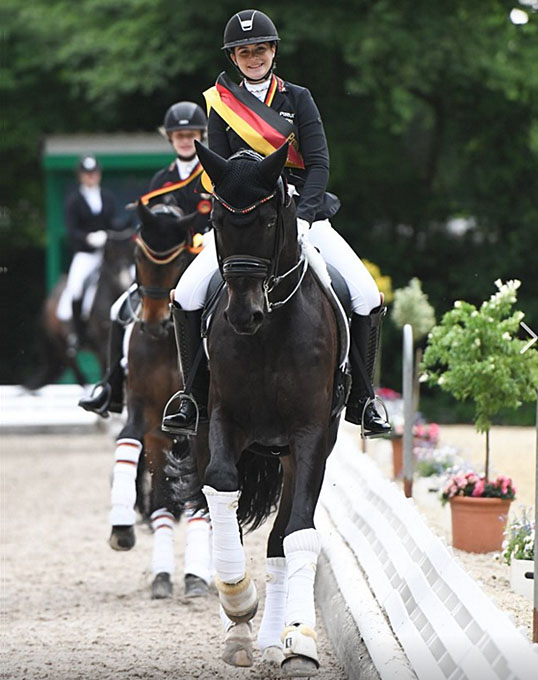 Junior rider Valentina Pistner took her first Preis der Besten title aboard her 11-year old Oldenburg gelding Flamboyant (by Fidertanz x De Niro). She scored 72.108% (1st) and 73.026 (2nd) % for the lead. Her two fellow companions on the podiums were former pony riders Lucie-Anouk Baumgurtel and Anna Middelberg. Baumgurtel scored silver aboard the 10-year old Hanoverian mare Sweatheart FH (by Scolari x Hohenstein) with 71.270 (2nd) and 73.105% (1st). Middelberg and the liver chestnut 8-year old Hanoverian gelding Blickfang HC (by Belissimo M x Brentano II) were good for bronze after earning 69.649 (3rd) and 72.605% (3rd). 
"Last year year we lacked some relaxation once in a while and that has improved," said the 16-year old Pistner about her training over the winter months. Before she goes into the arena she has her lucky ritual: "We also give Flamboyant a kiss on the nose before the test and we kept doing that, so it has become a ritual."
Since 2012 Semmieke Rothenberger has been winning the Preis der Besten from ponies, through juniors up to young riders. Only in 2017 did she miss out on the title, but in 2018 she returned on the highest step of the podium and also this year she was favoured by the judges. Aboard the 12-year old Hanoverian mare Dissertation (by Don Crusador x Gluckspilz), Semmieke scored 77.079% in the first round and 77.158% in the second to take a very convincing lead and the overall title.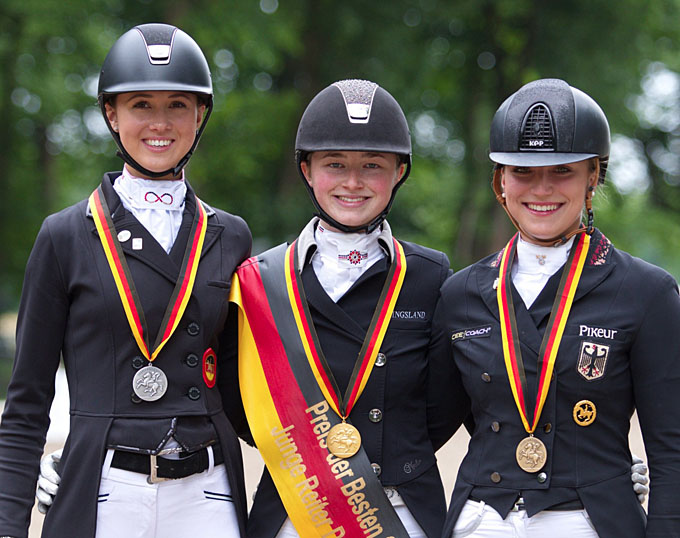 Lia Welschof and the 12-year old Hanoverian gelding Linus K (by Locksley II x Prince Thatch xx) landed second place after placing second in the first round (74.447%) and fourth in the second round (73.816%). Professional rider Alexa Westendarp and her home bred 8-year old Hanoverian mare Four Seasons (by Furstenball x Fidertanz) were good for bronze with 73.658% (3rd) and 72.868% (6th). 
"I'm super happy of the way Daisy showed herself here and I'm very pleased with both rounds," Rothenberger commented after her seventh Preis der Besten title.
Photos © Mirka Nilkens / Sina Schäper
Results - 2019 Preis der Besten
Pony Riders
1 Busch-Kuffner,Antonia-  Daily Pleasure - 73,333% -  76,195% --- 149,528%
2 Oatley,Rose - Daddy Moon - 72,205% -  74,634% --- 146,839%
3 Kullmann,Johanna - Champ of Class - 72,744% -  72,366% --- 145,110%
(0 Busch-Kuffner,Antonia - Kastanienhof Cockney Cracker -  69,692% -  72,000% --- 141,692%)
4 Baumgürtel,Lana-Pinou - Massimiliano -  70,385% -  71,171% --- 141,556%
5 Baumgürtel,Lucie-Anouk - Coriander - 71,282% - 70,244% --- 141,526%
6 Middelberg,Lara - Drink Pink -  71,103% -  70,341% --- 141,444%
7 Benner,Shona - Der kleine Sunnyboy - 69,615% -  71,390% --- 141,005%
8 Wulffen,Paulina von - Dujardin B -  69,846% - 70,220% --- 140,066%
9 Duen,Sophie Luisa - Del Estero - 68,872% -  70,293% --- 139,165%
10 Fetzer,Julian - Daddy's Daydream - 68,128% - 70,951% --- 139,079%
Children
1 Schmitz-Morkramer,Alegra - Lavissaro -  75,867% - 74,438% --- 150,305%
(0 Schmitz-Morkramer,Alegra - Tropensonne - 73,900% - 71,281% --- 145,181%)
2 Steisslinger,Lisa - Havanna Negra -  70,967% - 71,594% --- 142,561%
3 Paschertz,Clara - Belvedere - 71,567% - 70,406% --- 141,973%
4 Schwierking,Kenya - Dinos Boy - 69,733% - 70,813% --- 140,546%
(0 Steisslinger,Lisa - Caddylack- 70,800% - 68,688% --- 139,488%)
5 Holtfreter,Marie - Frieda Gold H - 69,833% - 69,281% --- 139,114%
6 Müller,Antonia - Fleur S -  70,600% - 68,469% --- 139,069%
7 Rentrop-Schmid,Charlotte - Prinzess -  69,467% - 67,281% --- 136,748%
(0 Holtfreter,Marie - Desert Inn -  65,800% - 70,188% --- 135,988%)
8 Kurp,Antonia Elisa - Davinio -  67,867% - 68,031% --- 135,898%
9 Usbeck,Marlene - Adriano -  70,433% - 65,375% --- 135,808%
10 Bomberg,Jona-Emily - Sinatra M - 66,400% - 68,563% --- 134,963%
Junior Riders (top 10 only)
1 Pistner,Valentina - Flamboyant OLD - 72,108% - 73,026% --- 145,134%
2 Baumgürtel,Lucie-Anouk - Sweetheart - 71,270% - 73,105% --- 144,375%
3 Middelberg,Anna - Blickfang HC - 69,649% - 72,605% --- 142,254%
4 Schrödter,Jana - Der Erbe - 69,459% 4 71,789% --- 141,248%
5 Wulffen,Elisabeth von - Babylon - 69,324% 5 71,211% --- 140,535%
6 Collin,Luca Sophia - Descolari - 69,135% 7 70,684% --- 139,819%
7 Linsenhoff,Liselott Marie - Danönchen OLD - 68,432% 6 71,026% --- 139,458%
(0 Wulffen,Elisabeth von - Dancing World - 68,757% 12 69,105% --- 137,862%)
8 van Loon,Emely - FBW Despereaux - 67,757% 10 69,763% --- 137,520%
9 Gömmer,Emma - Sir Robin Off Loxley -  68,568% 14 68,947% --- 137,515%
10 Schmidt,Henriette - Rocky's Sunshine -  66,649% 9 70,289% --- 136,938%
Young Riders (top 10 only)
1. Rothenberger,Semmieke - Dissertation - 77,079% - 77,158% --- 154,237%
2. Welschof,Lia - Linus K - 74,447% - 73,816% --- 148,263%
3. Westendarp,Alexa - Four Seasons - 73,658% - 72,868% --- 146,526%
(0 Welschof,Lia - Don Windsor OLD - 72,026% - 73,947% --- 145,973%)
4. Holzknecht,Paulina - Wells Fargo - 72,500% - 72,895% --- 145,395%
5. Netz,Raphael - Dior - 70,684% - 73,868% --- 144,552%
(0 Netz,Raphael - Franziskaner -  70,053% - 71,948% --- 142,001%)
6. Erbe,Helen - Fürst Kaspar- 70,474% - 70,711% --- 141,185%
7. Michels,Luca - Rendezvous -  70,895% - 69,579% --- 140,474%
(0 Westendarp,Alexa - Belmore - 69,763% - 70,605% --- 140,368%)
8. Reef,Sophie - Rue Noblesse -  69,684% - 69,842% --- 139,526%
9. Söder,Selina - Scuderia - 68,158% - 71,026% --- 139,184%
10. Sieverding,Marlene - Fürst Levantino -  70,500% - 68,579% --- 139,079%
Related Links
Feldhaus, Steisslinger, Pistner, Rothenberger Win 2019 Preis der Besten Qualifier in Kronberg
Middelberg, Schmitz-Morkramer, Schmidt, Westendarp Win 2019 Preis der Besten Qualifier in Hagen
Previous Winners
Baumgurtel, Schwierking, Erbe, Rothenberger Win 2018 Preis der Besten
Baumgurtel, Horstmann, Becks Win 2017 Preis der Besten
Schuster, Rothenberger, Becks Win 2016 Preis der Besten
Rothenberger and Becks Win 2015 Preis der Besten
Rothenberger, Abbelen, Rothenberger Win 2014 Preis der Besten
Photo Report: Rothenberger, Von Danwitz, Niemann Win 2013 Preis der Besten Title
Rothenberger, Niemann, Schurmann Win 2012 Preis der Besten
Linnemann, Schutte, Luttgen Win 2011 Preis der Besten
Photo Report: Krieg, de Ridder and Lutkemeier 2010 Preis der Besten Champions
Rothenberger Kids and Sieber Win 2009 Preis der Besten
Photo Report: 2008 Preis der Besten
Photo Report: 2007 Preis der Besten
Photo Report: 2006 Preis der Besten
Scores: 2004 Preis der Besten
Scores: 2003 Preis der Besten
Scores 2002 Preis der Besten
Torloxten and Giesen In the Picture at 2001 Preis der Besten
Scores: 2000 Preis der Besten
Kroncke, Kroncke and Maiwurm Win 1999 Preis der Besten