2018 Preis der Besten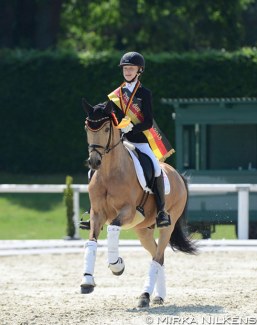 Pony rider Lucie-Anouk Baumgurtel, children's rider Kenya Schwierking, junior rider Linda Erbe, and young rider Semmieke Rothenberger became the winners of the 2018 Preis der Besten in Warendorf, Germany, on 25 - 27 May 2018. 
The Preis der Besten is a youth riders championships held exclusively in Germany. It is also the first important selection event for team nomination for the summer's European Championships for pony, children, junior and young riders. 
Baumgurtel On Repeat
After two European Champion's title, the 14-year old Lucie-Anouk Baumgurtel continues to be the measure of all things in the pony dressage world, and certainly in Germany. Aboard her top mount Massimiliano (by Monsun P x Cap Cennedy N) she won the first round with 76.051% and the second round with 75.439%.
"The second round was not as crisp clear as the first one, but everything they do is always through and supple, in good self carriage and relaxed," said German pony team trainer Cornelia Endres about the winning pair. "In each of her rides we see fine, sensitive riding."
Moritz Treffinger and his 10-year old liver chestnut mare Top Queen H (by Top Anthony II x Dark Rubin) were the silver medalists with 73,718% (2nd) and 73.488% (4th). 
"My goal was simply to have fun here," said the 14-year old Morit, who has been riding his mare for already 3 years. "She always works so well with me. The extensions are the most fun to ride with her.
Jana Lang and Nadine Krause's 12-year old stallion Cyrill (by Champion de Luxe x Power Man) got the bronze with 73,103% (3rd) and 73,366 (5th).
"Cyrill is always very reliable and correct," said Endres. Lang also rung in, "I can learn so much from him."
Kenya Schwierking Wins Inaugural Children's Title
Kenya Schwierking became the winner of the very first, inaugural Preis der Besten held in the children's division.
The German Equestrian Federation has decided to officially host this division at its Preis der Besten as a selection event for the 2018 European Children Championships in Fontainebleau, France.  A group of 15 children riders has been selected to compete in the trials. A first one was held last week in Wiesbaden and the Preis der Besten was the second event. 
The 13-year old Kenya Schwierking rode the 17-year old Hanoverian bred Dinos Boy (by Del Piero x Falkland) to victory with a double 8.3 score and the title. Lisa Steisslinger and the 13-year old Hanoverian mare Havanna Negra (by Hohenstein x Wolkenstein II) got silver with an 8.6 and 7.8 score. Alina Hahn and the 7-year old mare Riana (by Royal Classic x Laudabilis). She got 8.7 in the first round and finished with 7.7 in the second round. 
"We can conclude that the kids have improved themselves since Wiesbaden," said children's team selector Caroline Roost. 
Linda Erbe Goes from Silver to Gold
German team rider Linda Erbe and the 8-year old German Sport Horse bred Fierro (by Furst Wettin x Eskadron) were undefeated on the weekend in Warendorf. She won the first round with 73.73% and upped the ante on Sunday with a 74.605%. 
"I can't go better than today," Erbe said on Sunday. Linda won silver in 2017 and now grabbed the gold. "The best of the best meet here at the Preis der Besten. It is a very high level."
The 15-year old Valentina Pistner seems to have found her match in the newly acquired Nurnberger Burgpokal winner QC Flamboyant (by Fidertanz x De Niro). After having competed licensed stallion Lissaro van de Helle at junior level, it is the 10-year old Oldenburg bred Flamboyant who has unlocked a new level for her. The pair scored 71.811% (3rd) and 72.947% (2nd) to finish second overall. 
"I rode a bit more quiet on Sunday and had a good feeling," said Pistner at the end of the weekend. 
The 2017 German Junior Champion Romy Allard and the 9-year old Oldenburg mare Summer Rose (by Sir Diamond x Rubinstein) finished with bronze after earning 72.087% (2nd) and 72.184% (3rd). 
"I didn't count on bronze at all," said the 16-year old "After the first day I hoped for a medal, but I actually had no expectations at all."
Rothenberger In Charge
Young rider Semmieke Rothenberger is unbeatable with her two horses in Germany. Not a single rider has been able to properly challenge her and also at the Preis der Besten, she freewheeled to another title.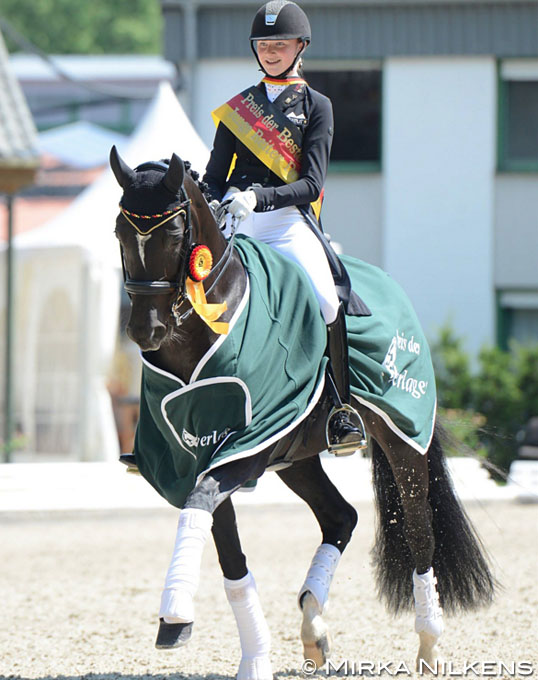 Rothenberger and her 11-year old Hanoverian mare Dissertation (by Don Crusador x Gluckspilz) won the first round with 74.605% and the second with 75.5579%. 
Alexa Westendarp and the 7-year old home bred mare Four Seasons (by Furstenball x Weltmeyer) landed the silver medal with 72.29% and 72.605%.
"I'm very happy. You really have to ride for every point at the Preis der Besten," said Westendarp.
Paulina Holzknecht and the 15-year old Hanoverian Wells Fargo (by Welser x Fabriano) slotted in third overall with 70.579% and 72.421%. 
"My horse was a bit tense in the warm up, but in the test he focused well. He is always good in the test and he proved that again here today," said Holzknecht.
Photos © Mirka Nilkens
Related Links
Combinations Nominated for 2018 Preis der Besten
Baumgurtel, Sieverding, Westendarp Win 2018 Hagen Preis der Besten qualifier
Barbian, Erbe, Rothenberger Win 2018 Kronberg Preis der Besten Qualifier
Riders Nominated for 2018 Preis der Besten Qualifiers
Previous Winners
Baumgurtel, Horstmann, Becks Win 2017 Preis der Besten
Schuster, Rothenberger, Becks Win 2016 Preis der Besten
Rothenberger and Becks Win 2015 Preis der Besten
Rothenberger, Abbelen, Rothenberger Win 2014 Preis der Besten
Photo Report: Rothenberger, Von Danwitz, Niemann Win 2013 Preis der Besten Title
Rothenberger, Niemann, Schurmann Win 2012 Preis der Besten
Linnemann, Schutte, Luttgen Win 2011 Preis der Besten
Photo Report: Krieg, de Ridder and Lutkemeier 2010 Preis der Besten Champions
Rothenberger Kids and Sieber Win 2009 Preis der Besten
Photo Report: 2008 Preis der Besten
Photo Report: 2007 Preis der Besten
Photo Report: 2006 Preis der Besten
Scores: 2004 Preis der Besten
Scores: 2003 Preis der Besten
Scores 2002 Preis der Besten
Torloxten and Giesen In the Picture at 2001 Preis der Besten
Scores: 2000 Preis der Besten
Kroncke, Kroncke and Maiwurm Win 1999 Preis der Besten