2017 Preis der Besten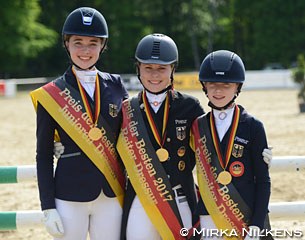 Pony rider Lucie-Anouk Baumgurtel, junior rider Rebecca Horstmann and young rider Jil-Marielle Becks became the overall champions at the 2017 Preis der Besten held at the DOKR headquarters in Warendorf, Germany, on 19 - 21 May 2017. The Preis der Besten are the first official youth team qualifier, where the selectors assess the quality of potential team candidates for the summer's European Championships.
Baumgurtel Prevails in Pony Division
The 2016 European Pony Champion Lucie-Anouk Baumgurtel and her 12-year old Holsteiner bred Massimiliano (by Monsun N x Cap Cennedy N) won both rounds at the Preis der Besten and proved her dominance one more.  The 13-year old scored 76,667% and 76,585% for gold. The Bavarian based Jana Lang and her team routinier Cyrill (by Champion de Luxe x Power Man) were good for silver after placing second in round one with 75.513% and sixth in round two with 71.268%. The 14-year old Moritz Treffinger and her 9-year old mare Top Queen H (by Top Anthony II x Dark Rubin) finished with bronze after placing fourth in round one (71.795%) and second in round two (72.415%).
German pony team trainer Cornelia Endres praised Baumgurtel's pony for being "simply relaxed, secure in the movements and very concentrated." Endres described Treffinger as the "shooting star of the weekend" as he rides with "much feeling and with room for improvement. When the pair improves technically, I see much potential."
Horstmann Reigns in Junior Division
German Junior Riders team member Rebecca Horstmann is proving form in 2017 by winning the Preis der Besten in her age class. Aboard her 9-year old Oldenburg bred Friend of Mine (by For Compliment x Rubinstein) the 17-year old won the first round with 71.324% and placed second in the second round with 72.711%. The Krefeld based Linda Erbe was on Horstmann's heels though as she and her 7-year old German Sport Horse Fierro (by Furst Wettin x Eskadron) were fifth in round one (68.892%) and won round two (73.605%). Erbe finished with the silver, ahead of Johanna Sieverding on Lady Danza, an 8-year old Hanoverian mare by Dimaggio x Rubin Royal. Sieverding scored the bronze medal after placing second (70.000%) and third (70.000%).
German youth team trainer Hans Heinrich Meyer zu Strohen was pleased with his kids' performances: "Rebecca produced a very consistent performance and scored especially because the movements are so confirmed." He praised Linda Erbe for her "skill and mentality" to make it work on such a young horse. About Sieverding, Meyer zu Strohen said that "Lady Danza is an impressive horse with very good quality in the basic gaits. Johanna was on cloud nine with her mare."
Becks Goes for Young Rider Gold Again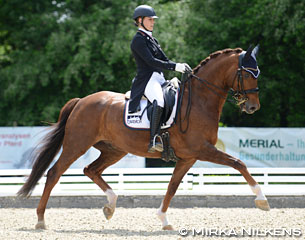 19-year old German YR team rider Jil-Marielle Becks prevailed in the young riders division on the 9-year old Westfalian Damon's Satelite (by Damon Hill x Rubin Royal) but felt tough competition from 18-year old Hannah Erbe on her 10-year old Rhinelander Carlos (by Carabas x Weltmeyer). Erbe won round one with 77.316%, ahead of Becks with 77.184%. However, the duo swapped places in round two with Becks first on 77.711% and Erbe second on 77.237%. Becks finished with gold, Erbe with silver. The bronze went to 17-year old Semmieke Rothenberger on the 15-year old Danish warmblood mare Geisha (by Gribaldi x Weltmeister). Rothenberger actually scored the best with her second ride Dissertation in round one ( 73.263%), while Geisha posted (71.947%), but in the second round Dissertation dropped to 18th place (68.553%) whereas Geisha remained consistent and finished third on 73.816%.
"The most experienced one won," said Meyer zu Strohen. "In Hagen she already showed a good performance, which she continued here in Warendorf. Hannah has very strong nerves and rode strongly in her first year as a young rider. Her potential is limitless. Also Semmieke made her debut at young riders level. For sure in the course of the season she will fix and work on the small technical issues."
Text by Tina Pantel, translated and edited by Eurodressage
Photos © Mirka Nilkens
Related Links
Scores 2017 Preis der Besten
Lang and Erbe Sisters Rule the Roost at 2017 Preis der Besten Qualifier in Kronberg
Baumgurtel, Horstmann, Westendarp Win the 2017 Preis der Besten Qualifier in Hagen
Qualified Combinations for 2017 Preis der Besten Announced
Previous Winners
Schuster, Rothenberger, Becks Win 2016 Preis der Besten
Rothenberger and Becks Win 2015 Preis der Besten
Rothenberger, Abbelen, Rothenberger Win 2014 Preis der Besten
Photo Report: Rothenberger, Von Danwitz, Niemann Win 2013 Preis der Besten Title
Rothenberger, Niemann, Schurmann Win 2012 Preis der Besten
Linnemann, Schutte, Luttgen Win 2011 Preis der Besten
Photo Report: Krieg, de Ridder and Lutkemeier 2010 Preis der Besten Champions
Rothenberger Kids and Sieber Win 2009 Preis der Besten
Photo Report: 2008 Preis der Besten
Photo Report: 2007 Preis der Besten
Photo Report: 2006 Preis der Besten
Scores: 2004 Preis der Besten
Scores: 2003 Preis der Besten
Scores 2002 Preis der Besten
Torloxten and Giesen In the Picture at 2001 Preis der Besten
Scores: 2000 Preis der Besten
Kroncke, Kroncke and Maiwurm Win 1999 Preis der Besten