2019 CDI Nieuw en St. Joosland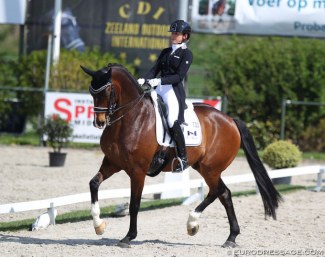 Marlies van Baalen and her number one Grand Prix horse Ben Johnson conquered the centerline at the 2019 CDI Nieuw en St. Joosland on 5 - 7 April 2019 capturing a third place in the Grand Prix and taking out a strong victory in the Kur to Music. 
Marlies and her 13-year old Dutch warmblood Ben Johnson (by Johnson x Ferro) took a strong start in the Grand Prix, slotting in third on 71.217%.
"Ben felt nice and fresh in his first outdoor show of the year, but he was also focused," Marlies told Eurodressage. "We left early for Zeeland so he could get used to the surroundings and the typical wind there. I had a good feeling in the Grand Prix with clear improvements to our last test. It is always so nice to see what you have been working on translated into the test. The half passes, the piaffe, the passage and the pirouettes were good for 8s. Pity about that mistake in the ones which cost us points."
The pair went on to seriously impress the judges in the freestyle, winning the class with a whopping 77.025% and beating several big names and seasoned world class riders. They posted a new personal best score, improving their last PB by two percent in less than eight months time.
"My freestyle is brand new and Coby made the floorplan. We put in a really high degree of difficulty of 9.7 in the DOD system," Marlies explained. "The beautiful music really supports Ben's lightness. The nice thing about the freestyle is that it is difficult, but there is also a quietness in there which makes it possible to show all the movements optimally and maintain the harmony."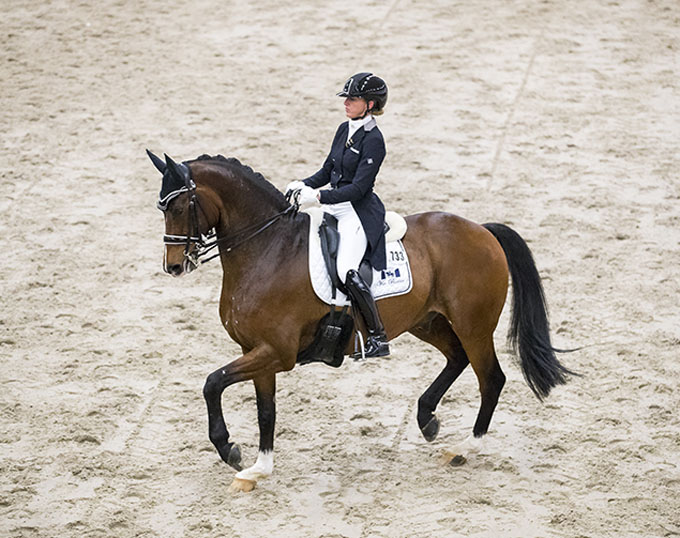 Marlies has brand new music designed for Ben Johnson by renowned Dutch freestyle arranger Joost Peeters.
"Joost made a mix of film music and his own compositions with mainly piano for the canter," said Marlies. "This is how the movements are beautifully supported without it getting busy. To me it's a freestyle that really gives goosebumps."
The 38-year old is married to Titus de Vries and the couple has a 1.5-year old daughter, Feline. Marlies is an essential cog in the family business "Dressuurstal Van Baalen" based in Brakel, The Netherlands, where Marlies works with her mom Coby van Baalen in the daily training of the horses as well as in the extensive coaching of some of Holland's best youth riders, including European Junior Riders Champion Daphne van Peperstraten.
The family scouts for horses at an early age, preferring to either breed their horses themselves or purchasing them as foals. Ben Johnson was sourced by Coby through a video given to her by breeder Claartje van Andel.
"I saw the video and bought him instantly," Coby reminisced. "He had such sharp movements. We took it slowly when we started training him. We have experienced the weirdest things with him, he had several childhood illnesses. This is why the training was often interrupted and he lacks some experience in novice and small tour competition sport, but now everything turned out fine. He is blossoming and showing all that we knew he had in him. He has that quick hindleg, can really collect and take the weight on the hindquarters for the upper level movements."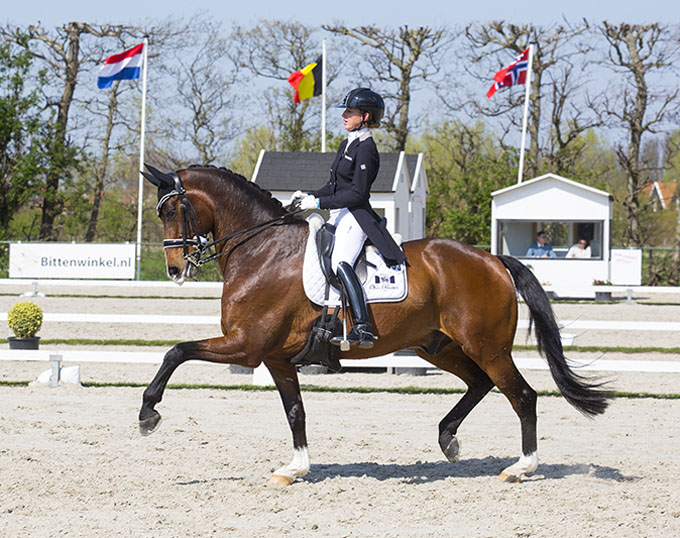 Marlies concurs with her mother on Ben Johnson's qualities. 
"He has talent for all the difficult Grand Prix movements like piaffe and passage," Marlies added. "The pirouettes he does with ease and likes doing them. He always gets high points for those. He has such fantastic energy. He always wants to work and I can really rely on him. He gives more than 100%. It's such a joy to work with him every day."
Van Baalen and Ben Johnson are on a roll in 2019 having already secured silver at the 2019 Dutch Indoor Grand Prix Championships and logging solid scores and high placings at the CDI Le Mans and CDI-W 's Hertogenbosch last winter.
She plans to take Ben Johnson to the CDI Saumur in two weeks and will bring along her 8-year old Go Legend DVB (by Totilas x Ferro) for the medium tour. After that she aims for the 2019 Dutch Championships and CDIO Geesteren. 
Photos © Astrid Appels - Digishots
Related Links
Scores: 2019 CDI Nieuw en St. Joosland
Dressage Stable Van Baalen, Cultivating Talent from Grassroots to Grand Prix
Van Dust, Luiten, Donkers, Cornelissen, Nieuwenhuis, Minderhoud Win 2019 Dutch Indoor Championships
Marlies van Baalen Gives Birth to Baby Girl