2019 Dutch Indoor Dressage Championships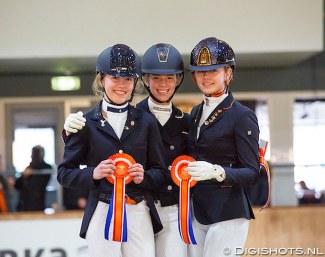 Children's rider Anniek van Dust, Junior rider Marten Luiten, young rider Esmee Donkers, small tour rider Adelinde Cornelissen, Under 25 rider Jeanine Nieuwenhuis and senior Grand Prix rider Hans Peter Minderhoud became the winners of the 2019 Dutch Indoor Dressage Championships held at the KNHS headquarters in Ermelo, The Netherlands on 28 February - 3 March 2019. 
The 2019 Dutch Indoor Championships caused quite some upheaval beforehand as the Dutch Equestrian Federation decided to scratch all award ceremonies from the programme for safety reasons as the lap of honours poses too much danger for the riders and stress for the horses. Much commotion and discussion arose after this decision with the riders, in fact, pleading to keep the awards ceremony but in the end it was decided to do them without horses nonetheless.
Van Dulst and Luiten Get the First Gold Medals of the Weekend
A tiny children's division with just four pairs was dominated by new comer Anniek van Dulst aboard the flea-bitten mare Isala's Arielle (by Kosmo van Orchid's). The duo scored 72.244% for the gold medal and left the competition far behind her. Pony rider routinier has now started in the junior division too, on the experienced European Children Champion Happy Feet (by Tuschinski) and got silver with 68.846%, while the bronze went to Bente Feenstra on Be Different (by Bachelor) with 64.679%.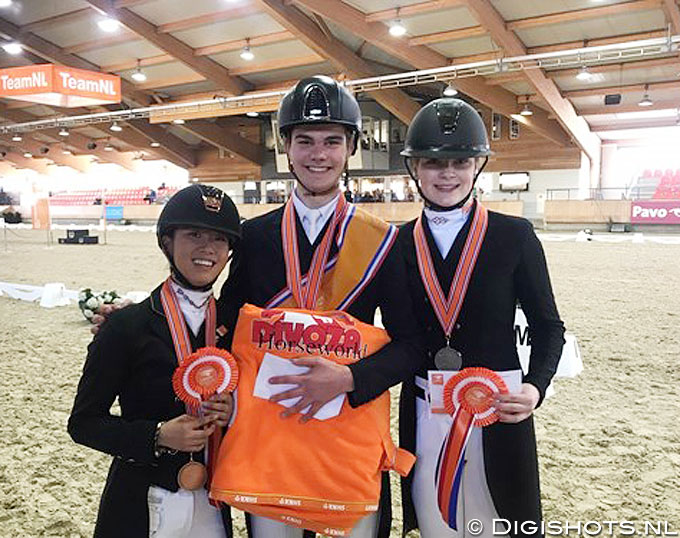 In the junior division former pony rider Marten Luiten surfaced at the top of the board with Fynona by scoring a solid 72,121%. The division featured seven riders in total and was judged by Boomaars, Beek and Berends. The silver medal went to Sanne van der Pols on Excellentie with 70.859%, while the bronze was for new comer junior rider Shanna Baars on Farzana G with 70.455%.
"I was very happy," the 17-year old Luiten said after his winning test. "The test was practically faultfree. I had a little moment of tension but the rest went smoothly. My horse has three good gaits and is nice and quiet in the contact, and that's what we get points for. This year I'm aiming for the team observation shows for the European Championships and we'll see what comes our way." Luiten is currently finishing high school this year and splits his time between school duties and riding two horses. Marten is in his last year as a junior and wants to go to college next year to study business management. He'll do this in Groningen, so he can continue combining school with riding.
Donkers Keeps Going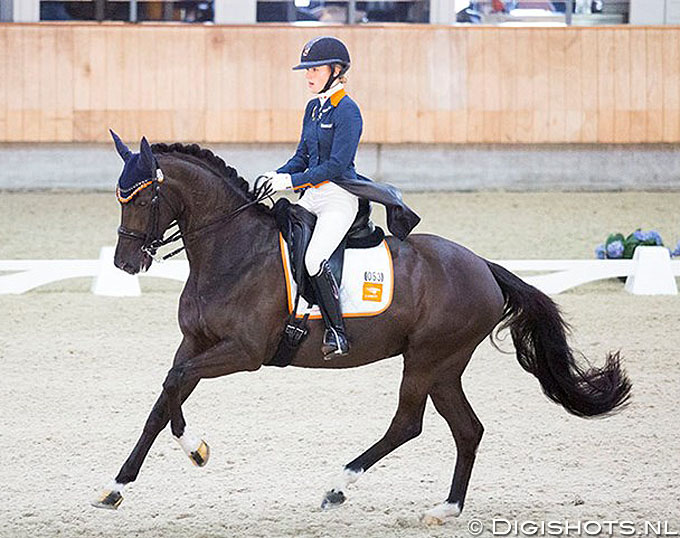 After winning the European Young Rider Champion's title in Fontainebleau, France, last summer, Esmee Donkers keeps going also at national level. With her number one ride Chaina (by Sir Donnerhall) she was unbeatable in the Young Riders division, besting a field of 8 with 72.206% for the gold medal.  Diana van de Bovenkamp and Evita Ronia (by Westpoint) scored silver with 69.069%, while Demy Kurstjens and Chaplin DK (by Johnson) got bronze on 68.529%.
"It was fantastic," said a thrilled Donkers. "We hadn't been in the arena for a while, so I needed to get used to it, but it all went super. There were a few little things in the test which I should have fine-tuned more, but overall I'm very happy." Donkers is not yet sure if she will be in the running for another European Young Riders Championships as she has already achieved the maximum, or focus on preparing for Under 25.
Cornelissen and Governor Get Small Tour Gold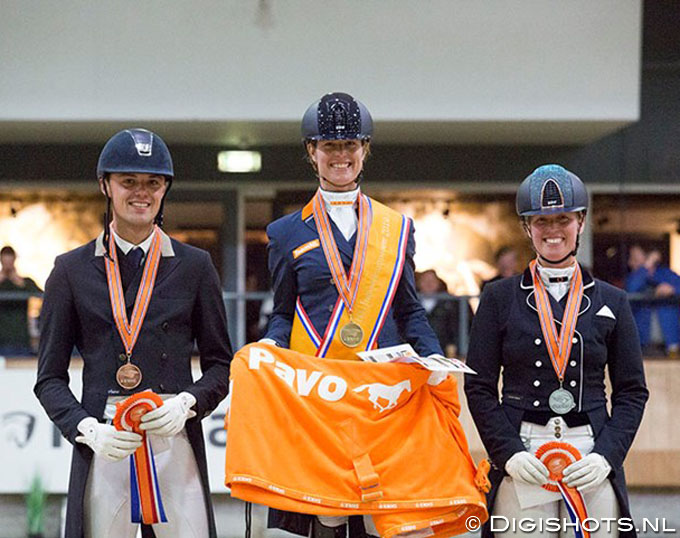 At small tour level two tests were ridden instead of one, and the medals were decided by averaging the two rounds. Adelinde Cornelissen and her KWPN licensed stallion Governor (by Totilas x Jazz) ended up with the highest total after winning the Kur to Music and beating the winners of round 1, Joyce Heuitink on Gaudi Vita (by Apache). Cornelissen averaged 74.728% after earning 71.373% and 78.083%, while Heuitink landed silver with 72.892% and 75.375% (average 74.134%). Nicky Snijder and Game Boy STH (by Andretti) finished with the bronze on an average of 69.878%.
"I rode really nicely and had a good feeling already in the warm-up," said Adelinde. "It was very busy this morning in the warm-up ring. He is a stallion and you notice that you don't get to ride him fully, but in the freestyle this afternoon he was sharp and gave me a good feeling. Governor only has quality. He is not only handsome, but he has three very good gaits and can extend and collect in all of them. He has an always-go mentality."
Nieuwenhuis and Athene Win by the Skin of their Teeth
In the Under 25 division only one test was ridden to determine the medals. Jeanine Nieuwenhuis and her long-time partner Athene (by United) topped the board with 72.692%. Jasmien de Koeyer and Esperanza (by Desperados) were on their heels but finished second with a fraction less, 72.564%. Carlijn Huberts and Watoeshi (by Rousseau) got bronze on 68.419%.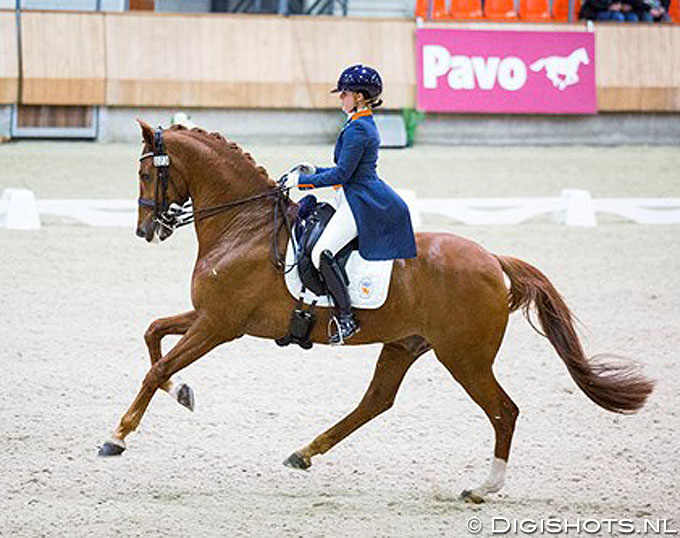 "Today it went fantastically," said Nieuwenhuis. "I was so happy because we hadn't competed since the European U25 Championships because I wanted to train him further in the piaffe. I was already happy that I could just compete him again, because he's a king of a horse and he's always fun to work with. He gets alive at shows and it gives you a powerful feeling. I noticed that because of the long break from shows I lacked a bit of routine, but the energy and feeling were very good."
Nieuwenhuis' Athene has been struggling with the piaffe for several years and the rider believes this has to improve first before she makes the transition to senior Grand Prix level. "He has improved enormously. The piaffe was really his weakness. His passage is very good, but the piaffe stayed behind. Athene now gets it very well and in training it goes much better."
Minderhoud Captures Another Senior Title
The classical Grand Prix test determined the winnner in the senior Grand Prix division. With 13 combinations competing, long-time Dutch team member Hans Peter Minderhoud steered the grey Zanardi (by Rubels) to an easy win on 72.319%. Silver went to Marlies van Baalen aboard Ben Johnson (by Johnson) with 71.522% while Theo Hanzon and the Belgian bred Helena van het Goorhof (by Gribaldi) finished with bronze on 70.833%.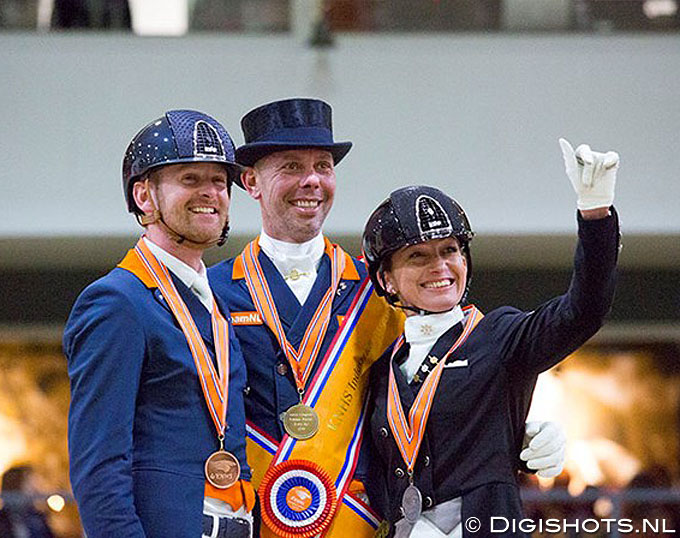 "I thought the trot went well as well as the piaffe and passage. In canter there were a few niggles," said Minderhoud. "Last December we started in Madrid and our next show is Den Bosch, so today was a good opportunity to compete Zanardi again. It's important for him to go into the arena regularly, because he can be a bit naughty and needs routine. On the other hand he is also very steady. He is a stallion, but you can put him next to 25 mares and he wouldn't care."
Minderhoud did comment on the decision to cancel the award ceremony on horses. "With this horse it's good that there is no award ceremony on horse, but with a horse like Dream Boy it makes no difference. I can understand that many riders regret the decision if they have a quiet horse during the awards. Zanardi refuses to stand still when people start to clap and music rolls; he can only jump into the air then. I have tried it before with him, but decided not to do it anymore. I also have problems the next show when I go back into the arena."
Photos © Digishots
Results - 2019 Dutch Indoor Championships - Ermelo
Children
1. Anniek Van Dulst -  Isala's Arielle -   72,244
2. Senna Evers -  Happy Feet  -  68,846
3. Bente Feenstra - Be Different- 64,679 
4. Elise Van de Witte - Daviscup  - 61,987
Junior Riders
1.  Marten Luiten -  Fynona - 72,121`
2. Sanne Van der Pols -   Excellentie - 70,859 
3. Shanna Baars -  Farzana G - 70,455
4. Sascha Heijmans -  Flying Dutchman TC - 66,919 
5. Chiel Van Bedaf -   Fernando -  66,061
6. Julia Vrolijken -  Confusius SDM  -  64,949
7. Romy Verweij  - Alibi -  64,091
Jessica Poelman  - Zamora - DNS
Young Riders
1. Esmee Donkers -  Chaina -  72,206 
2. Diana Van de Bovenkamp  -  Evita Ronia  -   69,069 
3. Demy Kurstjens  - Chaplin DK -  68,529
4. Zoe Kuintjes  - Dr. Dirk -  67,941
5. Zoe Kuintjes - Brittsion - 67,843
6. Merel Van Wallenburg  - Zip - 67,157
7. Meike Kroot  -   Vince - 63,333
Zoë Zwiggelaar -  Fidarsi Rossi - ELI
Small Tour
1. Adelinde Cornelissen - Governor-Str  - 71,373% - 78,083% --- 74,728%
2. Joyce Heuitink - Gaudi Vita  - 72,892% - 75,375% ---- 74,134%
3. Nicky Snijder - Game Boy STH  - 68,922% - 70,833% ---- 69,878%
Under 25
1. Jeanine Nieuwenhuis -   Tc Athene - 72,692
2. Jasmien De Koeyer  -  Esperanza  -  72,564 
3. Carlijn Huberts -   Watoeshi  - 68,419
4. Jeroen Hamelink -   Zanzibar - 64,915
5. Marijke Van Giesen  -  Diva -  61,923
6. Emma Laarkamp  - Wise Guy -  61,453
Grand Prix
1. Hans peter Minderhoud  -  Zanardi - 72,319
2. Marlies Van Baalen -  Ben Johnson -  71,522
3. Theo Hanzon -  Helena vh Goorhof -   70,833  
4. Emmelie Scholtens  -  Desperado -  70,290
5. Adelinde Cornelissen - Zephyr -  70,000 
6. Remy Bastings -  Dior S  -  69,022 
7. Saskia Maertens -  Legend Of Loxley  -  67,536 
8. Remy Bastings -  Ambassador  -   66,957  
9. Maxime Van der Vlist - Bailey -  66,739 
10. Romy Van der Schaft -  Be Painted -  66,703
11. Robin Van Lierop -  Cupido  - 65,616
12. Liseon Kamper - Bol -  Dance Little Diamond - 64,964
Marieke Van der Putten-  Zingaro-apple - DNS
Related Links
Pap, Donkers, Cornelissen, Nieuwenhuis, Van Silfhout Win 2018 Dutch Indoor Championships
Van Peperstraten, De Koeyer, Van Silfhout, Nekeman, Van der Putten Win 2017 Dutch Indoor Championships
Kooijman and Van Baalen Win 2016 Dutch Indoor Dressage Championships
Van Liere and Van Silfhout Win 2015 Dutch Indoor Dressage Championships
Heijkoop and Van Baalen Win the 2014 Dutch Indoor Dressage Championships
Gal and Maas Win the 2013 Dutch Indoor Dressage Championships
Witte-Vrees and Maas Dominate 2012 Dutch Indoor Dressage Championships
Minderhoud and Maas Grab the Titles at the 2011 Dutch Indoor Dressage Championships
Krooswijk, Witte-Vrees and Haazen, 2010 Dutch Indoor Dressage Champions
Edward Gal and Totilas Win 2009 Dutch Indoor Dressage Championships 
Maas and Van Grunsven, 2008 Dutch Indoor Champions
Hanzon and Cornelissen In the Blue at 2007 Dutch Indoor Championships
Schulkens, Beckers, Vrees and Van Lieren, 2005 Dutch Indoor Champions
Schulkens, Haazen, Hanzon and Callaghan 2003 Dutch Indoor Champions