2019 Preis der Besten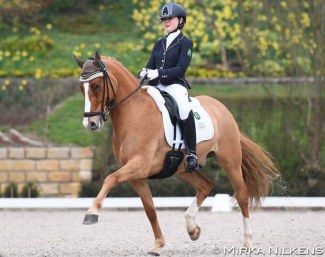 Pony rider Frederike Feldhaus, children's rider Lisa Steisslinger, junior rider Valentina Pistner and young rider Semmieke Rothenberger became the winners on Sunday at the 2019 Preis der Besten qualifier held at Ann Kathrin Linsenhoff's Schafhof in Kronberg, Germany, on 5 - 7 April 2019. 
The Preis der Besten is a German U21 competition circuit that starts with training seminars, where German national team coached Cornelia Endres and Hans-Heinrich Meyer zu Strohen make a selection of the riders eligible to compete in the qualifiers. The southern based riders had their qualified in Kronberg on 2 - 4 April, while the northern based riders have their qualified in Hagen on 12-14 April. The best pairs will move to the actual Preis der Besten in Warendorf on 27 - 29 May 2019. The importance of this event is it is the first German team selection trial for the European Championships this summer. 
In the pony division newcomer Frederike Feldhaus stook apeart with her 8-year old Delray (by Don't Worry x Voyager), besting a field of more seasoned competitors than her. She won the class on the second day with 73.659%, beating Paulina von Wulffen on her new pony, the 2018 European Pony Champion Top Queen H (by Top Anthony II x Dark Rubin). Von Wulffen scored 72.846%. Johanna Kullmann and the 2013 European Pony Champion Champ of Class (by Champion de Luxe x Dornik B) landed third place with 72.276%. The same trio of riders had already dominated the top three in the first test, then they scored 71.111%, 70.812% and 69.743%.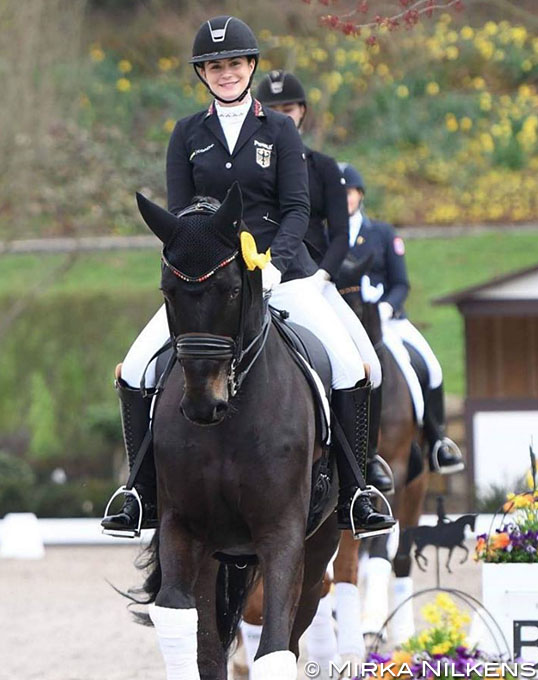 For the second time the Preis der Besten has included the children's division into its competition. At the Kronberg qualifier Lisa Steisslinger and the 14-year old Hanoverian mare Havanna Negra (by Hohenstein x Wolkenstein II) wielded the axe of power. She scored 72.188% in her decisive second test. Antonia Müller and the 14-year old Oldenburg mare Fleur (by Florencio x Dormello) were second with 71.771%, while Steisslinger also slotted in third aboard the 11-year old Holsteiner Caddylack (by Casall x Linari) on 71.667%. 
In the junior division Valentina Pistner and her 11-year old Oldenburg gelding QC Flamboyant (by Fidertanz x De Niro) topped the board with 71.404%. Last summer the pair won silver at the 2018 European Junior Riders Championships. Elisabeth von Wulffen and the 10-year old Hanoverian Dancing World (by Dancier x Wolkenstein II) were the runners up in Kronberg with 71.360%. Hme rider Liselott Marie Linsenhoff was able to secure a third place on the 12-year old Oldenburg bred Danonchen (by Danone x Rohdiamant) with 71.009%.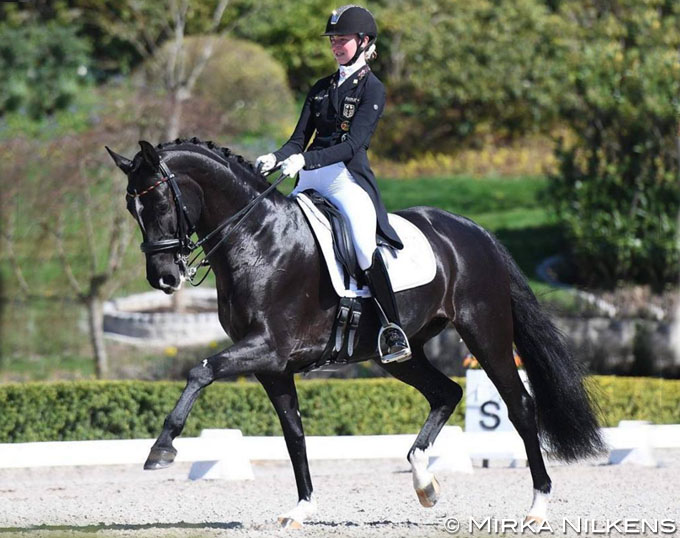 At young riders' level, Semmieke Rothenberger proved that she has not lost any of her focus despite the traumatizing  fire that burnt down her stables on 28 February 2019. The experienced medal winner brought her A-game to Kronberg and won with the 12-year old Hanoverian mare Dissertation (by Don Crusador x Gluckspilz) on 74.825%. She also placed second with her 17-year old Danish mare Geisha (by Gribaldi x Weltmeister) on 74.781%, while her European Championship team mate Paulina Holzknecht and the 16-year old Hanoverian gelding Wells Fargo (by Welser x Fabriano) were third in 74.561%
Photos © Mirka Nilkens
Results - 2019 Preis der Besten Qualifier - Kronberg  (Round 2 scores)
Pony Riders
1 Delray - Feldhaus,Frederike - 73.659%
2 Top Queen H - Wulffen,Paulina von - 72.846%
3 Champ of Class -  Kullmann,Johanna - 72.276%
4 Dujardin B - Wulffen,Paulina von - 2.236%
5  Charly Brown - De Meo,Diana - 70.163%
6 Equestricons Day of Diva - Wendenburg,Carlotta - 69.919%
7 Daddy's Daydream -  Fetzer,Julian - 69.431%
8 Hancock - Roth,Antonia -  69.350%
9 Nobel Noir  - Göbel,Chiara - 69.268%
10 German Highlight -  Kirsch,Emilie -  68.699%
11 Delmonte -  Grishaber,Genya - 67.358%
12 De Long - Merkt,Lena - 67.195%
13 Nur für Dich - Lang,Jana - 66.829%
14 Mister Dornik - Klenk,Kelly­Ann  -  66.301%
15 Hermine - Kretzschmar,Helen -  63.699%
16 Gina­Lisa - Bachus,Mia Charlotte - 62.724%
Der kleine König - Borges,Laura Amelie - RET/DNS/ELI
Orchid's Syria  - Kullmann,Johanna - RET/DNS/ELI
Children
1 Havanna Negra - Steisslinger,Lisa - 72.188%
2 Fleur S -  Müller,Antonia - 71.771%
3 Caddylack - Steisslinger,Lisa -  71.667%
4 Choco jumbo  - Stollberger,Sofie - 67.396%
5 Jalachit - Usbeck,Marlene -  67.083%
6 Don Avicii  - Brähler,Hannah Lucia - 66.406%
7 In Coming - Casper,Pia - 64.792%
8 Smiling Boy - Leppelmeier,Nourie -  63.333%
9 Sinatra M - Bomberg,Jona­Emily - 62.865%
Junior Riders
1 Flamboyant OLD - Pistner,Valentina - 71.404%
2 Dancing World - Wulffen,Elisabeth von -  71.360%
3 Danönchen OLD-  Linsenhoff,Liselott Marie - 71.009%
4 Sir Robin Off Loxley 1- Gömmer,Emma -  70.745%
5 Descolari - Collin,Luca Sophia - 70.702%
6 Rigamento Royal - Nölken,Franziska - 70.219%
7 Barnetta FH - Müller,Kim Zoe - 68.509%
8 FBW Despereaux - van Loon,Emely - 67.982%
9 Summer Rose OLD  - Allard,Romy -  67.939%
10 Babylon - Wulffen,Elisabeth von -  67.807%
11 Filegra - Schroer,Tabea - 67.368%
12 Valencia -  Bottermann,Isabelle -  66.886%
13 Zaffier - Riegel,Laura­Franziska- 66.316%
14 Rivale - Treffinger,Moritz - 63.948%
15 Filou - Lampen,Clara Marie - 63.070%
Young Riders
1 Dissertation - Rothenberger,Semmieke - 74.825%
2 Geisha - Rothenberger,Semmieke - 74.781%
3 Wells Fargo  - Holzknecht,Paulina - 74.561%
4 Fürst Kaspar - Erbe,Helen - 70.834%
5 Scuderia - Söder,Selina - 70.658%
6 Fire Moon P - Rühl,Annika -70.351%
7 Fierro -  Erbe,Linda - 70.176%
8 Dancer - Krause,Nadine - 69.211%
9 Franziskaner - Netz,Raphael - 69.035%
10 Dior  -  Netz,Raphael - 68.772%
11 Don Diamond -  Casper,Anna - 68.596%
12 La Costo - Henglein,Eileen - 68.333%
13 Volare B  - Dammeyer,Sophie - 68.158%
14 Easy Fellow - Fircks,Cosima von - 67.807%
15 Dante - Rühl,Charlotte -  67.588%
16 Rock for Diamonds - Hanft,Silke - 66.886%
17 First Ampere - Fircks,Cosima von - 66.798%
18 Fiderstern - Fendt,Daniela Stefanie Michelle - 66.403%
19 Scubidu Z - Geissler,Celine - 64.649%
20 Fransje - Lachemann,Ann­Kathrin - 64.868%
Related Links
Baumgurtel, Schwierking, Erbe, Rothenberger Win 2018 Preis der Besten
Barbian, Erbe, Rothenberger Win 2018 Kronberg Preis der Besten Qualifier