Sweden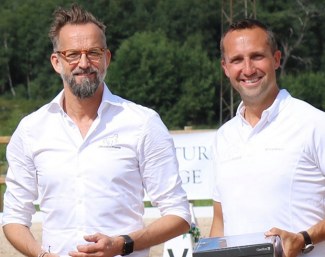 Swedish dressage personalities Peter Harnstam and Grand Prix rider Kristian von Krusenstierna have started a new initiative, the Dressage Power Academy, to educate and empower Swedish young riders, age between 12 and 21, on a more theoretical level.
Von Krusenstierna and Harnstam believe that there is need for more knowledge amongst junior and young riders, especially on a theoretical level, so that riders can make the transition from the riding school to team and squad requirements more easily. 
"We notice this especially when riders come up in the classes. There is no theoretical knowledge in many different areas. It can be about everything from questions about how to set up a training schedule, what to think of when you go to your first competition internationally, economics, what is a good team spirit, etc,"  Kristian von Krusenstierna told Ridsport. "All teaching is taken off, but the students are expected to train with their home coach in parallel with the education."
The project takes one year and participants in the Dressage Power Academy will get instructed on horse management and well being, training and competition, mental and physical training of the rider as well as team building and communication.
"An issue that we think is important to work on is mental illness," said Peter Harnstam. "Within the equestrian sport there is a pressure on body weight and looks and poor mental health is increasing in the country. It feels like an extremely important area to talk about."
The project has now been backed by two Swedish dressage riders, Therese Nilshagen and Cecilia Kristoffersen, who both will speaking in Academy sessions.
Related Links
Springbank II, Skywalker, Astoria, Tiger G, Zidney Win 2017 Swedish Young Horse Championships
Three New Members on Swedish Dressage Committee
Lovsta Future Challenge Cup, a New Initiative to Strengthen the Future of Swedish Dressage
Lina Dolk Takes over Ride on Biggles