2018 PSI Auction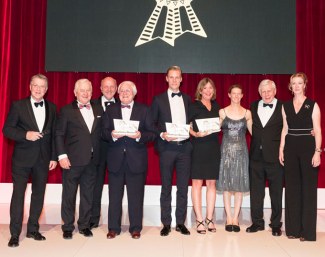 The ballroom at the P.S.I. Auction in Ankum was fuller than it has been in years. The room, decked out for Christmas, was filled with more than 500 visitors enjoying the festive atmosphere and looking forward to the 39th P.S.I. Auction, as the P.S.I. Awards were given on Saturday night 8 December 2018.
In the sport category, the magnificent Swarovski horse went to the Danish dressage rider Daniel Bachmann Andersen. He was honored by Danish national dressage trainer Nathalie von Sayn Wittgenstein. The 28-year-old Dane has made waves in the international dressage scene as head rider at the Blue Hors Stud, and has defended his country at European Championships, Nations Cup competitions, World Cup competitions and even at the World Equestrian Games this year. 
Alice Lawaetz was honored by Sandra Auffahrt in the category supporter for her contributions to the sport throughout her life. This notable woman has been a successful businesswoman in the Technology Branch and has also held consulting roles for the American defense department in addition to leading a career as an equestrienne. She rides showjumping, dressage, eventing, and even hunts with the same horse! And all of this in competition, where she always comes home with top placings. For years she has bought young horses and had them ridden by top riders, to bring them into the top levels of the sport. She is enticed by the development of the horses.
Internationally known journalist Dieter Ludwig was honored by host Ullrich Kasselmann himself. In his Laudat, Kasselmann spoke of the friendship that Ludwig shared with many riders as well as athletes from other sports like Boris Becker or Alwin Schockemöhle. "It sounds as though he held the racket or the reins, sweated, won, and celebrated with those athletes. And that is not far from the truth." chuckled Kasselmann. But at the same time, Ludwig succeeded in finding a balance between maintaining trust and friendship and being an accurate and critical journalist. 
The event is of course titled "Charity Gala", and remains true to that name. The charity organization "Riding against Hunger" which was founded by Gudrun Bauer along with Host Ullrich Kasselmann benefited this year from the event. Following a brief presentation of the most recent projects run by the organization, and the parent charity "die Welt Hunger Hilfe" and how they use their precious donations to offer lifesaving aid to some of the world's poorest people, ball guests were offered the opportunity to donate.
Related Links
Laura Klaphake, Ingrid Klimke, Maria Günther Recipients of the 2017 PSI Awards
Broring-Sprehe, Yamazaki, Maahn, Stihl Recipients of the 2016 PSI Awards
Seven Awardees at the 36th Performance Sales International 
2014 PSI Awards Celebrate Outstanding Performances in Equestrian Sports
2013 PSI Awards for Dujardin, Toosbuy Kasprzak, Herres and Gego
Four P.S.I. Awards for Four Extraordinary Personalities
Four P.S.I. Awards Presented to Outstanding Personalities at 2011 PSI Gala Ball
P.S.I. Awards for Springer, Bechtolsheimer, Becker and Diekmann
Henning, Meggle, Becker, Gonzalez Receive PSI Awards at the 2009 PSI Auction
PSI Honours Lady Inchcape as Grand Dame of Dressage