U.S.A.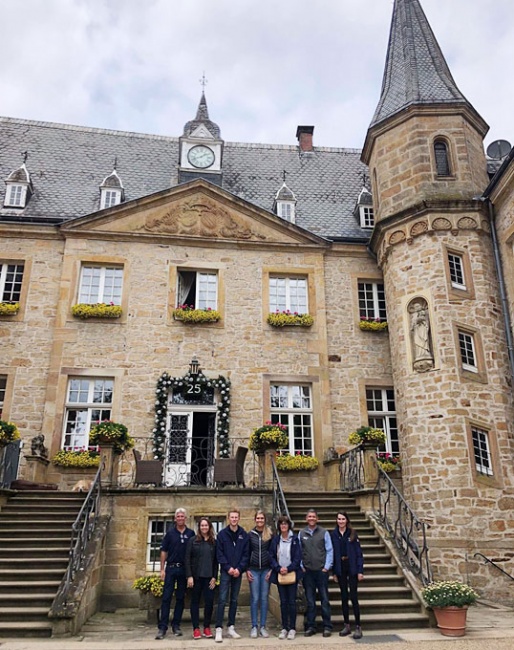 Three young dressage riders—Ben Ebeling, Callie Jones, and Anna Weniger—have brought back more than great memories from their participation in the Dressage European Young Rider Tour this summer. They also brought back competition experience and training they're using to elevate their dressage performances.
In fact, the tour riders already have seen results from their intensive experience overseas: they enjoyed strong performances at the North American Youth Championships, which took place at Old Salem Farm earlier this month, shortly after the European tour's conclusion. Jones was the NAYC Team competition's highest-scoring rider and also took individual gold, while Weniger won gold in the NAYC freestyle.
"They learn a lot on the tour, in general," said George Williams, the U.S. Dressage Youth Coach and chef d'equipe. "But one of the things they learn is that our riders can be competitive in Europe. They went over thinking that they were going into such a European powerhouse with its youth, but they saw that they are competitive. That was both an eye-opener and a huge confidence-builder for them. We definitely saw that coming back to the NAYC. And they gained a much better sense of what the international judges are looking for. They rode with a confidence I didn't see prior to the trip, and so I think it really was a confidence-booster."
To be considered for selection to the Tour, the three athlete-and-horse combinations had to earn at least two scores from the FEI Young Rider Team Test and two scores from the FEI Young Rider Individual Test in CDI-Y events between January 1, 2018, and April 30, 2018. As a part of FEI CDI-Y events, they also had to earn at least two FEI Young Rider Freestyle test scores. 
Good Results and More
For about six weeks this summer, the young U.S. athletes and their horses were based at Jewel Court Stud in Wuustwezel, Belgium, and went to a series of European competitions. Jones and Weniger competed in the CDI-Y Compiègne in France and the CDI-Y Aachen in Germany in May, and all three riders competed at the CDIO-Y Hagen in Germany in June.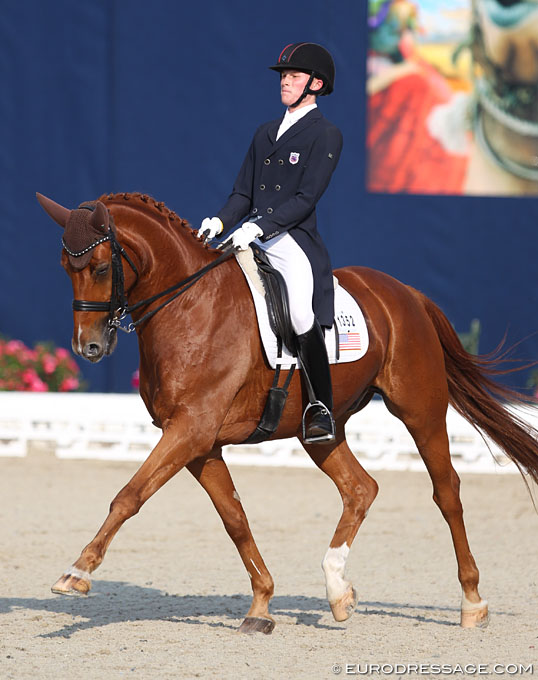 "It's a good opportunity for our riders to go to European CDIs, in European countries with foreign languages, so they get used to the nuances of a European CDI and potential language barriers," Williams explained. "The competition at both Compiègne and Aachen was quite good—there were competitors from a lot of different countries—so they had the opportunity to compete against their peers from numerous countries at both.
"The third leg at Hagen is really the highlight of the tour. It's a team competition for young riders, and it's part of what they call the Future Champions show, which has FEI Nations Cup™ divisions for children, ponies, juniors, and young riders, both in dressage and in jumping. Between the jumping and dressage, there were something like 800 horses, and I believe there were around 22 countries competing, in total. In the young rider dressage division, we had seven countries. They do a terrific job with a lot of fanfare, including a welcome party and a parade of teams. It's tremendous, and it gives the real feeling of a big, important competition, which it is."
At Hagen, the U.S. riders competed against top athletes from such dressage powerhouses as Germany, Denmark, and more. The three-member U.S. team finished sixth out of seven teams, but the scores were so competitive and close that the U.S. only narrowly missed taking bronze. After Hagen, Ebeling extended his stay in Europe, competed in two more CDI-Y competitions, and worked with German trainer Christoph Koschel before returning to the States for the NAYC.
The tour also offered opportunities for the young riders to explore history and culture. "We weren't that far from Amsterdam, so I encouraged them to see things like the Anne Frank House there and the cathedral in Aachen, which was the seat of Charlemagne, to get a better sense of the history," said Williams. "We keep things very well balanced so that they get a greater appreciation for what Europe has to offer from a cultural and historical point of view, and it's also important to have fun."
An Important Step Up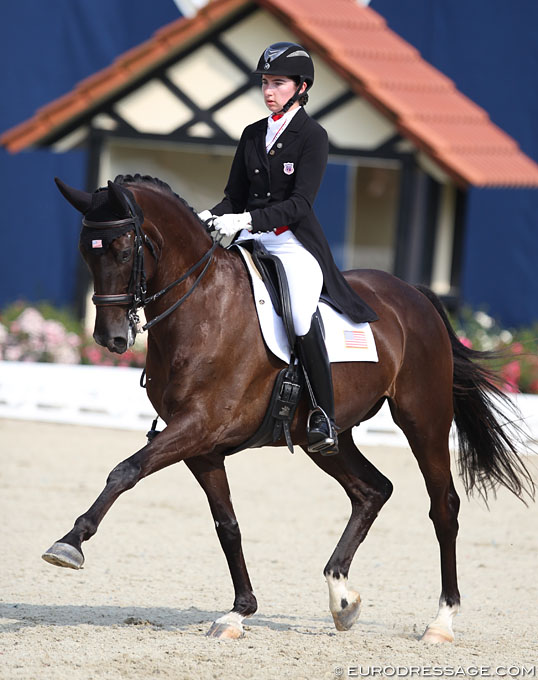 One key benefit riders gain from the tour experience is the chance to ride as part of a team.
"That's really crucial," Williams said. "I'm a big believer in team experience. It's very important for our young people to have that experience so that when they become senior riders, they make
good team members. They know how teams work and understand the importance of team spirit. They were very supportive of each other."
The riders also worked through individual challenges. "It wasn't all easy and glorious," Williams said. "It had its ups and downs, and those are also valuable experiences, because they're part of the sport. Learning how to cope with the highs and the lows and come back fighting is important. And in each case, with each one, they did."
Williams said that the tour members also worked hard to elevate their individual personal best scores, learning more about extra details that can raise a score and working to achieve, for example, higher energy with more expression without overriding and producing tension in the horse.
"That's a lot of what the training and discussions were about," Williams said. "There was also a lot about keeping a horse at peak performance level during the time that they were there and finding the right routine to keep them performing at their maximum for each competition."
The kind of experience and education Ebeling, Jones, and Weniger gained from the Dressage European Young Rider Tour will reap benefits down the road as they move into the senior ranks, Williams believes. "They have a sense of how things work in Europe," he said. The whole tour experience—the mileage of riding in those different arenas in different countries with different judges, and riding against some of the best from other countries—really boosted their confidence and gave them a better sense of what it takes to get the scores that they wanted. That prepares them for the future. And hopefully the story of these three will be inspirational for other kids, who will make the tour one of their goals and work toward it."
-- USEF press release - Photos © private - Astrid Appels
Related Links
American Young Riders Euro Tour Wraps Up at 2018 CDIO-PJYR Hagen
American Athletes Selected for 2018 European Young Rider Tour