2018 Belgian Dressage Championships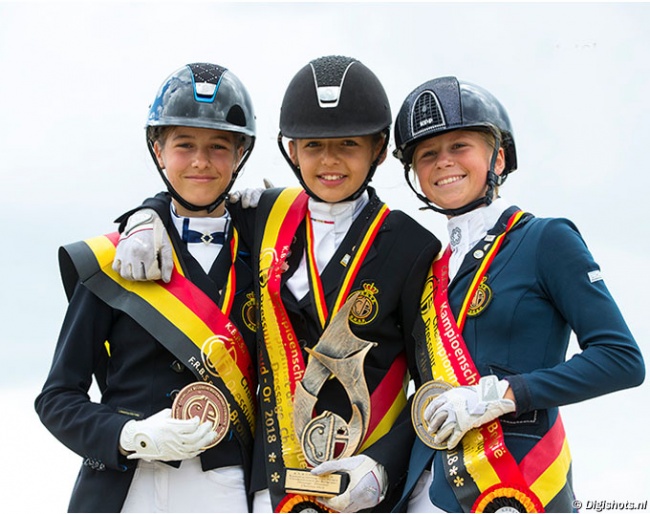 Children rider Maite Colling, junior rider Charlotte Richmond, young rider Suraya Hendrikx, Under 25 rider Charlotte Defalque and senior Grand Prix rider Jeroen Devroe became the gold medalists at the 2018 Belgian Dressage Championships hosted during the Flanders Dressage in Meerdonk, Belgium, on 9 - 12 August 2018. 
This year the Belgian Nationals were contested through the traditional three classes in each division and with scores totaled for the final ranking. 
Colling Wins First Children Nationals
For the first time the Belgian Championships hosted a Nationals for the children's division. Maité Colling led the field that consisted of just five combinations. Colling and Rapallo CL (by Rotspon x Lancier) captured the overall victory with 209.085 points. The pair received 69.654% in the preliminary test, 70.538% in the team test and 68.893% in the individual test. The silver went to Julie Opsomer and Charlotte (by Charming x Lamoureux II) on 206.159 points with 69.692%, 69.038% and 67.429%, while Lana de Caluwe and Jack Daniels van de Kwaplas (by Spielberg x Ferro) scored bronze with 203.203 points. They got 67.615%, 67.731% and 67.857%.
"It was such a nice weekend," said the 13-year old Colling, who is coached by Belgian Grand Prix rider Jorinde Verwimp and who finished 13th at the 2018 European Children Championships in Fontainebleau, France, a month ago.
Richmond Rules Junior Division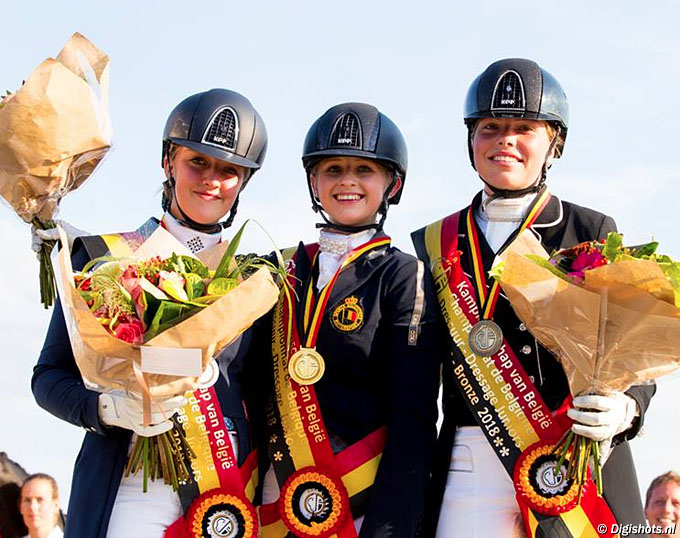 In the junior riders division Charlotte Richmond reigned supreme winning all three rounds aboard Hermes (by Dreamcatcher x Donnerschlag). She totaled 213.099 points after scoring 69.848 in the team championship test, 69,676 % in the individual and 73.575% in the kur to music.  Katelijne Maes and Ibou van de Kapelhof (by Lord Loxley x Faveur) got the silver with 206.017 points. They were fourth in the team test (66,667%), fifth in the individual (67.00%) and second in the kur (72,350%). Amber van der Steen and Dutch Lord VS (by Lord Leatherdale x Halmet) finished with bronze on 205.052% points. They were second in the team test (67.242%), third in the individual test (68,206%) and third in the Kur (71.125%).
After getting the champion's sash Richmond took to Facebook and wrote: "What can I say! Had an amazing amazing week at the Belgian Championships, winning all 3 tests and becoming the Belgian Champion of 2018! Not only that but I also received a personal record score of 73.5% for my final Kur! I couldn't of done this without my amazing team standing behind me at all times and Sophie Van Lent, my trainer, who has developed Hermes over the past couple of years! She gave me motivation and support throughout this amazing journey."
Hendrikx On Top at Young Riders Level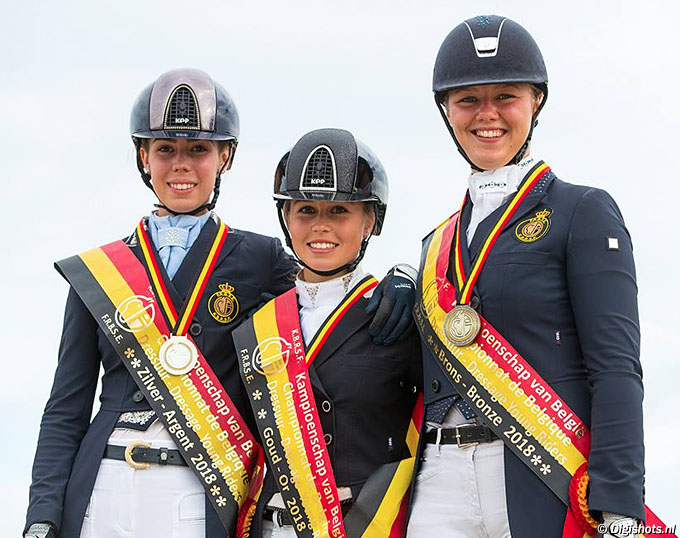 The Genk based Suraya Hendrikx and her loyal ride Dear Friend (by Danone x Dollmann) became the champions in the young riders division with 212.581 points. They were second in the team test with 69.206% but won the individual (70.500%) and the kur (72.875%). Flore de Vos, who became Belgium's strongest performing young rider at the 2018 European YR Championships last month, won silver at the Nationals with 210.914 points. Trained by Isabel Cool, De Vos won the team test with 69.588% and was second in the individual (69.176%) and Kur (72.150%). Cool's student Dente de Schepper grabbed bronze on Emaico (by Gribaldi x Saros van het Gestelhof) with 200.259 points. This  pair was fourth in the team test (65.618%), sixth in the individual (65.941%) and third in the kur (68.700%).
"This is my first year at young riders level with my beautiful baby, who is only 7-year olds," said Hendrikx. "What can I say. This was all not possible without my supporters, sponsors and an extra thanks to my great parents and coach Jeannette Haazen for their top help and guidance."
Defalque Rules Under 25 Division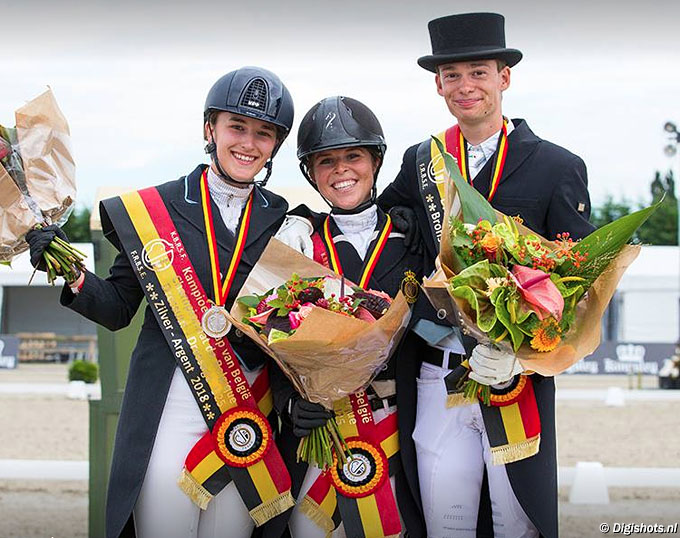 The Under 25 division featured five combinations but only four completed the three rounds. Charlotte Defalque and her KWPN bred Botticelli (by Vivaldi x Koss) were the were the clear champions with a huge point advantage, getting gold with 210.136 points, after winning all three rounds with 69.941%, 66.795% and 73.400%. Soraya Brison and Giorgio Armani (by Goethe x Donnerhall) got silver with 201.901 points after earning 65.647% in the Intermediaire II, 66.154% in the Short Grand Prix and 70.100 in the Kur to Music. The bronze went to division new comer Nico Nyssen on the KWPN bred Sauvage (by Havidoff x Darwin) with 197.388 points. The pair posted 65.206%, 66.282% and 65.900% on the board.
"Botticelli and I are Belgian Under 25 Champions and are now invited to be part of the high potential team," said Defalque who considers her victory as a double whammy as her addition to the high potential squad will give her more access to top level Grand Prix coaching through the Belgian equestrian federation.
Straight after freestyle on Sunday, medalists Defalque and Brison loaded their horses and trailered them north to the 2018 European Under 25 Championships in Exloo, The Netherlands, which kick off on Monday 13 August 2018.
Devroe Scores 11th Belgian Grand Prix Champion's Title
Jeroen Devroe and Eres DL became the 2018 Belgian Grand Prix Champions and this gold medal brought Devroe's tally in national titles to eleven and the third with Eres DL. Devroe's show campaign in 2018 has not being the easiest one, nursing Eres DL (by Sir Lui x Balzflug) back from a long period of injury. However, at the nationals they were able to produce the good scores on the board and won all three rounds with 71.739%, 71.383% and 76.100%. They totaled 219.222 points for gold. Devroe's student Laurence Roos and her Belgian warmblood Fil Rouge (by Stedinger x Argentinus) proved consistency and got silver with 213.500 points. The pair got 69.130% in the Grand Prix, 70.170% in the Special and 74.200% in the Kur. It were busy times for Roos that weekend, because in between competing in Meerdonk, she also married her long time partner! Isabel Cool and the KWPN bred Aranco V (by Ferro x Ramiro) scored bronze with 209.365 points. In their first year at senior Grand Prix level, Cool pulled a great feat to get on the podium. The pair scored 68.435%, 69.830% and 71.100% at the Nationals.
The Grand Prix Championships did not fail to bring its portion of drama as well. After the Grand Prix, the Belgian equestrian federation announced the team for the World Equestrian Games and that raised plenty of eye brows considering Belgium's long-time number one Jorinde Verwimp and her 18-year old Dutch warmblood Tiamo (by Lester) have been struggling to show consistent form this 2018 outdoor show season. Nonetheless the student of team trainer Sjef Janssen has been selected on the team. In Meerdonk Verwimp scored 64% in the Grand Prix, 64.872% in the Special and 69.875% in the Kur; scores all far below her standard. One month ago, the pair also withdrew from the CDIO Aachen due to fitness issues. Janssen's student Isabel Cool, however, has been consistently scoring well at CDI's (yet an elimination at the CDI Lier in March) and she won bronze at the Belgian Nationals. She had been relegated to the reserve rider position. Belgian WEG team selected Fanny Verliefden did not even complete the three rounds at the Nationals with her WEG team selected horse Indoctro van de Steenblok.
Photos © Digishots
Results - 2018 Belgian Dressage Championships - Meerdonk
Children
1. Colling Maité - Rapallo C.L. - 69,654 - 70,538 - 68,893 --- 209,085
2. Opsomer Julie - Charlotte - 69,692 - 69,038 - 67,429 --- 206,159
3. De Caluwe Lana - Jack Daniels vd Kwaplas - 67,615 - 67,731 - 67,857 --- 203,203
4. Clabots Brittany - Fluegel - 65,731 - 66,269 - 63,000 ---195,000
5. Maes Lotte - Tum Tum Swing - 64,154 - 63,500 - 57,643 --- 185,297
Junior Riders
1. Richmond Charlotte - Hermes - 69,848 - 69,676 - 73,575 --- 213,099
2. Maes Katelijne - Ibou Van De Kapelhoef -  66,667 - 67,000 - 72,350 --- 206,017
3. Van Den Steen Amber - Fame -  64,545 - 69,382 - 71,125 --- 205,052
4. Driesen Emma - Frodo -  65,970 - 67,529 - 69,325 --- 202,824
5. Pieters Beaudine - Elbrasco -  67,000 - 65,235 - 70,025 --- 202,260
6. Evers Leen - Golany -  63,879 - 66,853 - 69,625 --- 200,357
7. Pauwels Carolien - Spielbergs Cartier - 66,485-  65,206-  67,575 1 --- 199,266
8. Van Evelghem Liesl - Faustland - 65,424 - 66,294 - 66,925 --- 198,643
9. Van den Bergh Charlotte  - Wipsy Vh Heihof - 66,485 - 65,471 - 65,810 --- 197,766
10. Vestergaard Karoline Sofie - Junior Hit - 66,515 - 63,000 - 67,250 --- 196,765
11. Van Laere Paulien - Bonito S. - 63,848 - 64,824 - 64,925 --- 193,597
12. Adriaenssens Arranka - Garmeur -  60,515 - 63,588 - 68,200 --- 192,303
13. Desmedt Maité - Dimo Tideman W - 62,515 - 63,000-  65,925 --- 191,440
14. Sannen Aurélie - Farao - 62,485 - 60,912 - 65,700 --- 189,097
Van Den Steen Amber - Dutch Lord V.S. - 67,242 - 68,206 -- DNS -- 135,448
Pieters Beaudine - East Point - 66,303 - 65,059  DNS --- 131,362
Young Riders
1. Hendrikx Suraya - Dear Friend -  69,206 - 70,500 - 72,875  --- 212,581
2. De Vos Flore - Catcher- 69,588 - 69,176 - 72,150  --- 210,914
3. De Schepper Dente - Emaico -  65,618 - 65,941 - 68,700 --- 200,259
4. Beck Delphine - Zelion B - 63,882 - 66,029 - 68,250  --- 198,161
5. Van Deursen Laure - Cayenne - 64,618 - 66,441 - 66,825 --- 197,884
6. Lambrichts Yannick - Ishar - 62,500 - 64,588 - 63,875  --- 190,963
7. De Backer Xanthe - Batiqar -  62,382 - 61,382 - 66,775  --- 190,539
8. Koninx Julie - Emmerson -  64,412 -  61,941 - 63,425  --- 189,778
9. Mommaerts Ayko - Brit - 63,176 - 62,412 - 63,875  --- 189,463
10. van der Voort Aurélie - Don Domingo - 64,559 - 64,353 - 60,500 --- 189,412
Hendrikx Suraya - Black Beauty - 68,265-  69,588-  68,150  --- 206,003
Under 25
1. Defalque Charlotte - Botticelli - 69,941 66,795 73,400 --- 210,136
2. Brison Soraya - Giorgio Armani -  65,647 66,154 70,100 --- 201,901
3. Nyssen Nico - Sauvage - 65,206 66,282 65,900 --- 197,388
4. Ponsaerts Anne - Carrera - 63,441 64,667 66,025 --- 194,133
Fairchild Alexa - Vanita -  63,588 63,846 - DNS --- 127,434
Grand Prix
1. Devroe Jeroen - Eres DL - 71,739 - 71,383 - 76,100 --- 219,222
2. Roos Laurence - Fil Rouge - 69,130 - 70,170 - 74,200 --- 213,500
3. Cool Isabel - Aranco V - 68,435 - 69,830 - 71,100 --- 209,365
4. Michiels Domien - Intermezzo Van Het Meerdaalhof - 66,326 - 64,872 - 68,575 --- 199,773
5. Missiaen Simon - Charlie -  65,609 - 66,149 - 67,775 --- 199,533
6. Verwimp Jorinde - Tiamo - 64,000 - 64,872 - 69,875 --- 198,747
7. Heylen Tom - Gucci 'H'- 66,196 - 65,106 - 65,775 --- 197,077
Devroe Jeroen - Hyrano -  69,022 - 70,170 - DNS --- 139,192
Verliefden Fanny - Indoctro V/D Steenblok -  67,261 - 70,234 - DNS  --- 137,495
Dupont Liselot - Buffon - 62,500 - 63,106 - DNS --- 125,606
Related Links
Hendrikx, Beckers, Brison, Verwimp Win 2017 Belgian Dressage Championships
Jeroen Devroe Wins 2016 Belgian Grand Prix Championships
Meyssen, Morosini, Kielenstijn Win 2016 Belgian Youth Riders Championships
De Schepper, Verberne, Kielenstijn, Devroe Win 2015 Belgian Dressage Championships
Antonia Arl Succeeds Sister and Wins 2014 Belgian Pony Championships
Verberne, Verwimp and Vanommeslaghe Win 2014 Belgian Dressage Championships
Arl, Defalque, Verwimp, Missiaen Win 2013 Belgian Dressage Championships
Arl, Verwimp, Waelkens, Devroe Win 2012 Belgian Dressage Championships
Jeroen Devroe Prevails at 2011 Belgian Dressage Championships
Jeroen Devroe Captures Sixth Belgian Grand Prix Champion's Title
Goris, Mommen, D'Hoore and Devroe 2009 Belgian Champions
Van Olst, Mommen, Vandenberghe Win 2008 Belgian Youth Riders Championships
Stefan van Ingelgem, 2008 Belgian Dressage Champion
Van Olst, Mommen, De Souter, De Deken and Devroe, 2007 Belgian Dressage Champions
Arlette Holsters and Faible Win 1998 Belgian Dressage Championships
Meiresonne, Pauluis, Smits, 1997 Belgian Youth Riders Champions