2018 North American Youth Riders Championships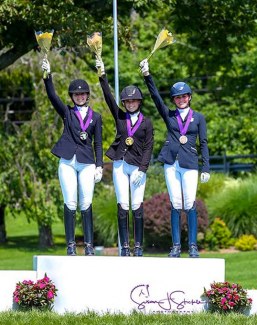 Familiar names graced the NAYC podium during the Freestyle Championships at the 2018 North American Youth Riders Championships in North Salem, U.S.A. on Sunday 5 August 2018. The United States's Anna Weniger and Don Derrick topped the Young Rider division with a score of 74.22% and Canada's Chase Robertson and Winsome earned gold in the Junior division.
Robertson Wins Junior Kur Gold
All three medalists from the USDF North American Junior Dressage Individual Championship returned to the podium as USDF North American Junior Dressage Freestyle medalists. Canada's Chase Robertson exceeded her expectations by winning the gold medal. Bianca Schmidt (Edina, Minn.), 16, and Lou Heart earned silver with a score of 71.90% and Caroline Garren (Atlanta, Ga.), 18, and Bell Angelo took the bronze medal with a score of 71.49%. Robertson (Calgary, Alberta), 16, and Winsome have only been together for about a year and have shown their freestyle once. NAYC was one of the first times they have performed it after making several changes.
"I was blown away with how it went. We've had a little trouble with some of the movements, so for him to step up to the plate and perform the way he did, I could not be more proud. He's the best partner a girl could ask for," said a shocked Robertson.
Robertson and the 15-year-old gelding owned by Teresa van Lambalgen, started at first-level as an opportunity to get to know one another. They moved to the junior level over the past year and she credits the NAYC for strengthening their bond.
"I came to NAYC to get experience with my horse because I only had him for a little over a year. I wanted to make this a positive experience, and I wasn't expecting to walk away with a bronze or even a gold medal," explained Robertson. "I just wanted to grow our relationship and gain more trust with each other. Never in my wildest dreams did I expect a gold. I worked so hard; it's so emotional."
Schmidt and Lou Heart started training together in February and performed a relatively new freestyle. Schmidt, along with her sister Isabella, spent a lot of time finding the right piece of music that fit his personality.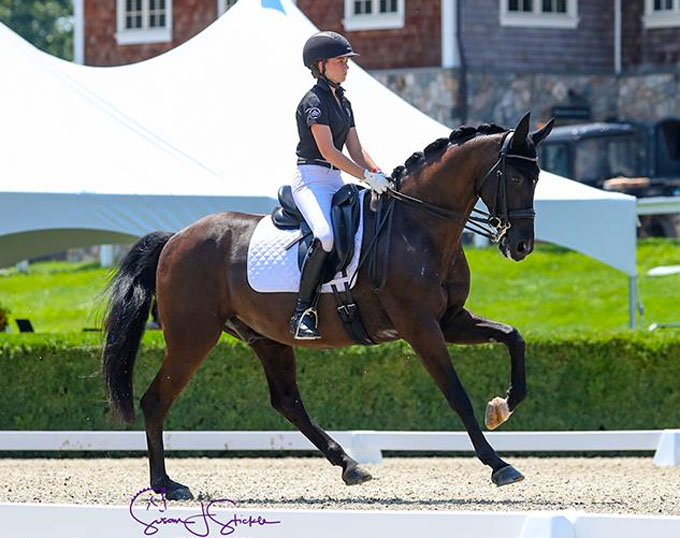 "I first have to thank my sister Isabella for doing this freestyle for me," said Schmidt. "We got the freestyle [in March]. Isabella really had to put up with me because I was going through a bunch of music saying, 'It doesn't fit; it doesn't work.' This freestyle is pretty new for me. I've only ridden it a couple of times in a show. I just enjoy it a lot. It's so much fun and I love the music. It's from Batman and Logan; I'm a DC [Comics] fan, so I just loved it!"
Throughout the NAYC, she and the 14-year-old Hanoverian gelding owned by Eliana Schmidt have been consistent, which is a testament of their training over the past few months.
"Every day I see a new side of him and how sweet and kind he is," said Schmidt, who also won team silver with Region 4 on Thursday. "I've come to realize he's like a big, black Lab. He's always looking for treats and always trying to lick you. He's adorable and I love him. I learned how to ride him really well because of my trainer, Allison Sader-Larson. It's been a fun experience so far with him."
Garren performed a similar freestyle to last year but decided to tweak the canter music to be more appropriate for Bell Angelo, a 10-year-old Hanoverian gelding owned by Caroline, Charles, and Michele Garren. "I am absolutely thrilled with this week. I have to thank my amazing trainer Karen Lipp and Adequan, Old Salem Farm, and all our amazing sponsors, and of course my parents," said a gracious Garren, who also won team gold with Region 3. "I feel like this week was pretty consistent for him. He got a little tired towards the end. It's a long week for all the horses; it's hot, they're competing and in an unfamiliar place, but I am so thrilled with his performance. I am just so thankful for all the support I have gotten from everyone."
Weniger Wins Young Riders Kur Gold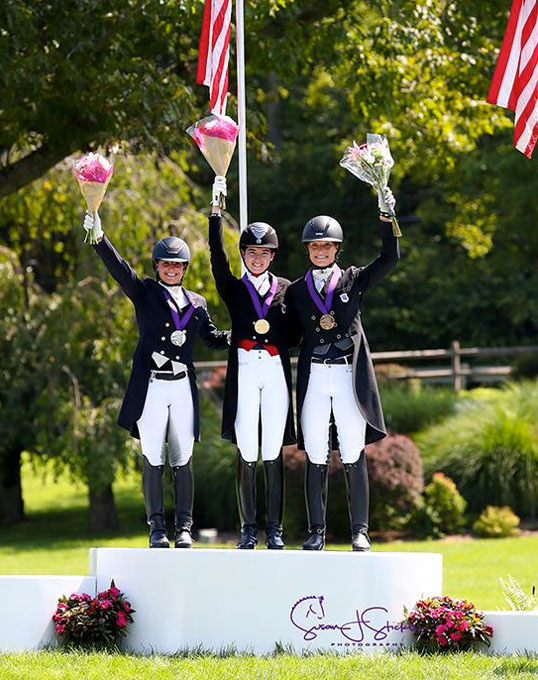 Weniger (Apex, N.C.; Region 1), 19, added her second medal at the NAYC, winning gold in the USDF North American Young Rider Dressage Freestyle Championship. Earlier in the week, she helped Region 1 secure the team bronze medal. Canada's Beatrice Boucher and Delfiano earned freestyle silver with a score of 72.80% followed by the United States's Callie Jones and Don Philippo with a score of 72.77%. Weniger and Don Derrick have only performed their Freestyle three times before NAYC, but the routine came together at the right time.
"I've been dreaming of winning a medal at this show for almost 10 years. I have been fortunate enough to ride on some young rider teams the last few years, but winning an individual medal is way more than I ever imagined," said an elated Weniger. "I am grateful to everyone who made it happen, especially my horse, my mother because she is my trainer and responsible for everything, and [US Equestrian Dressage Youth Coach] George Williams, who has helped me a lot over the past six weeks in Europe and at [NAYC]. I just can't comprehend what happened."
When Weniger was a baby, family friend Marlene Whitaker promised Weniger's mom, Dawn, that she would create a piece of freestyle music for Anna should she make it to the NAYC. At that point, Whitaker and Dawn did not know if Anna would ride, let alone make an NAYC, so Anna's freestyle win was a bit more special considering the events that led up to this point.
"Marlene made a freestyle for me when I was doing Young Riders [two years ago]. We had a good time with it, but she decided that it wasn't good enough and wanted to make me a new one with music from Jane Austen movie soundtracks. I absolutely love it," reflected Weniger. "The first time we rode it was in Compiègne [in June], so that was a little crazy. This is the fourth time we've ridden it, so we're getting to be a little more comfortable with it. I was thrilled with how it went today. I'm just so grateful to Marlene for making that freestyle for me. It's the most incredible gift because I would never have gotten such an incredible freestyle without her."
Don Derrick is Dawn's horse and has competed him through Grand Prix. She started training the 14-year-old NRPS gelding when he was two-and-a-half years old, and thought he could be Anna's young riders competition horse. "I started riding him two years ago and did Juniors [with him] in 2016. It was a bit of a whirlwind. I didn't have much clue what I was doing back then. I was sort of just steering," reflected Weniger. "Over the last two years, I've really gotten to know him better and now we're schooling most of the Grand Prix at home. He's so honest. Everything I do, he's going to reflect, and it's just the most incredible learning experience to learn from him. He's just the whole package and I'm so, so lucky."
Prior to competing at the NAYC, Weniger and Jonescompeted together at the 2018 US Equestrian Dressage European Young Rider Tour. Weniger credits the experience in preparing her for the NAYC.
"I didn't realize how competitive we could be, and we were competitive," said Weniger. "That's a testament of how far our youth programs in the U.S. have come over the last few years. Seeing the quality of riding, especially at Future Champions [CDIO-Y Hagen] with a lot of people going to the European Championships, and seeing what we were up against was really inspiring. It was super encouraging that we could actually compete against them, and it definitely prepared me for this show."
Despite a spook early in their test, Boucher (Mascouche, Quebec), 20, and Delfiano, the 15-year-old gelding owned by Gilles Bergeron, recovered nicely to complete a strong test. She has been working on her freestyle the past six months and credits her friend Naima Moreira Laliberte for giving her a great piece of music.
"I felt he was a little stressed, so I reassured him. Just being here and doing the freestyle is already a big step, so I was just like, 'Let's do our best and we'll see what happens'. It worked well," said Boucher.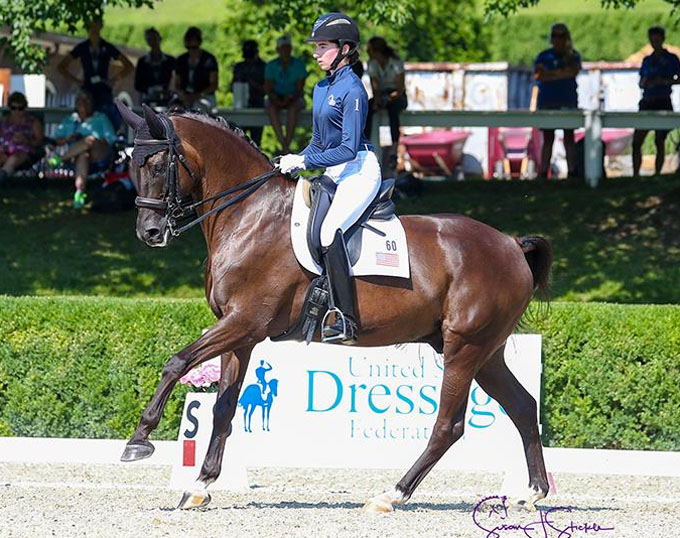 Callie Jones (Henderson, Ky.; Region 2), 20, earned her second medal of the NAYC with her bronze medal performance. After winning the USDF Young Rider Dressage Individual Championship on Saturday, Jones and Don Philippo performed a routine by Cynthia Collins, which they been working on for a year. Jones is pleased how it is working for Don Philippo.
"It's an amazing feeling. I've dreamed of medaling for a long time, so it is especially incredible to be here. I want to thank everyone who got me here, my parents, my trainer Angela Jackson, and George Williams who has helped me the last six months," said Jones.
Jones joined Weniger in Europe with fellow NAYC competitor Ben Ebeling, who are all members of the Discover Dressage USEF/USDF Emerging Athlete Program, and felt prepared having competed in three CDI competitions. "The level of riding and competing is amazing. Just watching the riding over there is incredible and an experience in itself," said Jones.
Photos © Sue Stickle
Related Links
Scores 2018 North American Youth Riders Championships
Caroline Garren Wins Individual Test Gold at 2018 North American Junior Riders Championships
Callie Jones Wins Individual Test Gold at 2018 North American Young Riders Championships
USA Region 3 Wins Team Gold at 2018 North American Junior Riders Championships
Quebec/Alberta Team Wins Gold at the 2018 North American Young Riders Championships