2018 North American Youth Riders Championships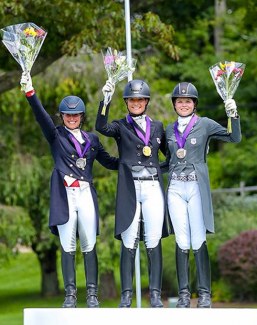 After having the best overall score in Thursday's Team Championship, Callie Jones and Don Philippo turned around to win the Individual test gold medal on Thursday at the 2018 North American Young Riders Championships in North Salem, USA.
Jones and Don Philippo performed a stunning test to earn a score of 72.20%, besting a field of 28 entries. Canada's Beatrice Boucher and Delfiano earned silver with a score of 71.02% while the United States's Kayla Kadlubek and Perfect Step won bronze with a score of 70.76%.
Jones (Henderson, Ky., Region 2), 20, and Don Philippo, her 10-year-old Hanoverian gelding, recently returned from Europe as part of the 2018 US Equestrian Dressage European Young Rider Tour. Their overseas preparation showed. "It's really exciting to be a gold medalist; this is something I worked for this year. It is really an honor. My horse was so reliable and listening to me the entire time. He was so calm, and he gave me everything he had. I was really happy with him," said Jones.
Jones and Don Philippo have been fine-tuning their weaker movements over the past year, and they hit a high at the NAYC. "Our canter work was our strong point [today]. He has struggled with the canter pirouette in the past, so I was a little worried about those. But in the last few months I have really figured him out, so I was really happy with those. Everything else just flowed very nicely throughout the entire test," added Jones.
Jones has attended the NAYC the past two years with Don Philippo and is grateful for the experience it brings. "This is one of my favorite competitions," she said. "Being on a team is incredible, just having the support of other people. You meet so many people and have those friends for a lifetime. It's just incredible to see amazing riding."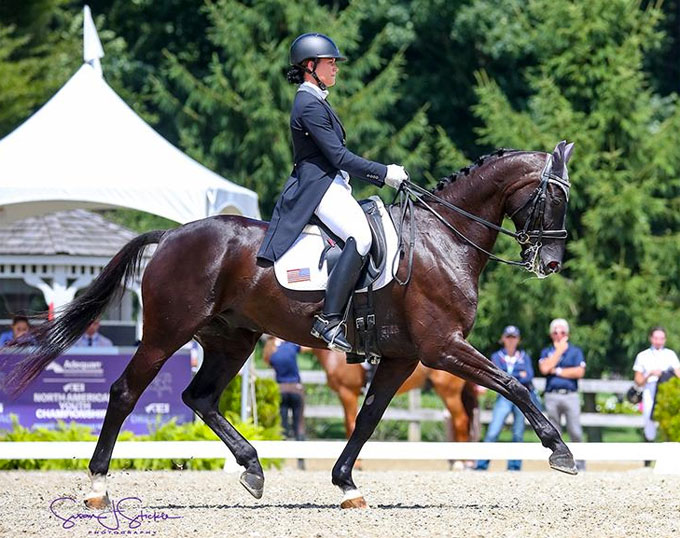 Boucher (Mascouche, Quebec), 20, and Delfiano, Gilles Bergeron's 15-year-old gelding of unknown breeding, were members of Wednesday's gold medal-winning team. Boucher could not believe they earned the individual silver medal. "Yesterday, he lacked fluency and form in the pirouette. Today, everything went right; he was brilliant. He was so expressive; he just felt so good," said Boucher.
Kadlubek (Fairfax Station, Va., Region 1), 18, capitalized on Perfect Step's, the 17-year-old Hanoverian gelding owned by Dressage4Kids, energy to carry them to the bronze medal finish. "[His energy] really paid off in getting higher marks where I could. There were a couple bobbles in there, but I am so excited for this horse. He has so much more to give me, and I'm excited to see where we'll go," said Kadlubek. "I'm so grateful to Lendon Gray and Dressage4Kids for allowing me to have the chance to ride an incredible horse where he has really been able to teach me the ropes of the young riders, and hopefully moving forward to the grand prix."
Photos © Sue Stickle
Related Links
Scores 2018 North American Youth Riders Championships
USA Region 3 Wins Team Gold at 2018 North American Junior Riders Championships
Quebec/Alberta Team Wins Gold at the 2018 North American Young Riders Championships