Westfalian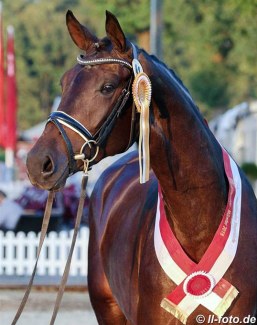 The dark bay mare Gloria (by Goldberg x Rock Forever) was named the winner of the 2018 Westfalian Elite Mare Championship held in Munster-Handorf on 27 July 2018.
The breeding stallion Escolar continues to dominate Westfalian breeding, not only in the young horse championships, but also in the mare championship. Four of his offspring moved to the champion's ring for the title of Westfalian Mare Champion. 
Still, it was a mare by the KWPN stallion Goldberg that reigned supreme: Gloria, who already won the 2018 German Mare Championship in Lienen earlier in the month, also persevered in the Westfalian Championship.  Bred by Hartmut Ahmann, Gloria is owned by Gut Neuenhof. 
The reserve champion was Emilie Louise MT (by Escolar x De Niro). She is bred by Klaus Grosse Lembeck and owned by Sissy Max-Theurer.
The third ranked mare was Etiennette (by Escolar x Rock Forever), bred and owned by Niklas Schulte-Märter. 
The 4-year old mare Dorietta (by Don Frederic x Fidertanz) was named the best in her age group. She is bred by Johannes Baumeister and owned by Gestut Fohlenhof.
Results - 2018 Westfalian Elite Mare Championship
1. Gloria (by Goldberg x Rock Forever) - breeder: Hartmut Ahmann - owner: Gut Neuenhof
2. Emilie Louise MT (by Escolar x De Niro) - breeder: Klaus Grosse Lembeck - owner: Sissy Max-Theurer
3. Etienette (by Escolar x Rock Forever) - breeder and owner: Niklas Schulte-Märter
4. Die Perle (by De Niro x Belissimo M) - breeder: Kaldewei
5. Schoko Chanel ST (by Sam Amour x Don Romantic) - breeder: Susanne Tötemeier
6. Estonia (by Escolar x Florenciano) - breeder: Oemer Boyar van Baaren
7. Emma Peel (by Escolar x Dimaggio) - breeder: Gut Dalmer
8. Vlorentine (by Vivaldi x Dollmann) - breeder: Hendrik Schulte-Märter
9. Farrella (by Farrell x Wolkentanz II) - breeder: Willi Ottmann
Photo © LL-foto
Related Links
Ratina B Named Champion of the 2017 Westfalian Elite Mare Show
Ballerina, Champion of the 2016 Westfalian Elite Mare Show
Vienna, Champion of the 2015 Westfalian Elite Mare Show
Rhianna, Champion of the 2014 Westfalian Elite Mare Show
Dimma, Champion of the 2012 Westfalian Elite Mare Show in Handorf
Florenciana F Named 2011 Westfalian Elite Mare Champion in Munster-Handorf