Australia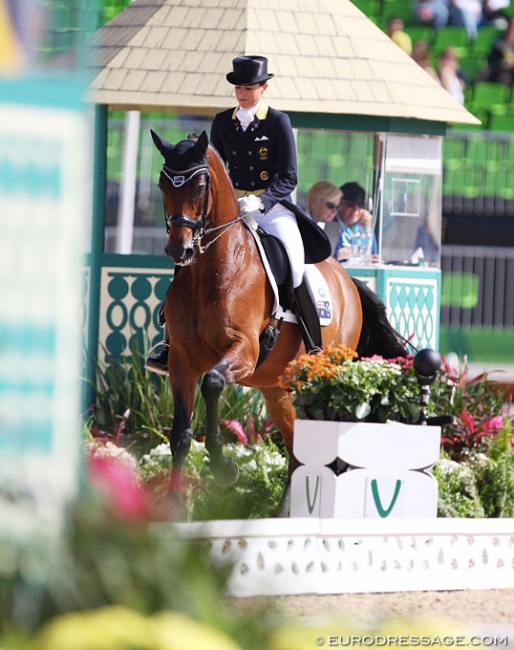 Lyndal Oatley sadly had to part from her number one Grand Prix horse Sandro Boy, who died unexpectedly at their home yard in Appelhulsen, Germany, on 1 June 2018. 
"Utterly heart broken and have no words," Lyndal wrote on Instagram. "He died unexpectedly and quickly today while still making sure all around him were ok before very quickly leaving us."
The 17-year old Oldenburg gelding most likely died of an aortic rupture during a light stretching session. Oatley told Eurodressage that the horse gave his rider just enough seconds to dismount, and then looked at Lyndal and her husband Patrik Kittel and died.
"He was everything and more .. gave his all.. loved me dearly as much as I loved him," said LyndaL. "He had a cheeky sense of humor and gave me all the dreams a horse girl could ever ask for whilst still being his own person .. and for that I loved him more!. My world will be very empty without him and I can't begin to imagine it without him. I will miss him more than words can make sense of."
Bred by Heinrich Hoeffer, Sandro Boy was by Sandro Hit out of Utopia (by Argentinus x Zeus x Luciano).
In 2011 owner Eugene Reesink put him as a sales horse in Patrik Kittel's barn. The pair showed at the CDI Lingen at small tour level in May 2011 and by the summer the horse was sold to Patrik's wife. 
"He changed my world," said Lyndal. "He went above and beyond and has done more for me and my life than I can put into words. 2 Olympics. 1 WEG. 1 World Cup Final. 1 Aachen Final. 2 Australian Grand Prix records. 1 World Cup win. But that is not the half of it as he taught me so much, made dreams come true, and was my rock."
The 2016 Rio Olympics were Oatley and Sandro Boy's last international. In 2017 Lyndal took a break from competition to get pregnant. She only showed him one more time, winning the Grand Prix at the CDN Ankum in November 2017.
Photo © Astrid Appels
Related Links
Eurodressage Photo Database: Sandro Boy
Lyndal Oatley and Patrik Kittel Expecting
Patrik Kittel and Lyndal Oatley Acquire Connie Endres' Eulenhof
Lyndal Oatley Secures New Ride, Elvive
Australian Team Selected for 2016 Olympic Games
Lyndal Oatley Withdraws from First Australian Olympic Trial at 2016 CDIO Odense
Mixed Fortunes for Aussies at WEG Selection Trial at 2014 CDI Deauville
Lyndal Oatley To Represent Pacific League at 2013 World Cup Finals
Lyndal Oatley and Sandro Boy Nominated for 2012 Sport Achievement Awards
Lyndal Oatley Set to Make Olympic Games Debut After High Score at 2012 CDI Compiegne
Lyndal Oatley and Patrik Kittel: Partners off the Horse, Rivals on It