Germany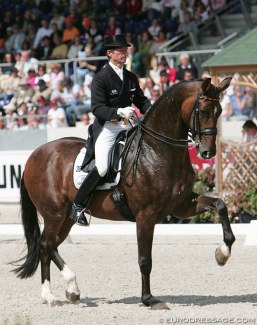 The 2004 German Olympic team gold medal winning Grand Prix horse Weltall has passed away at age 24. The bay gelding suffered from a severe colic attack and could not be saved. 
Bred by Hans-Heinrich Pahlmann, Weltall was a 1994 born Hanoverian gelding by Weltmeyer x Picard.
He was discovered as a youngster by Martin Schaudt at the 1998 Hanoverian Elite Auction.
The horse was known for its world class gaits, phenomenal extended trot and spectacular piaffe and passage, but the bay gelding battled many demons and was not the easiest. His path in life was also filled with challenges: first as a youngster he was operated on for roaring, then on his way to the CDI Dortmund he got involved in a big lorry accident when Schaudt's truck got rear-ended.  Weltall escaped from the lorry, slipped and sustained severe damage to his pelvis.
Under Schaudt, Weltall set two world record scores: In 2004, he achieved the world record of 80.92% in the Grand Prix Special and they improved that world record at the 2005 CDI-W Neumunster, where they scored 82.56%. Months after the lorry accident, he went on to win team gold at the 2004 Olympics in Athens.  On Weltall, Schaudt won the German Dressage Championships for male riders in 2004 and bronze in 2005.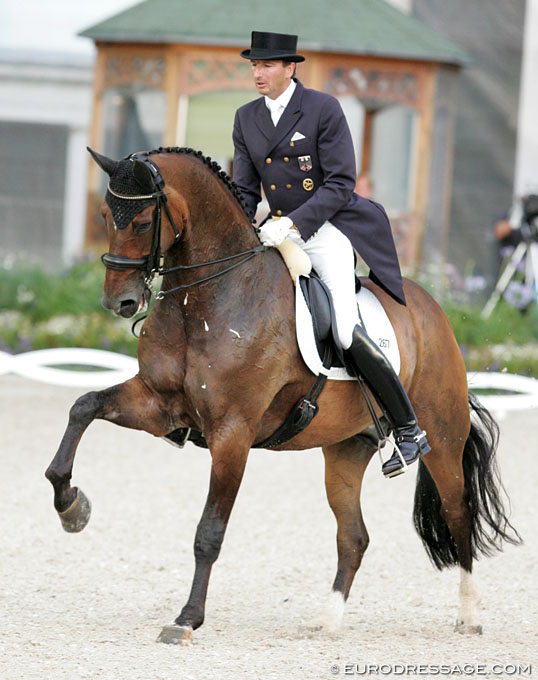 Schaudt sold Weltall to the Meggle family in Wasserburg in 2007 and he has not competed internationally since then. Weltall continued his competition career under Dieter Laugks between 2007 and 2012. He also got a lot of alternative treatment at Meggle's Georgihof with turnout and natural horsemanship to relax his mind. He was retired from sport in the spring of 2012 and enjoyed a happy life there until last weekend when he sadly had to be euthanized. 
Photos © Astrid Appels
Related Links
Eurodressage Photo Database: Weltall
What Does It Take to Ride That Dream Horse?
Weltall VA Sold to Meggle Stable
Anky van Grunsven Writes History By Winning Aachen Grand Prix Championship
Van Grunsven and Salinero Win 2004 CDIO Aachen Grand Prix Special
Heavy Weights' Title Match Has Started in Aachen. Rusty Wins Round One
Martin Schaudt's Lorry in Road Accident