2004 CDIO Aachen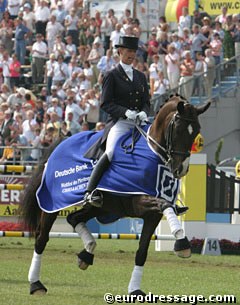 For the first time in the 106-year old history of the CHIO Aachen did a Dutch dressage rider win the Aachen Grand Prix Championships. At the 2004 CDIO Aachen, Dutch rider Anky van Grunsven
placed second in the Grand Prix and won the Special and Freestyle, claiming the overall championship title as well. Aboard the Hanoverian gelding Salinero (by Salieri x Lungau), Van Grunsven received the monster score of 83.65% and kept her biggest competitor, Ulla Salzgeber, behind her.
"I've never won in Aachen, so this is a new victory for me," Van Grunsven said exuberating with joy. Van Grunsven owed her Aachen victory formost to her ability to ride absolutely errorless tests. Salinero was not overheated, he looked more relaxed and confident in his work.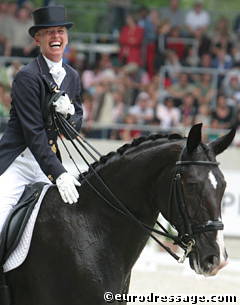 Riding her "Esprit des Chansons" freestyle, Van Grunsven excelled in riding smooth piaffe passage transitions and lovely pirouettes.
Van Grunsven rode a 100% clean score and thanks to Stephen Clarke's 3% and 5,5% point advantage in comparison to his Ulla Salzgeber's score, Van Grunsven took the lead in the CDIO Grand Prix kur and won the overall 2004 Aachen Grand Prix dressage championship.
With her Aachen victory added to her list of achievements, Anky is at the moment the gold medal favorite at the 2004 Olympic Games in Athens next month. But this adds no pressure on Van Grunsven's shoulders. "I already won the gold once and I don't expect Salinero to win it. I just want to enjoy the show and ride for a medal; which color doesn't matter," Van Grunsven said.
The Pressure is On, Ulla Salzgeber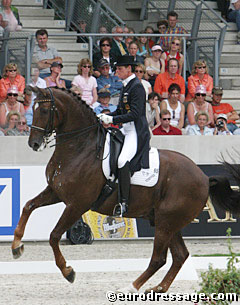 It took an awful long time for the judges to decide on Ulla Salzgeber's Kur to Music score after she finished her ride. When the mark of 82.775% appeared minutes later on the score board, everyone was astonished. Salzgeber lost from Anky van Grunsven on Salinero, an unprecedented defeat. Till then Salzgeber was considered the Olympic gold medal favorite but that hope vaporized instantly when Salzgeber ranked second in the Aachen Grand Prix Championship.
It was one lousy spook and one tiny mistake that made her "lose" the victory in the freestyle. Rusty looked sharp, uphill, and very engaged in his Carmina Burana kur. Though many people are upset about Salzgeber's stubbornness not to change her music, her freestyle is still the only one that can give me goose bumps.
What went wrong? Rusty made one step backwards after the first halt and salute at X (Salinero didn't stand still at all during his final halt and salute at X). His piaffe sometimes dangerously lingers on losing impulsion, but on the other hand, his tempi changes and pirouettes are just from another planet. What perfection! The verdict, however, was very hard. One mistake, one lost win.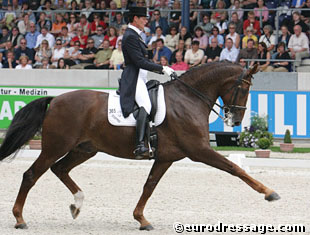 "A mistake is a mistake," Salzgeber said soberly after her ride. "Rusty spooked at a microphone. That can happen." One could not not notice Salzgeber's extreme disappointment with her loss and during a television interview she seemed extremely annoyed not to have been given the time to reflect upon the matter first.
Knowing well that Ulla was facing Anky, "The Queen of the Kur," on Sunday in the kur, Salzgeber did nothing special to prepare herself for her ride. "I drank coffee this morning, helped Heike a bit and got on my horse," Ulla remarked.
The battle at the Olympic Games is going to be extremely cutting edge. "Rusty is fit and ready. We're moving on," Salzgeber stated.
Martin Schaudt Returns to the Olympics after 10 year Intermezzo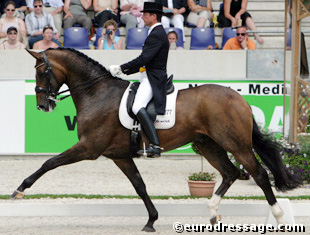 In 1996, Martin Schaudt was member of the German team at the Olympic Games in Atlanta. Ten years later, Schaudt will return to the Olympics on the German team. Durgo, however, has been replaced by the Hanoverian gelding Weltall VA, a Weltmeyer x Picard offspring, which Schaudt bought at the Verden Auction for Hanoverian sport horses.
Rising Star Schaudt rode himself in the picture by winning the 2004 German Dressage Championships for male riders, but he definitely claimed his place as fixed star in the firmament at the 2004 CHIO Aachen. Placing third in the Grand Prix (74.375%), the Special (75.840%) and Kur to Music (79.575%), Schaudt has become the second anchor of the "Mannschaft."
In Schaudt's freestyle, Weltall's piaffe and passage were just stunning and the traversal movements were more balanced than before. Only a glitch in the tempi's every single stride on the centerline was to be considered an error in his test. Schaudt's kur music was also a bit anonymous. His choreography was interesting, but the sound did not memorably synchronize with it.
Debbie's Back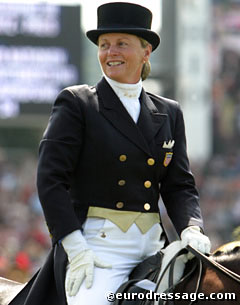 She was kicking at the door at the 2002 World Equestrian Games, and now she has returned to put the pressure again on the top three Grand Prix dressage riders in the world.
American Debbie McDonald received a by for the American Olympic Selection Trials and was immediately submitted to the American Olympic Team. After the CDI Dortmund in March, McDonald hadn't shown Brentina because of an injury. Their come back in Aachen was because of that one of the main attractions of the show.
In the Grand Prix they placed fourth with 74.167%, in the Special they finished sixth with 74.080% but moved up the ranks again into fourth place in the freestyle with an impressive 79.450%.
"I was extremely happy in the Grand Prix. It was our first time since Dortmund, so I was quite nervous. This is such a big competition and I felt a lot of pressure," McDonald commented. Their little setback in the Special on Saturday was caused by the hot weather. "The heat really hit us by surprise," Debbie said, "We were not at the same power and it was really hard ride in the heat, so we made a couple of mistakes."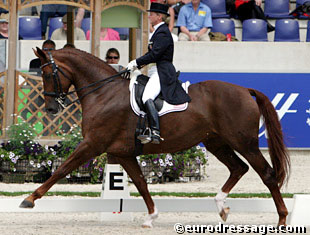 But Debbie McDonald fully lived up to the expectations again in the freestyle. Riding their Gershwin kur, Debbie and Brentina (by Brentano II x Lungau) rode a beautifully choreographed freestyle of a very high technical level. The 2x tempi's on a half circle followed by a diagonal of 1x tempi's was beautiful. Brentina also kept on going in the piaffe-passage, not losing balance nor rhythm for one second. "She's like a Ferrari," Debbie said about her mare. "She slips in and out of gear so easily."
Debbie was ecstatic about her freestyle ride and fourth place in the ranking. In preparation for the Olympics, Debbie will not focus on the Grand Prix movements. "You don't need to practice the moves on her. We will definitely be working on the fitness part. Her fitness has to be stronger coming into Athens. I will take the work up some more and take her out for some gallop in the afternoon."
Besides Brentina, McDonald has another horse at home in which she believes very much. Felix, a 7-year old Hanoverian gelding by Fabriano, will be prepared for Prix St Georges, but Debbie did not have to chance to consistently train him this year. "I will be bringing him out next year," Debbie told Eurodressage. "I have been in Germany since January and am looking forward to going home again."
Photos © Astrid Appels