2004 CDIO Aachen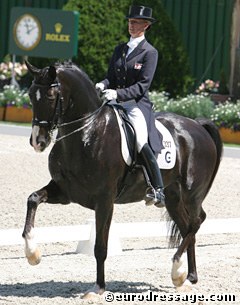 Dutch 11-time team national Grand Prix champion Anky van Grunsven scored the highest mark in the Grand Prix Special at the CDIO Aachen. Aboard the Hanoverian gelding Salinero (by Salieri)
, Van Grunsven rode a high class test in which the passage scored multiple 9's and the final centerline reprise of passage-piaffe-passage was an absolute highlight in the test. Salinero did not halt at X, but piaffed his way through the halt and the transitions to several movements, whether it was the trot half pass or the flying changes, were still a bit tense.
Nevertheless, it was a great relief to see that Salinero is indeed able to relax in performance and confide in his rider. While Anky's World Cup Finals' ride featured a TNT-charged Salinero, the dark bay gelding kept his cool much more in Aachen and his collected trot work was no longer typically passagy nor his piaffe undiagonal and 10,000-volt electric. In Aachen, they scored 77.16% and won the class.
"I'm very happy with Salinero, he was much looser, but he was still a bit nervous in the ring," Van Grunsven said. "I like him a bit nervous, but he needs to get used to such atmospheres. I know we can do better."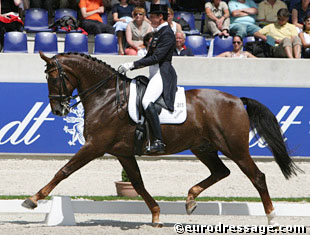 German number one dressage rider Ulla Salzgeber was for the first time beaten by Anky van Grunsven. Salzgeber scored 77.04%% and was only 0.13 points short of a victory. Rusty was razor sharp in his test, his extensions were brilliant, his flying changes a patented trademark (receiving a 10 from the judges) and his pirouettes textbook examples. Unfortunately, Salzgeber gave away the lead by making two irrevocable mistakes: at the end of the extended canter on the diagonal, Rusty made an non requested flying change, and in the first piaffe he kicked once to the rider's aids with his right hind leg. He did not do it in the other two piaffe movements.
Though Rusty only paced second in the Grand Prix Special, he is still in the lead in the CDIO Aachen Individual ranking with only a minimal point advantage to Salinero.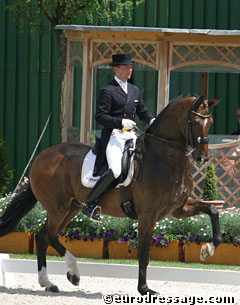 Confirming his international break through as a top five Grand Prix rider in the world was Martin Schaudt aboard the mystical Weltall VA. The dark bay Hanoverian gelding by Weltmeyer has the most impressive extended trot ever seen. His lofty trot is so powerful, so engaged and so suspended, it just takes your breath away. He scored 4 9's on his first extended trot and did not go below 8 on his other extensions. His piaffe and passage are of the same caliber, suspended and active from behind. The horse has such a super rhythm and shows incredible potential in his three basic gaits. On the downside, however, there is the pinched tail between Welt all's hindlegs and the fact that the traversal movements are not always nicely diagonal (but too parallel). The duo scored 75.84% and secured his place on the German Olympic Team.
Best scoring American was once again Debbie McDonald on Brentina. McDonald entered the ring right after Schaudt and Weltall, and all of a sudden, Brentina's trot work did not look intriguing anymore. The mare did look fresh and responsive to the aids and showed a general 100% correct and clean test, but pizzazz was lacking. In the extended trot the mare broke into canter. McDonald scored highpoints with brilliant, relaxed passage work, a superb extended walk and her overall correctness in each movement. With 74.08%, they finished in sixth place.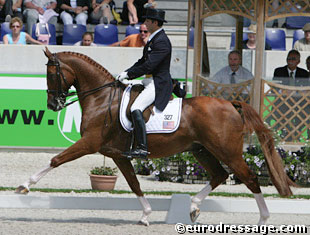 Robert Dover and FBW Kennedy placed 9th with 72.16% With all respect for Kennedy's former owner and rider, Lone Jorgensen, it must be said that Kennedy looks even better under Dover. The piaffe-passage work is clean and correct and so rhythmical, the tempi changes are so balanced and large. The bopping head of Kennedy in the traversals and the short-long steps in the passage (which is not a training issue but the nature of Kennedy's movement mechanism in passage) could have reduced Dover's overall score.
Guenter Seidel and Dick and Jane Brown's Westfalian gelding Nikolaus were the third American pair to qualify for the Grand Prix Special. The pair scored 67.52% and placed 21st, but Nikolaus looked more relaxed than usual. Several mistakes, such as a missed change in the tempi's every single stride, a bad canter pirouette to the left and the horse breaking into canter in the trot, made the score drop considerably.
With Van Grunsven winning the Grand Prix Special, the lion's den has been invaded by hyena's. "Foreigners" competing in Aachen have often been called crazy because it was entering the lion's den. But recently show organizer Frank Kempermann has done much to make Aachen a more attractive show for non-Germans to compete at. "The competitors are no longer all Germans, nor are the judges. This made the show much more honest and fun to be at," Anky van Grunsven said.
Known to be the "Queen of the Kur," Van Grunsven expressed her high hopes for another victory in the freestyle on Sunday.
Photos © Astrid Appels - No reproduction allowed