France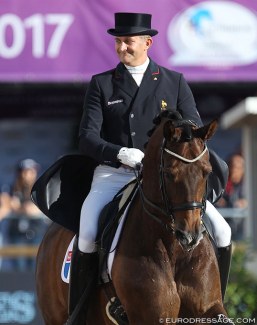 The French Equestrian Federation (FFE) has announced the horses which have been submitted to the JO/JEM squad for 2018. 
The French Federation does not use the traditional A and B-squads denominations, but refers to the elite group of Grand Prix horses as the JO/JEM group, indicating that the submitted horses have team selection potential for the Olympic Games/World Equestrian Games. 
"FFE brings together the riders, the horses and their owners in one programme with the next big championships as goal," the FFE stated. 
The owners of the JO/JEM listed horses get extra support from the federation for the training and competing of their horses by France's elite Grand Prix riders, so that they will not be prompted to sell the horse.
For 2018, the FFE has submitted five horses to the JO/JEM team. They are:
After You, owned by Ludovic, Giorgia & Alexandre Henry, ridden by Ludovic Henry
Badinda Altena, owned and ridden by Pierre Volla
Don Luis, owned by  Karen Tebar, Gerhild & Willy Schetter, ridden by Karen Tebar
Quartz of Jazz, owned by   Jean Bretenoux, ridden by Marie-Emilie
Ultrablue de Massa, owned by  Anne-Sophie Bernard de la Gatinais, ridden by Arnaud Serre
Photo © Astrid Appels
Related Links
French Grand Prix Squad Attends First Team Training Session of 2018
French Potentials for JO/JEM Group Announced
French Grand Prix A-team for 2017 Announced