French Dressage News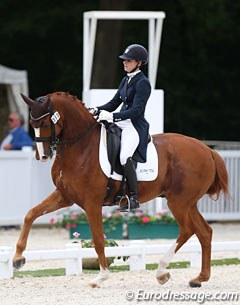 A few days after the announcement of the French Grand Prix A-team for 2017, the French Equestrian Federation also released the names of the horses who have been marked as "potentials" for A-team submission.
The French Federation does not use the traditional A and B-squads denomination, but refers to the elite group of Grand Prix horses as the JO/JEM groups, signifying horses with potential for the Olympic Games/World Equestrian Games. 
The owners of the JO/JEM listed horses get extra support from the federation for the training and competing of their horses by France's elite Grand Prix riders. 
The Technical Dressage staff of the FFE has now also marked the horses that are potential candidates for JO/JEM squad submission. They are:
Blacktime, owned and ridden by Maéva Hoang
Casanova S,

owned by Ludovic & Giorgia Henry, ridden by Ludovic Henry

Dirbini, owned and ridden by

Barbara Clément-Klinger

Gracieux VH Lindenhof,

owned by 

Caroline Orebi,

ridden by 

Perrine Carlier
Liaison*ENE-HN,

owned by 

l'IFCE,

ridden by 

Pauline Vanlandeghem
Lovesong,

owned by 

Marie-Christine Pointier,

ridden by 

Jean-Philippe Siat
Rock'n Roll Star,

owned by 

Scea Limousin, 

ridden by 

Philippe Limousin
Soliman de Hus,

owned by 

Famille Dallara,

ridden by 

Marc Boblet
Star Wars, owned and ridden by Bertrand Liegard
Vistoso de Massa,

owned by Sylvain Massa, ridden by 

Anne-Sophie Serre
Photo © Astrid Appels
Related Links
French Grand Prix A-team for 2017 Announced 
French Grand Prix Squad Riders Invited to Team Training Seminar in Le Mans