Germany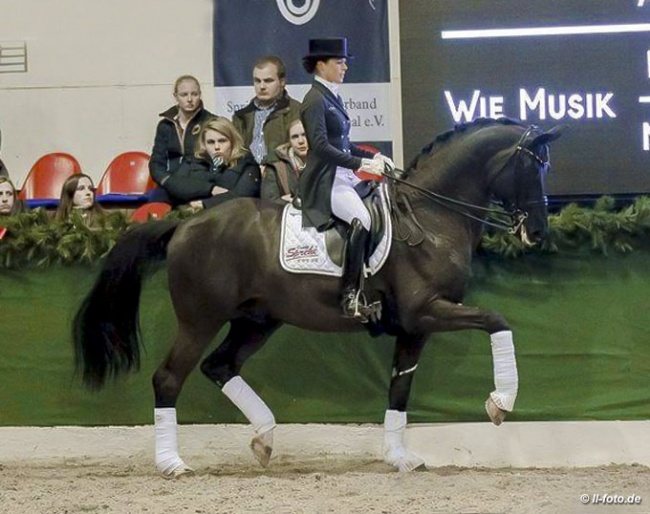 Kristina Bröring-Sprehe, Germany's leading Grand Prix rider in 2014 and 2015, might be making her long awaited show come back of her top mount Desperados FRH. The news is strong that the pair will return to the show ring at their favourite event, the CDI Dortmund. 
After almost a year off due to an injury, the 17-year old Hanoverian licensed stallion (by De Niro x Wolkenstein II) made his first public appearance at the Gestut Sprehe Stallion Show in Vechta on Sunday 4 February 2018. The pair proved form and fitness and in the wake of this public viewing, an official show come back is highly anticipated.
Although Bröring-Sprehe will not officially confirm that Dortmund is the chosen venue for the come back, she did acknowledge to Eurodressage that Desperados is totally fit and in full training. The CDI Dortmund, of which the 2018 edition takes place on 22 - 25 March 2018, is one of the last winter indoor competitions before the green season kick off in April. 
"Despi is top fit and I'm really happy about this," Sprehe told Eurodressage. "My team and my trainer have not yet decided where my next start will be."
Between 2014 and 2015, Sprehe and Desperados were Germany's leading dressage duo, winning t They got team gold and Grand Prix Special silver at the 2014 World Equestrian Games in Caen, France. At the 2015 European Championships in Aachen they earned team bronze and GPS and Kur silver and at the 2016 Rio Olympics they added team gold and individual bronze to that tally. 
The pair's last show was the CDI-W Stuttgart in November 2016. The black stallion missed the entire 2017 show year recovering from his injury.
Dortmund has always been one of Kristina's favourite show. In 2012 she made her big international break through at that event, beating Laura Bechtolsheimer on Mistral. The pair has swept the CDI Dortmund no less than four times: in 2012, 2013, 2015 and 2016. Who knows 2018 will be next?
Photo © LL-foto
Related Links
Desperados Back in Training, 2018 Show Schedule to be Planned
Desperados and Showtime Withdrawn from German Team Selection for 2017 European Championships
Desperados, Hanoverian Stallion of the Year 2016
Hanoverian Society and Desperados Top 2016 WBFSH Studbook and Dressage Horse Ranking
Kristina Broring-Sprehe and Desperados FRH, New World Dressage Number One
Sprehe Wins CDI Dortmund Big Tour for Third Time
A New Star is Born: Sprehe Beats Bechtolsheimer at 2012 CDI Dortmund