2012 CDI Dortmund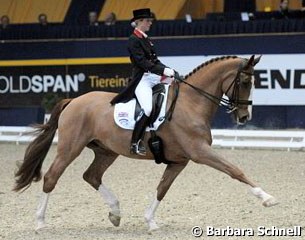 A potential new elite Grand Prix star has been born! In a tour de force German 25-year old Kristina Sprehe and Desperados produced their first massive scores in their career and beat WEG triple silver medallist Laura Bechtolsheimer on her top horse Mistral Hojris at the 2012 CDI Dortmund in Germany on 8 - 11 March 2012.
The CDI Dortmund turned out to be the first venue during the 2012 Olympic show year where monster scores were being awarded to Europe's best riders. While an indoor competition with a strictly German field of participants is still a far cry from results ridden at a realistic, outdoor competition venue with a full-force entry list, the Dortmund show will still be a good indicator of the judges' flavour of the year.
The presiding judges at the show were FEI Judge general Ghislain Fouarge (NED), Dieter Plewa (GER), Isobel Wessels (GBR), Isabelle Judet (FRA), and Martin Richenhagen, who carries dual citizenship for Germany and the U.S.A.
Grand Riding in the Grand Prix
Competing at her first show in three months (since the CDI-W London mid December 2011), Laura Bechtolsheimer and her 17-year old Danish gelding Mistral Hojris (by Michellino x Ibsen) were on spectacular form and dominated the Grand Prix without doubt. The chestnut torpedo appeared in the arena with much self-carriage and improved contact in the mouth. She placed first unanimously and scored a total of 81.170% which could easily have been higher.
"My father told me just to ride a beautiful, loose test," Bechtolsheimer commented after her victory. "My goal was to ride a relaxed, faultfree round and I did it," she told German journalist Birgit Popp. "It was a great start of the year. This winter we worked hard on getting Alf more open in the neck and less strong like he was last year at the CHIO Aachen at European Championships in Rotterdam.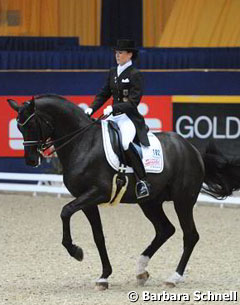 Kristina Sprehe dealt her first blow to the establishment by finishing second in the Grand Prix with a 79.894% from the five judges which all placed her second. The black stallion Desperados (by De Niro x Wolkenstein II) was professionally trained to Grand Prix level by Falk Rosenbauer. Sprehe took over the ride a year ago and had a very successful season in the Under 25 circuit throughout Europe.
Kristina has now moved to the seniors' big league and was immediately submitted to the German A-team as potential Olympic team candidate. Desperados' unlimited potential and talent were already apparent under Rosenbauer. Thanks to her horse's qualities, Sprehe was able to rule the 25 circuit even with unpolished tests. Trained by Jurgen Koschel, Kristina has brushed up her act and in Dortmund was rewarded for her work as well as the potential she might have in store. The tempi changes, pirouettes and extensions were brilliant, but the black stallion needs to improve on the regularity in passage -- especially as the right hind leg is stepping under more than the left one. Also the transitions to and from piaffe need solidification.
 "Until now I have mainly been riding the U25," Sprehe told Popp. "This Grand Prix was my first start against such heavy competition and it was very exciting. I never expected to finish second."
After the training seminar in Warendorf for German A-team riders, Ulla Salzgeber decided to give it a go in Dortmund and she showed a high class test which made her slot in third with 78.298%. Salzgeber and her Herzruf's Erbe (by Herzruf) hadn't competed since November 2011.
Sprehe Beats Bechtolsheimer in Grand Prix Special
Kristina Sprehe's glorious weekend continued with a career making victory in the Olympic Grand Prix Special on Saturday in which she beat multiple championship medallist Laura Bechtolsheimer. Earning a score of 81.978%, Sprehe edged out Laura by a fraction of points and added herself to the list of only very few riders able to score 80% internationally.
Both top ranked riders had a mistake in the one tempi's but showed excellence in the piaffe, passage and pirouettes.
"It was my goal to finish in the top eight because I prefer to ride the Special," Sprehe said about her weekend goal. By winning the Special, the 25-year old student also claimed the Meggle Champions' Finals and took home 20,000 euro in prize money. Having proven for the first time that Sprehe has the potential to put huge marks on the scoreboard, she has launched herself as a serious German Olympic contender.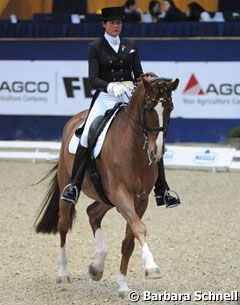 "Of course the Olympics is my dream, but it's still a long road," she said realisticly.
Bechtolsheimer and Mistral Hojris kept their great form (81.044%) but once again made mistales in the tempi changes, which seemed to have become their bete noire since last year. Nonetheless, Bechtolsheimer remains to be one of Britain's strongest riders and can be certain of a team spot if her horse stays fit.
"There are pro's and con's about having the Olympic Games in own country," Bechtolsheimer explained. "Us riders are very much in the public eye and all the media are asking time from us. But the dressage team is in good spirits and we're looking forward to the Games."
Ulla Salzgeber and Herzruf's Erbe reclaimed the third spot with a 79.000% score. The chestnut Rhinelander was a little bit spooky after the first piaffe but the south German based rider remained unphased and completed a strong test.
Text by Astrid Appels
Photos © Barbara Schnell
Related Links
Scores 2012 CDI Dortmund
German A-Team Had Closed Door Training Seminar in Warendorf