2015 CDI Dortmund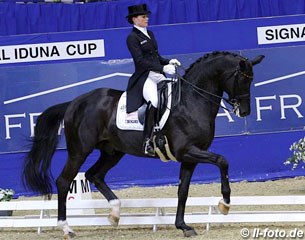 Kristina Sprehe and her number one Desperados (by De Niro x Wolkenstein II) won the big tour at the CDI Dortmund for the third time. Dortmund has a special meaning for Sprehe, who had her big interntional break through there in 2012, which resulted in Olympic particpation. At the 2015 CDI Dortmund, Sprehe rode top scores in the Grand Prix and Special.
Sprehe won the Grand Prix with 80.760% and upped the ante in the Special to post a whopping 83.000% leaving all competition far behind her. The field in Dortmund was a strong one, with several German A-team riders there.
"It was lovely (to win)," said the 28-year old Sprehe who made her return to the show ring since her last start in November 2014. "I was able to ride him well and I'm happy about the way he presented himelf, as I'm usually not so relaxed at my first show after a long break." Sprehe's stallion Desperados has been breeding over the winter and also got a short break. "The goal this year are the 2015 European Championships where we want to get team gold again as title defenders."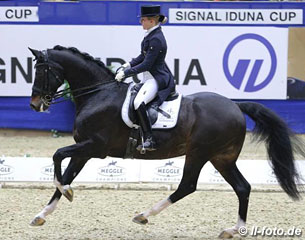 Jenny Lang and her Holsteiner bred 15-year old Loverboy (by Lorentin) won the Grand Prix kur to music with 78.17%. The duo reaped the fruits of having spent some training with team coach Monica Theodorescu this winter.
"I'm very happy," said Lang at the press conference. "I believe he has become a bit more relaxed. Monica had recommended me to ride more Grand Prix Special tests the past year and it has had its effect. In Dortmund it worked well with the size of the arena and the distance to the audience."
Lang has planned her next start at the CDI Mannheim in May, followed by the mandatory start at the 2015 German Championships in Balve.
Photos © LL-foto
Related Links
Scores 2015 CDI Dortmund
De Niro Offspring Rule at 2013 CDI Dortmund
A New Star is Born: Sprehe Beats Bechtolsheimer at 2012 CDI Dortmund
Jenny Lang and Loverboy with Mutual Love and Respect to the Top
Kur Debutante Jenny Lang Dances into Winner's Circle at 2013 CDI Mannheim