French Team Training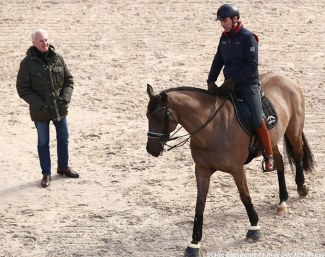 The French A-squad riders were invited to the first official team training session of 2018 held in Le Mans, France, on 15 - 18 January 2018.
Eight A-squad and upcoming Grand Prix riders, seven with horses, attended the team training and information session about the 2018 show season with the World Equestrian Games as highlight.
Present were Ludovic Henry (Casanova), Pierre Volla (Badinda Altena), Arnaud Serre (Ultrableu de Massa), Karen Tebar (no horses), Stéphanie Brieussel (Amorak), Marie-Émilie Bretenoux (Quartz of Jazz), Anne-Sophie Serre (Vistoso de Massa), and Barbara Clément Kingler (Dirbini).
FFE Technical Dressage Director Emmanuelle Schramm and team trainer Jan Bemelmans have been conducting these training sessions for several consecutive years. 
"It has become a ritual to meet each other in January. After the disappointment of last summer at the European Championships in Gothenburg, we became aware that we still have a long road to travel  on a technical level, but there are no details to be missed and we have to consider every factor of a performance," said Schramm.
In Le Mans, the riders rode the Grand Prix test and were briefed afterwards by Bemelmans with video footage at hand. On the next days they worked on issues that needed improvement.  
The riders also received a yoga course, media training, mental coaching from Christian Nicolay, while Veronique Bartin instructed on how each rider can optimize his/her functioning. Afterwards there was a team building moment to increase the cohesion within the group. The horses were checked by the veterinarian.
"It was an excellent experience," said Barbara Klinger. "The workshops were a real asset and the staff went through great lengths to put us in optimal conditions." Bretenoux also rung in: "Everything was done to increase even more team cohesion amongst us. This was a precious moment, outside the stress of the competition. The yoga session was a good way to also do some introspection. It was really good."
Photo © FFE/PSV
Related Links
French Potentials for JO/JEM Group Announced
Jan Bemelmans Hired as French Team Trainer
Jan Bemelmans Happy About His Eventful Life as Trainer and Coach
2017 French Dressage Trainers' Meeting at Lamotte-Beuvron
French Grand Prix A-team for 2017 Announced
Norbert van Laak Trains French Riders to Focus on Seat and Quality of the Basics