USPRE Breeding News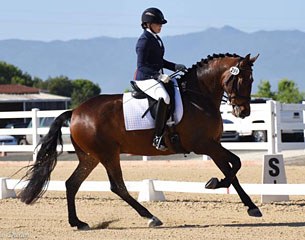 Anja Ibsen and the 5-year old Apollo ADP have been named the 2017 USPRE California High Point Series Grand Champions. Apollo is a bay stallion bred by Erin Lohec of Tassajara CA, and is the son of Erin's former High Point champion Noble GF.
Apollo ADP is owned by Elizabeth "Liz" Duffy of Livermore, CA. 
In their first year in the show ring, Apollo and his rider Anja Ibsen were regularly scoring well above the 70% mark at Training Level. With a High Point average of 72.62 from two shows, they were clearly unbeatable in the Open National Division.
This closes the 2017 High Point calendar for the CA and FL series. We also held a successful trial High Point challenge in North Carolina this year, and look forward to adding more shows next year.
The USPRE High Point Programme is designed to encourage PRE riders of all levels to train and compete in rated dressage shows. The USPRE High Point award is available at any USDF dressage show around the country when organized by members. Currently, the program has developed series' in two locations: Florida and California. The schedule of shows where USPRE High Points are awarded is posted below. Grand Champions of the series' are awarded a USPRE riding jacket.
The 2018 FL, CA, and NC Series' shows will be announced shortly after the 1st of the year.
For more information on USPRE visit, www.usprea.com
Related Links
A Magical Week for PRE Lovers During 2017 USPRE Week in Wellington
USPRE Announces 2016 Copa USPRE Winners and 2017 USPRE Dressage Team
Vaquero HGF and Churro Receive 2016 PRE High Point Palm Beach Derby Award
California USPRE High Point Series Kicks Off for 2016
2016 USPRE Florida Series High Point Champions Announced