British Breeding News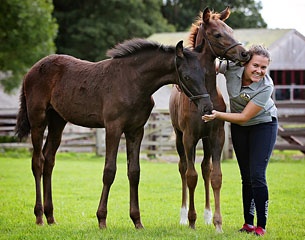 Mount St. John, Great Britain's leading dressage breeding farm located in Felixkirk on the boundary of the North Yorkshire Moors National Park, is proud of having accomplished significant successes in sport and breeding in 2017 and the team is looking ahead to 2018 expecting an even bigger crop of foals due in spring and expanded facilities for highly professionalized horse management.
"For the last few years we have been breeding around 20 to 25 foals annually from world class dam lines and stallion combinations," said 31-year old founder and managing director Emma Jane Blundell, who did a Business Masters at Manchester University. "For 2018 we are expecting the biggest year of foals with 36 due, including 25 embryo transfer foals."
Blundell began running Mount St. John in 2011, starting out with some fillies that she purchased during her university studies. Those mares now make up some of her oldest competing horses and the first mares that she bred from by embryo transfer, such as Freestyle, VIP, and Furstin Fugger.
Running a strong collaboration with double British Olympic champion Charlotte Dujardin, Mount St. John is proud that after the retirement of Valegro, Charlotte's most successful dressage horse at the moment is Mount St. John's Freestyle (by Fidermark).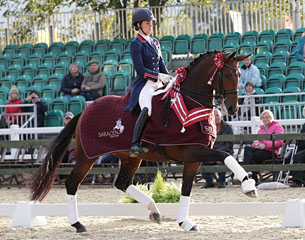 "Freestyle was the first dressage foal I purchased and the only one that year to go alongside our first homebred dressage horse MSJ Front Row who is now one of our most prolific broodmares," Blundell explained. "Front Row is by For Compliment out of FBW Deja'vu. She is also the dam of MSJ Top Secret who is the most successful oldest riding horse we bred. Top Secret finished reserve national champion at the British finals as both a 4 and 5 year old. She has recently started under our new stable rider Jayden Brown and is well on the way towards Prix St Georges as she comes towards being 7-year old next season."
Australian Grand Prix rider Jayden Brown joined the MSJ team in June 2017 to help develop the ridden mares in training towards the higher levels of dressage.  Blundell hopes that Jayden will represent Australia in both the World Young Horse Championships and on senior teams in the future with MSJ mares, starting next season with the young horses.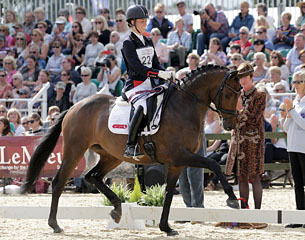 In 2017 Mount St. John qualified 14 horses for the British Dressage Finals from 4-year old class through Intermediaire I. These horses won 6 national titles in total and all of them were placed in the top 6 of their classes. For next year they want to cover all levels as the Grand Prix debut is planned for Freestyle and Kom Fairy Tale (under Charlotte Dujardin) and De La Beauté OLD (under Jayden Brown).
"Charlotte is currently training three of our horses, including VIP who has been unbeaten with her and won the 5 and 6 year old British Finals, as well as the Novice, Elementary and Medium British finals over the last two seasons. She is well on the way to FEI levels in her training," said Emma, who herself has been competing Keystone Diaz (by Dimaggio) at Intermediaire II level with scores up to 70%.
Biggest Foal Year in 2018
"We are passionate about breeding, raising, training and developing dressage horses for the highest levels internationally," said Blundell, whose bubbly yet business focused temperament is infectious and inspirational. "All colts are sold each year before weaning, many as stallion potential or to top riders on the world rankings. Now that we have bigger numbers of foals around half the fillies born each year are also available offering top dam lines to select homes worldwide."
From the first crop of colts MSJ Cashmere (by Charmeur out of Top Secret) became a licensed Oldenburg stallion, owned by HP Horses of Denmark.
Blundell aims to select the best homes for her 'babies'. "We are very selective of the homes our horses go to for the aftercare and potential of each individual and like to keep in touch and follow the progress and life and successes of each horse with their new owner," said Emma, who recently travelled to Australia to visit clients that have purchased MSJ foals in the past. 
All the MSJ mares in sport including the ones training with Charlotte are combining sport with a breeding career, either through ET or ICSI. VIP (by Furstenball x Dacaprio) is expecting a foal in 2018 by Charmeur. VIP and Fairytale had top colt foals this year by embryo transfer, both already sold to world class stables.
"We are focusing on top rideability in our dam lines proven by their continuing successes after sales and focusing on dam lines which have proven at the highest level in competitions," said Emma.
Expanding to be Even Bigger and Better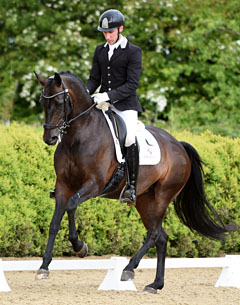 Mount St. John is one of the leading breeding centres for embryo transfer in the U.K, with state-of-the art breeding facilities all purpose built on site in the last 5 years in consultation with vets and experts in the industry. The yard is now expanding its ridden horse facilities to include 20 stalls for the ridden horses. They are also housing 15 broodmares and running their own recipient herd, who are all warmblood and very carefully, individually selected, so each must be suitable for the best embryo of the season. The vets choose which recipient mare gets which embryo based on the synchronisation.
"The broodmare barn housing up to 60 mares in winter includes a system for monitoring and regulating the air temperature, natural light lux levels and wind or drafts with self moving curtains that close when the rain starts or wind increases, as well as access to outdoor space and ad lib hay sourced from one of the royal farms," said Emma. "We believe this system gives the broodmares and pregnant mares the best health and happiness and thus aids our excellent pregnancy results."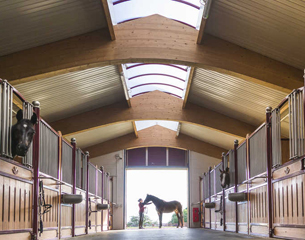 "On site we do everything including the insemination, foaling down, raising of the foals and young horses, breaking in and training up to GP, so we have complete control and know all the history of our horses," said Emma about the tailored programmes they run. "We really live by our value of 'Quality without Compromise' for the quality of broodmares, the care and attention they receive and the daily training and handling from foals upwards to ensure confident and happy horses.  Each horse is treated individually from the first day and receives whatever they need."
Mount St. John offers for sale a select number of horses from foals through to training Grand Prix as well as some world class broodmares and embyros in utero to approved homes worldwide.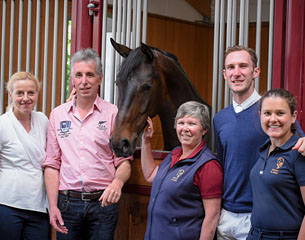 The breeding yard runs an annual open day in June, showcasing the stud, its training and foals of the year with international guest speakers and ridden presentations of the mares by Charlotte and the resident riders. A video of the 2017 MSJ Open Day can be viewed here.
For more information and contact info, visit www.mountstjohnequestrian.co.uk
Related Links
Mount St. John Celebrates Increased International Attendance to Its Annual Open Day
Dujardin Continues Sweep with Inter I Title on Day Two of 2017 British Dressage Championships
Jayden Brown Makes U.K. Debut on Mount St. John Youngsters at 2017 CDN Myerscough
British Horses Selected for 2017 World Young Horse Championships
Waverley Dante, Hawtins San Floriana, Mount St. John VIP Win 2017 British Young Horse Championships
Mount St. John Sweeps 2016 British Dressage Championships
Charlotte Dujardin Steps Out with New Ride, Mount St John Kom Fairy Tale
Mount St. John: a Foals' Paradise Aiming for High Performance Sport