2017 CDN Auckland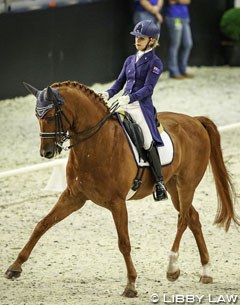 Julie Brougham added two more victories to her trophy cabinet when she won the Grand Prix and Kur to Music at the inaugural Equitana Auckland horse event in New Zealand on 24 - 26 November 2017. The Equitana Auckland show hosted two national dressage classes with riders from New Zealand and Australia alongside a masterclass with Jonny Hilberath.
Brougham and the Rhinelander bred Vom Feinsten (by Fidermark) were a class act scoring 70.63% to win the Grand Prix, with John Thompson (Hamilton) and Antonello second on 69.5%, and Wendi Williamson (Kumeu) and Dejavu MH third on 68.9%.
She paid tribute to her feisty chestnut, saying she simply wouldn't have an identity without him. Brougham was rapt with her Grand Prix test.
"It was a good test, with no errors at all," she said. "The arena out there was the best surface I have ridden on in New Zealand without a doubt. It makes such a difference and is vital to us."
In the Grand Prix Freestyle Brougham, who holds the Australasian freestyle record, scored an impressive 72.13%, with recent FEI World Cup finalist Wendi Williamson aboard Dejavu MH on 70.38% and John Thompson on Antonello third on 70.29%.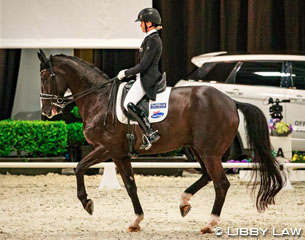 "I am just thrilled," said Brougham after the Kur. "He was listening to me all the way. It was such fun to ride. I am very pleased to do this freestyle for the last time and win." She paid tribute to her husband David and coach Andrea Raves. "It is a real team effort," she said.
Rio Olympian Brougham (Palmerston North) and her German-bred chestnut seem to be getting better and better, and are now chasing qualifying scores for the 2018 FEI World Equestrian Games (WEG) in the United States.
"It was one of the scariest moments of my life, purchasing a horse in Germany," she said, "But it turned out to be one of the best things I have ever done."
She praised the foresight of Equitana Auckland director Kevin Hansen.
"I am just thrilled that Kevin has brought Equitana to Auckland. He has really improved the standard in providing us with such a good surface. We are all so glad to have exposure to an event like this, and from a competitor point of view we have loved it."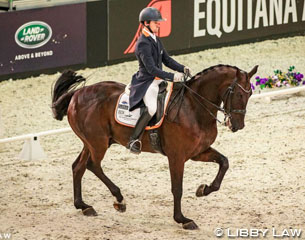 John Thompson, who is also tilting for the WEG next year, produced an electric Grand Prix test filled with energy with his gelding Antonello.
"He is 15 going on four," he said of the horse.
The third placed Wendi Williamson, another one eyeing WEG, and Dejavu MH also did a beautiful test.
Photos © Libby Law
Results:
Grand Prix
1. Julie Brougham - Vom Feinsten - 70.63%
2. John Thompson - Antonello - 69.5%
3. Wendi Williamson - Dejavu MH - 68.9%
4. Jody Hartstone - Ali Baba - 66.3%
5. Abbie Deken - KH Ambrose - 65.77%
6. Rozzie Ryan - Adonie - 65.13%
Grand Prix Kur to Music
1. Julie Brougham - Vom Feinsten - 72.46%
2. Wendi Williamson - Dejavu MH - 70.38
3. John Thompson - Antonello - 70.29%
4. Brett Parbery - Raukura Satori MH - 69.33%
5. Jody Hartstone -Ali Baba - 67.04%
6. Abbie Deken- KH Ambrose - 66.79%
7. Rozzie Ryan -  Adonie - 66.46%
Related Links
New Zealand's Julie Brougham on Board with IRT To Go All the Way To Rio
Thompson Chases WEG Qualification Scores at 2017 CDN Hamilton Equidays
Julie Brougham Officially Selected for 2016 Olympic Games
Wendi Williamson Earns Ticket to Omaha after 2017 Pacific League World Cup Final Victory