2017 CDN Waikato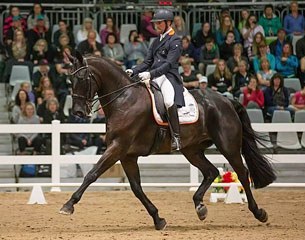 John Thompson proved impossible to beat in the Grand Prix at the national dressage competition in Hamilton held during the Equidays on 12 - 13 October 2017. Thompson twice beat Wendi Williamson who has returned home after a training and competition stint in Europe after representing New Zealand at the 2017 World Cup Finals in Omaha.
In the Grand Prix Thompson's Antonello looking a million bucks and finishing on 71.90 - a big step toward qualification for WEG 2018. Wendi Williamson and Dejavu MH (68.567) had an unfortunate course error, costing them second place, Julie Brougham stepping ahead of her (68.70) for the blue ribbon. Popular Waikato combination Bill Millar and Raukura Satori MH pulled off a lovely test for 67.10 and fourth place.
The top six Grand Prix combinations went through to the Equidays Night Show, Grand Prix Freestyle on Friday: Thompson, Williamson, Brougham, Millar, Abbie Deken with KH Ambrose and Vanessa Way on NRM KH Arawn.
Thompson and Antonello topped the board once again, posting 73.875% in the Kur to Music. Williamson came in second on Dejavu MH on 69.63%, followed by Brougham with 69.54%. The top six was completed by Deken (66.21%), Way (63.96%) and Millar (63.41%). 
Brougham and Deken to Compete at 2017 Australian Championships
It will be a busy end to the week for both Deken and Brougham as they fly their horses across the Tasman to Melbourne's Boneo Park on Saturday night, chasing qualification for WEG 2018.
Rio Olympian Brougham and Vom Feinsten have done well at the championships before but they are coming back into work after an injury. "It is a bit of a start again for us," says Brougham, who placed second this week in the Grand Prix at Equidays.
Before that outing, Brougham and Vom Feinsten hadn't really competed for a year. "Steiny has had six months rehab after a strained suspensory in January when we were trying to get organised for nationals."
She's looking forward to Australia where the championships are being held on one of her favoured surfaces. "These good surfaces are so key to the future for all of us," she says. "Boneo Park is known for its good surfaces." In the build-up to Rio, Brougham campaigned her 14-year-old horse in Germany and the UK.
Deken is heading across the Tasman with KH Ambrose. While it is the first time for the 15-year-old horse, Deken has been a number of times, including as part of the derby team aboard borrowed horses. "It (competing in the derby) was a bit of a disaster," she says. "I am not sure what happened but I collapsed mid test. We still aren't sure whether I had a viral thing going on or was dehydrated."
The current Dressage Horse of the Year title-holder has come a long way since then. "This is something I have wanted to do for a couple of years now, and it seems a good time to go. I have been over and helped Vanessa (Way) a few times, so know the drill."
The roles are reversed this time – Way, her long time trainer and dear friend, will be there to help her. "After HOY and going into WEG year, it is good timing. It would have been nice to have had a few more grand prix starts beforehand, but we are just coming out of winter."
Small and Medium Tour at Equidays
Vanessa Way and NRM KH Arion were the clear winners of the Prix St Georges class, leading the field of nine starters. Their 70.526 score was almost four percent ahead of their closest rivals, Melissa Galloway and the green but impressive Windermere J'Obei W (66.579). Northland combination Julie Flintoff and Belladonna MH were just fractions behind them on a score of 66.535.
The Inter A was won by Julie Brougham and Furst Fellini with a very promising score of 68.750. NRM Andreas, who currently holds the L6 National and HOY Championship titles, took second place with Vanessa Way (67.361), followed by Bay of Islands vet Nikita Osborne and Alacatraz on 66.806.
The judges for all the majority of the classes were Isobel Wessels (FEI5*, GBR), Sue Hobson (FEI4*, NZL) and Betty Brown (FEI3*, NZL). The competition was followed by Wessels' evening clinic and the Kyra Kyrklund masterclass.
Photo © Debbie Stevens
Related Links
Thompson on Top in Grand Prix Special at 2017 CDI Hastings
John Thompson Wins the 2016 New Zealand Grand Prix Championships
Williamson and Dejavu MH Eliminated from 2017 World Cup Finals' Grand Prix
Williamson First Kiwi to Qualify for World Cup Finals
Williamson and Dejavu MH Take Two at 2017 CDI-W Feilding
Wendi Williamson Earns Ticket to Omaha after 2017 Pacific League World Cup Final Victory