2017 One on One at Fifty
Thousands of people packed into Stoneleigh Park in Warwickshire, England on the weekend of 11 November 2017 to celebrate the career and birthday of Carl Hester. The concept by management company Piaffe was named One on One at Fifty and was billed as an evening of demonstrations, in hand work, and appearances from horses from Hester's past, present and future prospects and the night certainly delivered.
The evening began earlier for VIP's who had a chance to view a portrait gallery of images from across Hester's career including images from Stockholm in 1990, various European Championships and images from the multiple Olympic Games where Hester has represented Great Britain. The gallery, Carl Hester: A Portrait was curated by Piaffe and renowned photographer Bob Langrish and was an elegant addition to the evening's proceedings.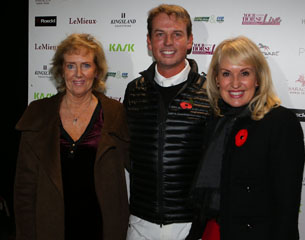 The event started with introductions from British TV presenter, Nicki Chapman who introduced a tribute played on the screens to Hester from Dujardin who commented on their relationship and her gratitude for the opportunities he has given her. Further names from across the equestrian world, such as Isabell Werth, Patrik Kittel, Robert Dover, Ann Van Olst all gave tribute to Hester on the screens commentating on his horsemanship, his career and to wish him a Happy Birthday. Singer Leona Lewis also spoke from her home in Los Angeles and of her fondest memory of visiting Hester and having the chance to ride Valegro. A visibly moved Hester went on to say he was honoured, embarrassed but very touched by everyone taking the time to send the tributes.
Many of Hester's long-term personal supporters were in attendance including co -owners of Valegro and Nip Tuck as well as friends and family members.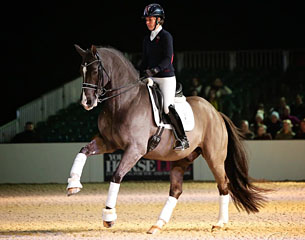 Several horses took part in the gala with a demonstration from Hester's next hopeful Hawtins Delicato who he will compete at the forthcoming Liverpool International Horse Show on December 29th and notable horses from Hester's past including Escapado, Liebling, Dances with Wolves as well as a very lively Uthopia under groom Alan Davies. All horses looked exceptional for their ages with Uthopialooking very happy to be back in front of a large crowd.
A highlight of the evening for the attendees was the in-hand work delivered by Cadre Noir and Spanish Riding School graduate David Pincus. Pincus himself has successfully competed at International Big Tour level and has trained riders to International Big Tour, including World Championships and the Olympic Games.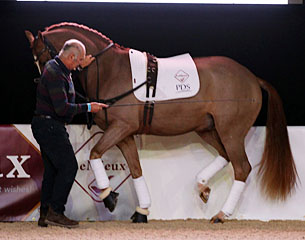 During the session, he demonstrated the beginnings of the in hand work with a receptive Gio, Dujardin's exciting prospect from California before entertaining the crowd with stories of his friendship with Hester before bringing out 'Sally The Shetland' who demonstrated the Piaffe to a standard to rival the other horses in front of a jaw dropped crowd.
The evening really centered round an appearance from Valegro under rider Dujardin who rode the multiple record holder during a masterclass with Hester. The horse showed its infamous skill and prowess, which evidently showed that the horse is still more than capable of bringing home medals, much to the delight of the crowd. More tributes from across the equestrian world were played out on the screens before Hester partnered once again with Katherine Bateson's Alcazar to end the evening with his freestyle from London 2012.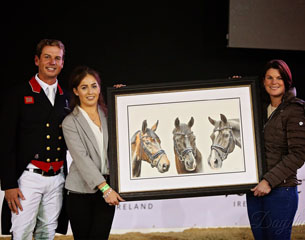 The crowd was on their feet at the end of the performance with several in tears at hearing the music that holds so many memories from London 2012. Bateson warmed up Alcazar before Hester mounted and visibly showed what a strong combination and prospect the pairing are for the US team for 2018.
The evening ended with some further tributes on the screens before Hester was presented with a commissioned drawing from Piaffe of Valegro, Uthopia and Nip Tuck by UK based artist Bethany Vere, entitled We Noble Three. Dujardin entered the arena to present Hester with a birthday cake while the crowd were once again on their feet to applaud Hester's career and his contribution to the sport.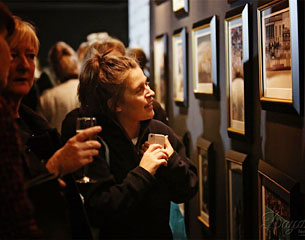 Images from the evening and the tributes can be viewed on the event website www.oneononeatfifty.com
Photos © Bob Langrish - Daydream Equine Art and Photography
Related Links
Piaffe Secures Innovative Partnership Opportunities for Its Represented Riders
Working with the Dressage Elite: Piaffe's Abby Newell Knows the Tricks of the Trade
Piaffe Limited: An Extraordinary Year in Review 
Piaffe Launches Members Only Club for the Equestrian World