Interviews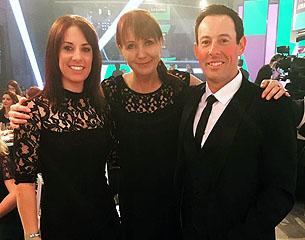 It's been a dynamic year for British Dressage, not least with the achievements of Piaffe's flagship client, Charlotte Dujardin, who gained the individual gold in Rio on the now retired Valegro. Much is written about the support of trainers, grooms and on the ground teams but there is still intrigue within the equestrian world about those who are building the brands of riders, gaining them headlines, sourcing appearances and much needed endorsements to assist in building their careers.
Piaffe is one of these companies and at the very top of its game. The company has managed Dujardin for several years and Eurodressage has consistently followed its rise as they strive to help make the equestrian disciplines become more mainstream. The company also supports that riders need to find multiple ways to sustain an income and fund the expensive nature of equestrian sport at the top level and this is one of their key objectives. Here we sat down with Piaffe's founder, Abby Newell, to get the exclusive insight into another year for the company, the highs and the lows and what lessons they have learned from 2016.
Eurodressage: You have just returned from Olympia and the retirement ceremony of Valegro, how was that?
Newell: Olympia was magical this year as it always is. The build up to Valegro's retirement was emotional and there were many tears in the run up to the event. H Power (Olympia organisers) really wanted to pay tribute to the whole team and it really was a very moving ceremony to all that Carl, Charlotte, Valegro and all of Team Hester have achieved. I couldn't hold back on the tears at several points during the week but on the actually retirement night, it was a celebration. Olympia is also a great time to catch up with all involved in Dressage, sponsors, and meet lots of new people so that's a high point. I was also thrilled for Carl (Hester) and Nip Tuck. What he has achieved with that horse is phenomenal and a testament to why he is so revered as a trainer and a horseman.
Eurodressage: It's been quite the year for equestrian sport; what have been your highlights.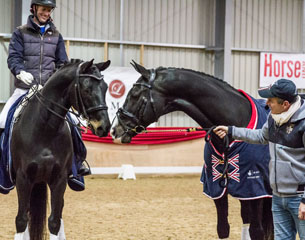 Newell: Wow, where do I start? Undoubtedly Rio was a huge highlight for British Dressage and for our represented riders, Charlotte (Dujardin) and Spencer (Wilton). It was Spencer's first Olympics and under the guidance of Carl and support of his fellow teammates, he produced solid performances for the team. He is also exceptionally well liked and everybody was thrilled for him. I was also thrilled that Alice Oppenheimer was selected onto the Olympic Ambition Programme and travelled out to Rio also. She has a super string of young horses so it's very exciting for her. As a company, Charlotte was the first rider to back us and trust us to manage the business side of her career; so to be on this continued journey with her, this year has been a complete privilege. After all the performances, the wins and the trips here, there and everywhere; nothing still prepares us for the emotion we feel when we watch her ride in the big competitions.
We've also made a move into showjumping, now representing the Charles family (Peter, Scarlett, Harry and Sienna) and whilst we are mainly known for our work with dressage riders, this has been a brilliant learning curve. Peter's eye for finding and producing talented show jumpers is renowned and the raw talent of Harry, Scarlett and Sienna is jaw dropping, so I'm really excited for that. They also have lovely sponsors who have been a pleasure to work with. We've spent quite a lot of time at their yard, which is also the family home, and we honestly can say that they are one of the nicest families we have met in this sport with some incredibly talented horses for the future.
Eurodressage: You also launched the project Piaffe Presents as a subsidiary of Piaffe. How has that been received?
Newell: We launched Piaffe Presents as a 'members club for the aspiring equestrian'. We want it to be home to innovative content from some of the most interesting and iconic figures from around the world, and also be a primary training and resource platform for riders through the levels. There are several training platforms out there but we have access to some world class trainers and riders that have done some training sessions for us and we have so much more content to upload so we're excited to progress this next year and are very grateful to the members and brands who have supported the concept so far. In hindsight, we probably shouldn't have launched the platform so close to Rio, as we were hectic for months before the Games. That said, it hasn't been a quiet year at all this year so it would have been busy at any period we launched. We are very proud of the number of visitors to the site with over 100,000 unique visitors a month and the membership base continues to grow.
Eurodressage: You made some changes to the riders you represent on Piaffe roster this year. What factors do you take into account for who comes on and who goes off?
Newell: Well I'm thankful that several of those riders on our roster, we have worked with for as long as we have worked with Charlotte. As the business grows, we learn more and more about the type of rider we think we can work with and help in the areas that they need to grow. Some want long-term representation and others want help for a certain period of time or on a certain project. For us as a company, it's so important that the rider is pro active with us also, makes the time for the sponsors who support them and that they are open to ideas and collaborations. They have also got to be good ambassadors for the sport and pro actively build their fan bases with us.
On the sponsorship side, I take a keen interest in all the brands and what their objectives are for the year, so that when I suggest riders they can work with, it's with their strategy and direction of the company in mind as well as the riders objectives and wishes. This creates stronger and more lasting partnerships. The days of riders expecting free products, posting one picture on Facebook and that's it are long gone. In turn, some brands have also become more structured in their approach and ensure that the value they offer is equal to the value and exposure they will gain in return or they don't get the rider. Its about working together.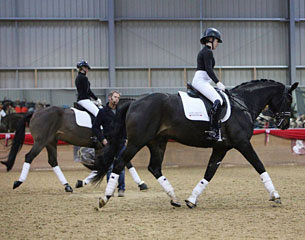 We get approached a lot now by riders across all the disciplines to join Piaffe and often people think we just want to work with the top riders but that's not the case. They are all varied and they are all of different ages and levels. Primarily it's about us deciphering their prospects and are they going to be pro-active with us as well, so we can do the best job for them. We are always looking and open to conversations and at the moment, I would specifically like a pony rider to join the roster, now our pony riders have moved up to juniors.
Eurodressage: What challenges do you still face as a company?
Newell: Overall I am very happy with the direction and growth of the business and there will always be challenges. It's how they are dealt with and overcome that is more important and I am learning lessons everyday. Piaffe as a brand can always be improved in what we offer as can the execution of that offering, day to day, but I learn a lot through doing and listening to those who I trust. Finding individuals to work for us, and companies to partner with is sometimes a challenge because we have set certain standards for the Piaffe brand that have to be compatible. In some cases, people express interest in collaborating with the company but in the end just see us merely as a vehicle to get to Charlotte (or Carl in some cases) and actually have no interest in the Piaffe brand itself and we've been disappointed a few times this year. But it's all part of the learning process for us as a company and we take the lessons learned into the New Year.  
Eurodressage: Whilst the majority has always supported the company and what you have achieved, you have faced some resistance at times. Why do you think that is and how do you handle it?
Newell: You know it's like any business in any industry. There are those who don't like change and those who embrace it. Those who don't like change tend to be because they no longer have control over the whole decision- making process like they maybe once did. Then there are those who embrace it and are open to opportunity and working together and they are the people I surround myself with. I can pretty much guess why a few haven't been supportive over the years, but over the last year, the main ones have reached out to me and congratulated us on what we have achieved as a business and with our riders. I respected them for it and was flattered. We live of a mantra of if you want to go fast, go alone but if you want to go far, go together and this last year in particular, I have been humbled by the support we have had. Piaffe's primary objective is to build up the clients we work with and horse and rider personalities as one, and Mark Belissimo, which I have huge respect for in what he trying to achieve, summed it brilliantly this year when he said that
"There needs to be more productive collaboration between the top riders, event organizers and the governing bodies to create rider and horse "personalities" in the sport and a more engaging and marketable product that attracts media, spectators and sponsorship. Without personalities and interest in the sport, there is no media; if there is no media, there are no spectators, and if there are no spectators, there is no sponsorship, and if there is no sponsorship, there is no money to promote commercial sport"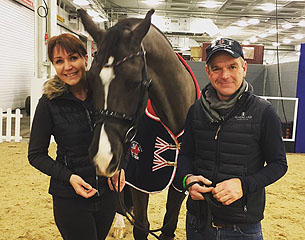 A lot of shows in particular have struggled this year and will continue to struggle if we don't look at this as part of the wider strategy for the sports and collaborate more closely.
Eurodressage: Does your work with the top riders involve liaising with the governing bodies a lot?
Newell: Yes particularly where Charlotte's business is concerned. Her career is a full time job on its own and now that her and Carl (Hester) have firmly put British Dressage on the global stage, we inevitably have a lot of liaison with the federations. BEF (British Equestrian Federation) have been supportive since we started and I've really appreciated that. They have a new leader, Clare Salmon who I haven't met but have heard nothing but positive comments. She has an extensive background so I'm looking forward to seeing her vision continue to be executed and the changes she may make. Jason (Brautigam, CEO of British Dressage) at British Dressage has also been a breath of fresh air. Again he gets it all and knows Dressage is entering a new world of visibility in the mainstream and from our own personal experiences and those of others, he is always open to new ideas and collaborations. When Charlotte (Dujardin) returned from Rio, she said his speech to the team really moved them all because it was from the heart and they were all really glad he was there. Dickie (Richard Waygood, Chef' D Equipe of the British Dressage team) will also be a sad loss to the dressage team (Waygood is moving to the new role as Performance Director of Eventing) and has been very supportive to me in the last year or so, especially around key competition dates which I'm very grateful for.
Eurodressage: What's been the key lesson you'll take away from this year.
Newell: To stick to the principles and values you set for your company. It's been an astonishing year and we've had so many highlights and I am very proud of the work we have done. I am extremely grateful to the clients we work with and the riders we represent. They support us as much as we support them and its very humbling to be in this position. We have a lot of plans for next year and whilst I am looking forward to a much needed break over the holidays, I cannot wait to get going again!
For more information, visit www.piaffe.co.uk and www.piaffepresents.co.uk
Photos © Private - Su Burrows