Spanish Dressage News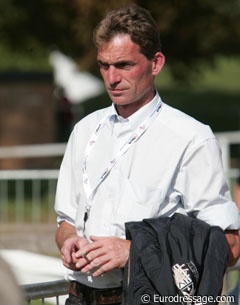 Fifteen of Spanish elite Grand Prix riders have met with brand new Spanish team trainer Rudolf Zeilinger for the first time at a meeting in Madrid, Spain, on 8 November 2017.
The meeting took place at the headquarters of the Spanish Equestrian Federation (RFHE) in Madrid and Spain's 15 best riders were summoned to attend the meeting with Zeilinger and RFHE Technical Dressage Director Luis Lucio.
Before the meeting Zeilinger officially signed his contract of team trainer, even though his position  was approved and ratified at the RFHE board meeting on Monday 25 September 2017.
"We invited to the meeting, in person or by conference call, our best 15 riders by results at international CDIs in Grand Prix and GP Special during last year and representatives of riders," Luis Lucio told Eurodressage. "They were Beatriz Ferrer Salat, Severo Jurado, Claudio Castilla, Agusti Elias, Sergio Martin, Jordi Domingo, Borja Carrascosa, Morgan Barbancon, Juan Matute, Nicole Vazquez, Cristobal Belmonte, Jose M Lucena, Jose G Mena, Juan A Jimenez, Belen Bautista, Daniel M Dockx."
In a group discussion with the Grand Prix riders Zeilinger and Lucio discussed the RFHE's vision, ideas and plans for training and team selection in 2018 with the World Equestrian Games in Tryon, U.S.A. as pinnacle event of the year. 
"The plans for next year for the Dressage Grand Prix Elite international group were presented," Lucio explained. "Also the provisional training and competition meetings were scheduled, among them CDI Segovia, CDIO Compiegne, CDIO Aachen. Basic plans for other groups such as the National Promotion & Young Horses international under training of Rafael Soto were also discussed, as well as the Youth riders, which still have no (team) trainer confirmed."
Zeilinger will be stepping out as Spanish team trainer for the first time at the CDI 5* Madrid on 24 - 26 November.
The German coach used to be Denmark's team trainer. Zeilinger is now based in Riesenbeck, Germany, with his girlfriend, Swiss Grand Prix rider Josefine Rosen after he left his own yard in Emsburen, which he sold in the winter of 2016 to Korean Ha Kyung Song.
Related Links
Rudolf Zeilinger Appointed New Spanish Team Trainer
Rudolf Zeilinger Resigns as Danish Team Trainer 
Spanish Dressage Riders Committee Established After Selection Upset
More Spanish Discontent Publicly Expressed in Wake of Carrascosa Upset
Luis Lucio Appointed Dressage Director of the Spanish Equestrian Federation