Spanish Dressage News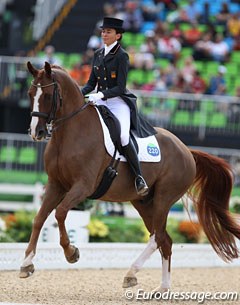 The Spanish Equestrian Federation (RFHE) has agreed to establish a Dressage Riders Committee as part of its technical dressage staff structure following recent turmoil and upset over unclear selection procedures.
When the RFHE announced the Spanish horses for the 2017 World Young Horse Championships in Ermelo, several riders voiced their discontent in public over unclear and unfair selection criteria as well as a judging panel chosen to represent the opinion of the selectors at the one and only WCYH selection trial. 
Not only at young horse level, but also several Grand Prix levels were dissatisfied about the way the RFHE technical dressage committee, headed by Luis Lucio, were handling selections. 
In June Spanish Grand Prix riders Beatriz Ferrer Salat, Jose Daniel Martin Dockx, Jordi Domingo and Jose Antonio Garcia Mena have sent an open letter in which they expressed "the situation of general discontent with the way the disciplines is planned and governed." On 13 June, Ferrer-Salat, Lauro Aguilo, Martin Dockx, and Garcia Mena met with Javier Revuelta, president of the RFHE, for a conversation.
As a result of the recent turmoil, the RFHE board has decided on 17 July to establish a "Dressage Riders Committee". It will include Ferrer-Salat, Martin Dockx and Garcia Mena as rider reps, Luis Lucio as the technical director for dressage and Venancio Ovies as the secretary. The new committee will start working together after the 2017 CDIO Aachen.
Photo © Astrid Appels
Related Links
More Spanish Discontent Publicly Expressed in Wake of Carrascosa Upset 
Carrascosa Criticizes Spanish Selection Process for 2017 World Young Horse Championships