Swedish Dressage News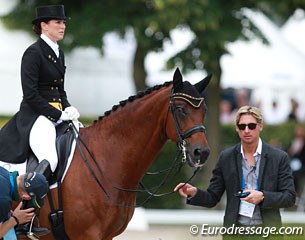 Swedish Olympian Patrik Kittel and Australian Olympian Lyndal Oatley have acquired Gut Eulenhof in Dulmen, Germany, where they will build their future and own independent business.
For the past 12 years Kittel and Oatley were based at the magnificent mote Haus Giesking of the Tecklenborg family in Appelhülsen-Nottuln, Germany. 
On 15 October 2017 Haus Giesking's owner Marianne Tecklenborg sadly passed away and Kittel's business had already outgrown the facility for quite some time. The couple found a new future at Gut Eulenhof, which has previously been owned by long-time German pony team trainer Connie Endres and her late husband. 
"As our business is expanding with new clients and great horses  for sale, we have decided to invest in our future," said Kittel. "This is the ideal opportunity for expansion due to its close proximity to our current home base, and my home for a large portion of my career, Haus Giesking. The property will be renovated, and until then we continue to run the business from Haus Giesking, alongside Family Tecklenborg, who have been long time supporters."
The renovations of the Eulenhof property will most likely take a year before the couple can move into their new home. Endres will be relocating her pony business to a different yard.
Photo © Astrid Appels
Related Links
Lyndal Oatley and Patrik Kittel: Partners off the Horse, Rivals on It
Lyndal Oatley Secures New Ride, Elvive
Patrik Kittel Chooses Delaunay over Deja for the 2017 European Championships
Theodorescu's Contract as Team Trainer Renewed, Heinze to Replace Koschel as U25 Coach