German Dressage News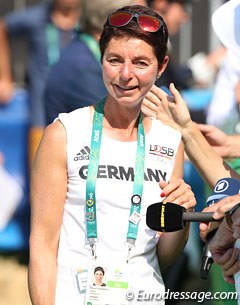 The German Olympic Equestrian Committee (DOKR) has announced that Monica Theodorescu's contract as German GP team trainer has been extended for another four year period. Sebastian Heinze will be replacing Jurgen Koschel as German U25 Team Trainer.
The DOKR has renewed Theodorescu's contract and will keep the former German Olympian as team trainer for another four year period, with the 2020 Tokyo Olympic Games as culmination. Jonny Hilberath will remain to be her assistant trainer for the Grand Prix squad dressage riders.
Hans-Heinrich Meyer zu Strohen (Brockel) will remain the German team trainer for the junior and young riders, but will also be taking up the supervision of the children's division, which is still being developed in Germany. He will be assisted by Oliver Oelrich. Connie Endres remains to be the beacon for German pony dressage.
Jurgen Koschel has decided to step down as the German Under 25 team trainer and he will be replaced by Sebastian Heinze, who has reverted back to his own last name after divorcing from ex-wife Helen Langehanenberg. Koschel celebrated his 70th birthday last summer and had made it clear he wanted to slow down.
Photo © Astrid Appels
Related Links
2016 Global Dressage Forum - Day Two: Strong Horse Talent Holds the Olympic Future of Dressage
Monica Theodorescu Appointed New German Team Trainer
Jürgen Koschel to Train German Young Grand Prix Riders
Heinze Relocates to Billerbeck
Heinze and Langehanenberg get married