What's Happening in the Dressage World?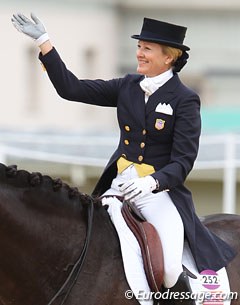 According to The Chronicle of the Horse, long time U.S. Grand Prix team member and Olympic Tina Konyot received an FEI Yellow Card for "incorrect behaviour" as she used profanity at the 2015 North American Junior/Young Riders Championships
, where her student Chloe Taylor competed her former U.S. team horse Calecto V. " I absolutely accept my yellow card for profanity," Konyot told The Chronicle. "And I would do it again."  Konyot verbally collided with the chef d'equipe of Region 9, Ed Lavallee, and the parent of another Region 9 rider, Inez Campbell. The heated exchange with the chef ended in profanity.
Belgian Anemone Samyn of HC Stables has acquired the 3-year old licensed stallion Furst William (by Furst Wilhelm x Lord Sinclair). The dark bay stallion was owned by Andreas Helgstrand but not accepted for breeding by the Danish warmblood society.
Samyn's trainer Anna Sophie Fiebelkorn will be training and competing Furst William in the near future. This is the second horse Samyn has acquired from Helgstrand. Less than a year ago she purchased the chestnut Oldenburg licensed stallion Veneno (by Vivaldi x Diamond Hit) from Helgstrand.
Jan Ebeling's 2012 U.S. Olympic team horse Rafalca (by Argentinus x Rubinstein) is in foal to the Hanoverian licensed stallion Connaisseur (by Con Amore). Rafalca is due to foal in May 2016. She was retired from competition in 2014.
Danish professional dressage rider Lars Bakgaard has been appointed as head trainer at the Bronderslev Riding Club in Denmark. He is replacing Mette Sejbjerg Jensen who has moved to Helgstrand Dressage. Bakgaard is a student of Soren Vallentin and has worked as a rider at the Aalborg and Billund riding club before moving to the U.S.A. Bakgaard returned to Denmark a few years ago and has been riding for Per Skjaerbaek. Three months ago Per sustained a head injury in a riding horse when a 3-year old stallion smacked its head against the rider. Per can no longer ride 10 to 12 horses a day and has chosen a new job with less riding involve and more coaching.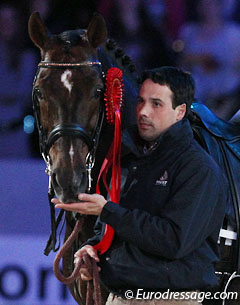 Reiter Revue has reported that Sebastian Langehanenberg (né Heinze), the estranged husband of Helen Langehanenberg, has now also split his business from Helen's. Sebastian has relocated from the brand new facility in Billerbeck to the couple's old base in Havixbeck. "I have rented a few boxes there and will be training five to seven horses," Sebastian explained. The rider is focusing much on coaching recently and as of August will also be working half days training the riders based at the German Olympic Equestrian Committee in Warendorf.
Swedish Grand Prix rider Sofie Lexner has been appointed as head rider of Christinelund Dressage, a brand new facility that will be completed in two years time. The equestrian centre is located on the agricultural property of Christinelund, which also boasts a castle. It is based near Helsingborg and is owned by Jenny Linden Umes, an entrepreneur and the owner of Lindengruppen, a company that specializes in industrial coatings. 
Dutch Grand Prix rider Jeanine Nieuwenhuis, who was also a team silver medalist at the 2015 European Young Riders Championships in Vidauban, France, at the beginning of the month, has been hired as new stable rider at Tim Coomans' dressage and breeding farm. The 20-year old Nieuwenhuis was already an assistent trainer at Stable Hexagon, where she learnt everything about dressage so far, and has now taken up a position at Coomans' yard.
Although brand new European Young Riders Individual Test gold medal winner Dana van Lierop has lost the ride on her star horse Equestricons Walkure, on the bright side she has acquired the 4-year old Quarter horse Authentic Shine and wants to train him for reining. Van Lierop always had an interest in reining and is now going to develop her own reining horse. She bought Authentic Shine from Rieky Young.
According to Reiter Revue, the German dressage rider Christine Wels has passed away at age 66. She succumbed to injuries sustained after a riding accident. Wels finished ninth at the 1992 World Cup Finals in Gothenburg and later on became a trainer. In 2008, however, she was conviceted for horse cruelty charges (she had beaten a horse with a whip for over 470 times in less than half an hour). She was sentenced to one year and 9 months on probation and prohibited to keep animals for three years. Wels had moved to Denmark at that time, where she continued to be involved with horses.  Sources say that at the time Wels said in court, "if this is horse abuse than the whole equestrian world have to be taken to court." More info about the court case here.
Ridehesten reported that the 60-year old Danish horse dealer and trainer Hasse Hoffmann has bought a share in the ownership of his student Michala Damm-Frudenberg's Grand Prix horse Heslegård's Rismon