2017 CDI-W Saugerties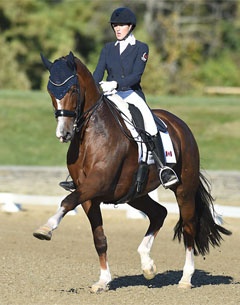 Canadian dressage athletes had stellar performances and multiple wins at the CDI-W New England Dressage Association (NEDA) Fall Festival, held Sept. 22-24, 2017 in Saugerties, NY. Lori Bell, Brittany Fraser and Belinda Trussell swept the majority of the small and big tour classes at this international which is often considered a preparatory event for the CDI-W Devon a week later.
The Canadian highlight at the CDI-W NEDA Fall Festival proved to be Brittany Fraser-Beaulieu of Ottawa, ON, who hit a major milestone after earning her first Big Tour victory aboard All In (by Tango x Damiro), her 12-year-old Dutch Warmblood gelding. Not only did Fraser-Beaulieu win the CDI Grand Prix Freestyle on Sept. 23, she also set a new personal best score of 75.090%.
"This is a new freestyle for me and All In, and I was very pleased with my ride," said Fraser-Beaulieu, who has been having a standout season in 2017, highlighted by her European debut after she was invited to compete at the prestigious CHIO Aachen, GER in July. "I have been competing at Saugerties for the past four years. I have had many successes at this show, but (the Freestyle) was a personal best for me."
Fraser-Beaulieu and All In also placed third in the CDI Grand Prix on Sept. 22 with a total score of 69.440%. The Grand Prix was won by American PJ Rizvi on the Dutch warmblood Breaking Dawn (by Flemmingh) on 70.180% ahead of her coach Canadian born American Ashley Holzer on Havanna (70.140%).
"All In and I have been a pair since he was five years old," explained Fraser-Beaulieu, who was part of Canada's Silver Medal Team at the 2015 Pan American Games aboard All In, and moved up to the Big Tour level shortly after. "We have travelled the world together, and I couldn't ask for a better partner."
Canadian Olympian, Belinda Trussell of Stouffville, ON also brought home top honours in the Big Tour, winning the Grand Prix Special astride Tattoo 15 (Tuareg x Ramiro's Son), her 14-year-old Westphalian gelding, with a score of 69.706%.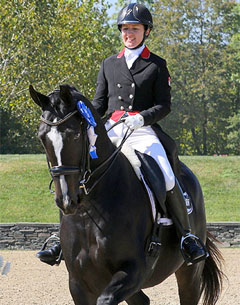 "This is Tattoo's first year doing the Grand Prix," explained Trussell, who is bringing along a new string of horses after retiring her Rio 2016 partner, Anton, from the international level. "My goal is to be able to continue to improve his quality in the ring with cleaner tests each time we compete. He is a very special horse and I love working with him and continuing to develop him to a wonderful Grand Prix horse."
Canada was also represented in the top-three on the Grand Prix leaderboard by Jacqueline Brooks of Cedar Valley, ON and her 2012 London Olympic Games partner, D Niro (D-Day x Napoleon 625), an 18-year-old Swedish Warmblood gelding owned by Mary Brooks and Brookhaven Dressage Inc. Known for their impressive freestyles, the pair didn't disappoint in Saugerties, racking up a score of 71.455% for third place in the Grand Prix Freestyle.
In addition, the CDI-W NEDA Fall Festival marked Lindsay Kellock's debut with a new partner in the international ring. Kellock, a Canadian currently residing in Wellington, FL, rode KGS Horgaard Hustler (Blue Hors Hertug x Weltmeyer), a 17-year-old Danish Warmblood gelding, owned by Enterprise Farm LLC to a third place finish in the CDI Grand Prix Special with a final score of 65.804%.
Canada was equally successful in the Small Tour. Returning to Saugerties for a third time in the small tour was veteran, Lori Bell of Beaverton, ON. Bell and her up-and-coming partner, Flirt (Florencio x Donnerhall), a nine-year-old Oldenburg gelding, took the win in the CDI Prix. St. Georges with a score of 71.053%. They were also Canada's highest-placed in the CDI Intermediate I Freestyle after scoring 71.542% for second place.
"The highlight absolutely was winning the Prix St. Georges and hearing the national anthem of Canada being played for me and Flirt," said Bell. "This was a first for us and was very moving, especially being in a foreign country."
The Small Tour also saw Trussell return to the winner's circle, this time partnered with Carlucci (Contendro I x Compliment), a 12-year-old Hanoverian gelding owned by Barbara Holden Sinclair. Together they scored 71.974% to win the CDI Intermediate Ι. They also took second place in the CDI Prix St. Georges on a score of 70.088%.
"This is my first year showing Carlucci, and my primary goal for him this year was to build his confidence in the ring," explained Trussell. "He is a very kind, yet timid, horse and can lose his confidence in new atmospheres. The Intermediate I test in Saugerties was the best test we have had together. He was wonderful, and so much fun to ride."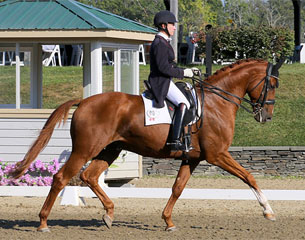 Capturing third place in both the CDI Intermediate I (68.728%) and CDI Intermediate I Freestyle (70.750%) was Tom Dvorak of Hillsburgh, ON aboard Cyrus (Contucci x Cor Noir), an eight-year-old Oldenburg gelding owned by Carla Bahr.
The Intermediaire I Kur to Music was won by Dutch born American Eliane Cordia-van Reesema on Jewel's Codiak (by Cristallo x Carabas). They scored a winning 74.083% after already placing second in the Intermediaire I (69.561%) and third in the Prix St Georges (69.605%).
The CDI-W NEDA Fall Festival was also a big success for next generation athlete, Allison Youngdale of Osgoode, ON. Fresh off the 2017 FEI North American Junior and Young Rider Championships (NAJYRC), Youngdale contested the CDI Junior division with two horses.
Impressively, Youngdale achieved a hat trick with her NAJYRC partner, Ramiro (Blue Hors Don Romantic x Rambo), her 10-year-old Danish Warmblood gelding, winning the Team (66.802%), Individual (65.833%) and Freestyle (67.583%).
Coming back into the ring with her 12-year-old Holsteiner mare, RF Cosima 201 (Conello x Sir Shostakovich xx), Youngdale earned back-to-back second place finishes in the CDI Junior Team and Individual classes, scoring 66.081% and 63.289%, respectively.
Photos © Amy E. Riley - Carole MacDonald
Related Links
Scores CDI-W Saugerties
Saugerties Bids for 2017 North American Junior/Young Riders Championships
Brooks and Creech go Two-for-Two at 2014 CDI Saugerties
Canadians Win Nine FEI Classes at 2014 CDI-W Saugerties
Micaela Mabragana on Form at 2013 CDI-W Saugerties and on her Way to WEG