Norwegian Dressage News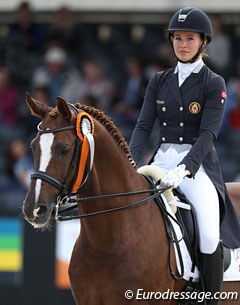 The Norwegian young rider horse and Westfalian licensed breeding stallion Belamour has been operated on for an inguinal hernia on 28 September 2017.
The 13-year old Westfalian stallion by Belissimo M x Lord Sinclair started to show signs of colic and was immediately transported to the equine clinic, where he was operated on.
"A part of the small intestine had moved its way into the testicle. Luckily we noticed his change in behaviour very quickly, so they managed to save him," Andresen explained. "One testicle less, but hopefully he will recover without complications." She added, "The operation was successful and he woke up nice(ly) and calm(ly) after the anesthesia."
The liver chestnut lost one testicle but should still be able to fulfil his breeding duties once he has fully recovered. 
In 2014 Andresen and Belamour won individual silver at the European Junior Riders Championships in Arezzo, Italy. In 2015 the horse injured himself and it took him a full two years to recover from it. The pair made its show come back in 2017 with successful starts at the CDI's in Kristiansand, Uggerhalne and Ermelo. 
Photo © Astrid Appels
Related Links
Johannessen, Fjornes, Gulli, Rode, Lokken Win 2017 Norwegian Dressage Championships
Alexandra Andresen Begins Bereiter Internship with Johann Hinnemann
Abbelen Wins Kur and Claims Triple Gold at 2014 European Junior Riders Championships
Norwegian Alexandra Andresen Sweeps the Junior Section at 2013 CDI Vestfold
Jasmien de Koeyer and Alexandra Andresen Take Lead Spots at 2013 CDI-J Roosendaal
Swedish Dressage Horses Belamour and Ramstein Sold Abroad
Bellagio, Deja, Belamour and Paridon Magi Win 2009 Swedish Young Horse Championships