2017 Norwegian Dressage Championships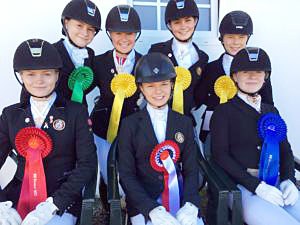 Pony rider Carmen Grønvold Johannessen, junior rider Elisabeth Struve Fjornes, young rider Helena Liholt Gulli, Under 25 rider Maria Døhlie Rode and Grand Prix rider Louise Almlund Løkken became the champions at the 2017 Norwegian Dressage Championships held at the Borge Riding Club in Borgenhaugen, Norway on 15 - 17 September 2017.
In the pony division Carmen Grønvold Johannessen and the 12-year old German bred Davidoff (by Dreamdancer x Dressman) earned the gold with victories in the first two tests (71,795% and 71,504%) and a second place in the freestyle (73,075%). A total of 216,374 points earned Johannessen the national title in her last year on ponies. Camilla Sønsteby Holen and the 9-year old Dutch bred Valerio (by Hagelkruis Valentijn x Downland Folklore) finished on silver with less than one percentage point behind the champion. Holen scored 71,325%, 70,407% and 73,950%. Martine Erdal Mansåker and the 15-year old German bred Valerossi (by Valido x Nadler) earned bronze after scoring 69,573%, 68,780% and 70,825%.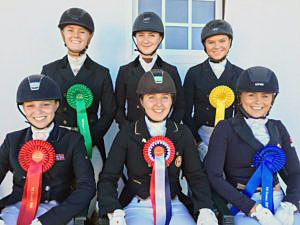 In the junior riders divsion the battle for gold was a fierce one with Elisabeth Struve Fjornes and Christine Falbach right on each other's heels. Fjornes and her 12-year old Swedish warmblood gelding Maserati III (by Metall x Tip Top) finished on top in the end after scoring 71,126%,  71,448% and 72,350%. Her total of 214,924 points was only a fraction more than Falbach's 214,733 points. She and the experienced 16-year old Danish bred Ravell's Herkules (by Hertug x Agent) earned 71,532%, 70,527% and 72,675%. The bronze medal winning Kaja Tharaldsen Olsen followed in the distance with 208.212 points. Aboard the 8-year old Danish bred Solhøj's Lord Falcor (by UNO Don Diego x Future Cup) she posted scores of 66,847%, 68,465% and 72,900%.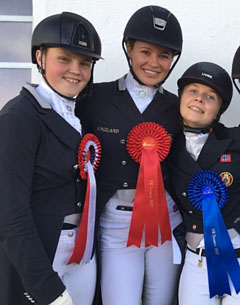 Seasoned young rider Helena Liholt Gulli and her 16-year old Norwegian bred stallion Tobajo Picez (by Cortez x Pik Trumpf) were a leagie of their own on home turf scoring a total of 225.362 points for gold. The combination won the team test with 74.868%, was second in the individual test with 74,868% and won the freestyle with 75,625% Gulli's biggest competitor in Borgenhaugen was Alexandra Andresen, who did not saddle her 2017 European Young Rider Championship horse Empire B, but opted for her 2014 European Junior Rider Champion bronze medal winning Belamour (by Belissimo M x Lord Sinclair) instead. The 13-year old Westfalian stallion was strong in the first test but with 71.623% stayed far behind Tobajo Picez. The pair won the individual test with 75,351% and was second in the Kur with 75,575%. They finished on silver with a total of 222,548 points. Team mate Mathilde Nilseng Mellerud and the 13-year old Oldenburg bred River Dance II (by Rhodes Scolar x Cordeur) got bronze with 213.711 points. They posted marks of 70,044%, 71,667%, and 72,000% during the weekend.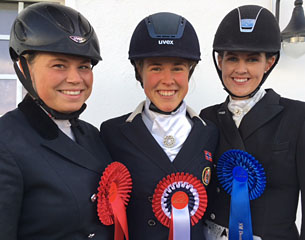 Three riders contested the Under 25 championship and from the scores it is clear that the Norwegian U25 division is still in a developing stage. Maria Døhlie Rode bested the field with the 17-year old Westfalian bred Danielo (by Danny de Vito x Damenstolz). None of the three riders were able to score above 60% in the Intermediairei II. Rode took a difficult start with 59,605% in the Intermediaire II, but recovered in the short Grand Prix (64,031%) and then posted 62,875% in the freestyle to earn gold. Christina Ärrälä Svensson and her 13-year old Danish bred Schnell's Day Dream Believer (by De Noir x Romancier) got 59,254%, 59,965% and 63,200 for silver, while Sara Marie Haugen and the 11-year old Danish bred Oberst (by Onassis x Michellino) placed third with 59,254%, 59,535% and 60,333%.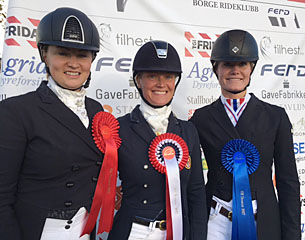 The senior riders were able to put more impressive scores on the board in the Grand Prix Championship. This year Norway only fielded one individual rider to the European Championships, but the German based Isabel Freese-Bache was not at the Nationals. Louise Almlund Løkken captured the main title of the weekend. Aboard the 12-year old Danish bred Mr. Gold (by Milan x Lobster) she scored 68,991%, 67,933% and 73,600% to total 210,525 points for gold. Lokken stayed far ahead of all competition with more than a 5% point advantage. The silver went to Ellen Birgitte Farbrot  on the 12-year old Danish bred Tahennya (by Hennessy x Supermax Macho). She posted 67,412%, 67,100% and 70,075% to total 204,587 points. Stine Marie Gøtesen and her 11-year old Norwegian bred mare Danilla (by Don Romantic x Schwadroneur) scored bronze with 66,579%, 67,300% and  69,150%.
Photos © Elizabeth Farbrot
Results - 2017 Norwegian Dressage Championships
Pony Riders
1. Carmen Grønvold Johannessen - Davidoff   - 71,795 - 71,504 - 73,075 --- 216,374
2.  Camilla Sønsteby Holen - Valerio - 71,325 - 70,407 - 73,950  --- 215,681
3.  Martine Erdal Mansåker - Valerossi   - 69,573 - 68,780 - 70,825  --- 209,178
4.  Kristiane Askim Hillern - Untouchable II - 68,248 - 67,764 - 71,425  --- 207,437
5.  Madelen Olsen - Schermeer's Hof Simba - 66,966 - 69,350 - 69,425  --- 205,740
6.  Anine Mørch-Aas - Vestenås Padova Nova - 67,778 - 68,089 - 69,800  --- 205,667
7.  Tuva Hansen - Odbjergs Bordeaux   - 68,034 - 66,057 - 70,125  --- 204,216
8.  Emma Borchgrevink - Herikos Bredager -  66,111 - 65,935 - 68,425  --- 200,471
9.  Alma Løvås-Sandvik - Gold Queen -  66,508 - 66,260 - 67,300  --- 200,068
10.  Thea Caroline Mørch-Aas - Woldhoeve's Cabochon -  65,299 - 64,797 -  67,175  --- 197,271
11.  Dina Ødegård-Martinsen - Beukenhof's Ricardo -  64,744 - 64,268 - 67,825  --- 196,837
12.  Benedicte Eggers Staalesen - Mr. Magic - 65,641-  65,325 - 61,525  --- 192,491
Junior Riders
1.  Elisabeth Struve Fjornes - Maserati III - 71,126 - 71,448 - 72,350  --- 214,924
2.  Christine Falbach - Ravell's Herkules -  71,532 - 70,527 - 72,675  --- 214,733
3.  Kaja Tharaldsen Olsen - Solhøj's Lord Falcor -  66,847 - 68,465 - 72,900  --- 208,212
4.  Emma Mortensen - Domino -  66,892-  67,895 - 70,050  --- 204,837
5.  Stine Olsen Lund - Ravell's Hexia - 66,126 - 67,456 - 67,975  --- 201,558
6.  Heidi Christin Elvenes - Rio da Carma - 64,189 - 66,053 - 70,375  --- 200,617
7.  Ronja Ulvedal Jensen - Electra - 66,892 - 64,64- 9 66,425  --- 197,966
8.  Tonje Tone Lundsberg - Ulana - 64,550 - 64,912-  68,175  --- 197,637
9.  Hedda Thomassen - Walther -  64,910 - 65,219 - 66,625  --- 196,754
10.  Hanne Espås FollestadT - oblers Piratos - 65,225 - 64,693 - 66,675  --- 196,593
11.  Helen Richvoldsen Aasvangen -  Cubald - 64,865  - 62,763 - 68,250  --- 195,878
12.  Mathilde Merethe Klaesson - Sandbæks Rio - 62,342 - 70,790-  61,450  --- 194,582
Young Riders
1. Helena Liholt Gulli - Tobajo Picez - 74,868 - 74,868 - 75,625  --- 225,362
2. Alexandra Gamlemshaug Andresen -Belamour -  71,623 - 75,351 - 75,575  --- 222,548
3. Mathilde Nilseng Mellerud - River Dance II -  70,044 - 71,667 - 72,000  --- 213,711
4. Cathrine Oppegaard - Atomic - 63,509 - 67,544 - 70,550  --- 201,603
5. Vilde Antonsen - Don Dino -  67,368 - 67,017 - 66,675  --- 201,061
6. Marie Håland - Werdell - 65,438 - 65,570 - 68,150 ---  199,158
7. Kaja Wilhelmsen Rokstad - Danisco for - 63,290 - 66,009-  67,475  --- 196,773
8. Maja Lykkjen Seglèn - Kragelunds Regatta -  65,790 - 65,526 - 65,275  --- 196,591
9. Thea Katarina Bråten - Pia Pia -  64,061 - 65,000 - 66,275  --- 195,336
10. Signe-Christine Forberg Lillerud - Højmarks Afrodite -  64,210 - 63,816-  63,975  --- 192,001
11. Rebecca Thams Blikstad - Thorsøs D'Ycem - 61,798 - 63,290 - 66,500  --- 191,588
12. Maria Ramstad Nemeth - Petersborg's Seniorita - 62,149 - 64,605 - 58,975  --- 185,729
Under 25 Riders
1. Maria Døhlie Rode- Danielo  - 59,605 - 64,031 - 62,875  --- 186,511
2. Christina Ärrälä Svensson- Schnell's Day Dream Believer   - 59,254 - 59,965 - 63,200  --- 182,419
3. Sara Marie Haugen- Oberst -  59,254 - 59,535 - 60,333  --- 179,122
Grand Prix Riders
1. Louise Almlund Løkken - Mr. Gold - 68,991 - 67,933 - 73,600  --- 210,525
2. Ellen Birgitte Farbrot -  Tahennya -  67,412 - 67,100 - 70,075  --- 204,587
3. Stine Marie Gøtesen- Danilla T-NS 66,579 -  67,300 - 69,150  --- 203,029
4. Astrid Kvam- Fitou - 65,307 - 62,133 - 66,550  --- 193,991
5. Anine B Thoresen- Rasputin - 60,702 - 62,833 - 64,875  --- 188,410
6. Mona Mangseth- Quater Figlio -  61,316 - 60,833-  63,375  --- 185,52
Camilla Frydendahl Sørensen - Summer -  65,702 - ELI
Cathrine Rasmussen - Dream Time -  63,027 - DNS