2014 European Junior and Young Riders Championships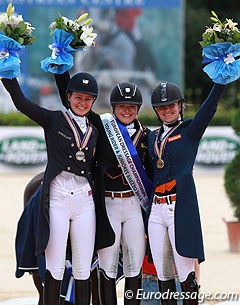 German Anna Christina Abbelen won the Kur to Music finals at the 2014 European Junior Riders Championships in Arezzo, Italy, on Sunday morning 13 July 2014 and claimed her third gold medal of the week and the 2014 European Junior Riders Champion's title. Aboard her 9-year old Rhinelander gelding Furst on Tour, Abbelen beat Norwegian Alexandra Andresen and Dutch Rosalie Bos on the podium.
The Junior Riders Kur to Music finals at this year's Europeans was a very exciting one in which many riders showed good riding, but in which professionally designed music certainly helped to make a difference. Abbelen and Andresen's freestyle music was a league of their own compared to a wide range of instrumental and poorly edited music used by several other of Europe's best junior riders. The fight for gold was a tough one and it would have been no surprise had Andresen and Abbelen swapped places for gold with their great tests and music. Andresen might have been even a bit better in the kur, but the judges put the German on the highest step of the podium with a well earned 81.900% winning score.
Riding to fun and sympathetic music based on The Lion King, Abbelen produced a lovey ride with balanced trot work on the voltes and traversal movements, except for one not so even half pass left. The halt at entry was not immobile, but the extended walk was good and Furst on Tour (by Furst Heinrich x Rubioso) executed beautiful, uphill flying changes on the serpentine. The degree of technical difficulty was high enough with a nice extended canter, walk pirouette, extended canter combination. Abbelen was a bit ahead of her music at the end and her horse changed behind right before a canter half pass to the right. All judges placed her first with scores ranging from 80.00% (Holler) to 84.125% (Wessels).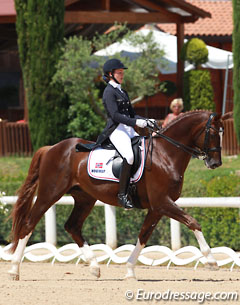 Norwegian Alexandra Andresen rode to brand new music based on the movie Kontiki with a lot of piano and violin in it and she had an original floorplan. Her liver chestnut stallion Belamour (by Belissimo M x Lord Sinclair) was sharp on the aids and more closed in the frame compared to the individual test. The trot work was obedient even though the horse could show a bit more activity from behind. Andresen rides with her hands quite high above the withers and the horses tilted a bit in the volte to the right. However, Belamour produced a nice medium trot, a powerful extended canter and very correct changes to the music. She scored a total of 79.675% with 76.625 (Almasy) as low score and 83.750% (Wessels) as high score.  That is a difference of 7.125% between judges! Four judges placed her second, the low scoring judges seventh.
The bronze medal went to Dutch Rosalie Bos on her mom's 8-year old Dutch warmblood mare Bolita (by Uptown x Flemmingh). The 2012 European Pony Championship kur bronze medalist now returned to the third step on the podium and another individual medal after scoring 77.925%. Performing to a Katy Perry medley, Bos' mare Bolita was not immobile in the halt at entry but showed a great trot half pass to the left. There was little difference between the medium and extended trot and one extended was a bit too hurried; still the mare was expressive and energetic. Overall she could have been a bit lighter in the bridle and she was not foaming at all, but Bolita executed super flying changes and the poll was always the highest point.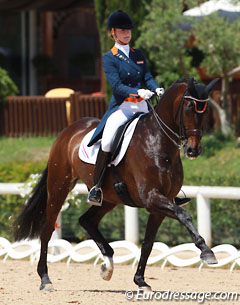 Dutch Jeanine Nekeman and her 12-year old Dutch gelding Vlingh (by Flemmingh x Donnerschlag) finished in fourth place with 77.70à%. Her Arabian themed music sounded professional and well edited. The dark bay gelding was narrow in front in the halt at entry and he lost the regularity in the rhytm on the trot volte to the right, but he was lightfooted, active and engaged. The extended walk had two hooves overtrack but the horse could be looser in the topline. The flying changes were all correct but tight in the back and the canter to walk transition was abrupt. Yet Nekeman rode a very accurate test and landed fourth place with only a miminal point difference from bronze medalist Bos.
Also very close on Nekeman's heels was Danish duo Alexandra Sorensen with her 11-year old gelding Camiro Mandoe (by Future Cup x Alfarvad Champion). Sorensen was certainly a candidate for a medal but it could have been her not so convincing, instrumental music which tampered with a higher score. On a technical level, the Danish rider was very strong as her bright bay gelding is a big, ground covering mover in trot. In walk, the horse generated much overstep but the rhythm could have been clearer despite the good activity from behind. In canter, Camiro was nicely uphill, also in the flying changes. The canter half passes were a highlight. The pair finished fifth with 77.650% with scores ranging from 75.750% (Ardu) to 79.500% (Almasy).
Text and Photos © Astrid Appels / Eurodressage - - NO REPRODUCTION ALLOWED (NO FACEBOOK!! If you want to use the photo, buy it) 
Eurodressage's Astrid Appels was on the scene taking photos of all riders in Arezzo. Contact us if you are interested in photo prints, collages or albums.
Related Link
Eurodressage Coverage of the 2014 European Junior/Young Riders Championships