2017 Spanish Young Horse Championships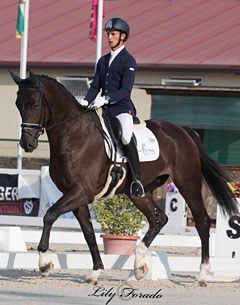 The 4-year old Farron de Amtuna, the 5-year old Columbus TR, the 6-year old Santos OLD, and the 7-year old Fifth Avenue were the winners of the 2017 Spanish Young Horse Championships held at the Equestrian Centre Castilla y Leon in Segovia, Spain. Euclides MOR won the Developing Prix St Georges Horse Championship.
In the 4-year old division Jordi Cabre Munoz steered the Hanoverian bred Farron de Amtuna (by Foundation) to victory after winning the preliminary round (82.6) and the Finals round (83.2). The stallion is bred by Herbert Werth from Moers, Germany and owned by Andrea Martinez. The silver went to Ruben Arrabe Sanchez on the Hanoverian gelding Lemen's Star (by Lemony's Nicket). They scored 80.00 and 77.60% for an overall second place. The chestnut is bred by breeder's group Demuth in Germany and sold to Spain for 23,000 euro at the 2017 Hanoverian Winter Auction in January. Juan de Dios Ramirez Garcia and Yeguade Cuevas Bajas' Hanoverian bred Quarlito (by Quaterhall x Rotspon) placed third after scoring 75.00 and 76.00. Quarlito is bred by Werner Rademacher in Germany and was sourced by Cuevas Bajas at Helmut von Fircks' Gestut Nympenburg. It is interesting to note that no less than 10 out of 18 finalist horses are Hanoverian bred!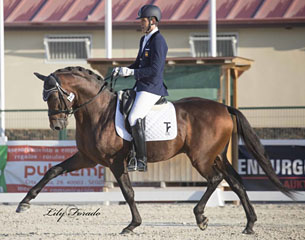 In the 5-year old division the horses had to compete in three rounds with the 18 highest scoring horses eligible for the final round. Juan Manuel Acosta Ponce and the Hanoverian bred Columbus TR (by Conen x Lauries Crusador xx x Weltmeyer)) extended their title from last year and won gold with 83.8,  83.6, and 83.60 points. Guillermo Garcia Ayala and the PRE bred Poeta de Sasueta (by Cacique IX) earned silver with 79.6, 79.8, and 78.00. Juan Francisco Fernandez Munoz and the Hanoverian gelding Leonardo (by Londontime) slotted in third overall. He scored 79.3, 78.8, and 77.00 points. Leonardo had Marcal Sabe Canellas on the Hanoverian Bolek on his heels but he persevered in the end and got bronze with less than one point advantage.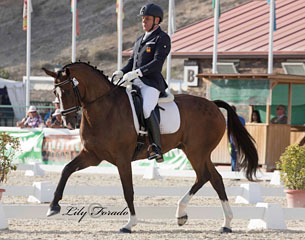 In the 6-year old division Spanish Grand Prix team rider Cristobal Belmonte steered the Oldenburg bred Santos OLD (by Sancisco x Levantos I x Pik Ramiro) to gold. Belmonte acquired Santos at the 2015 Oldenburg Winter Mixed Sales in Vechta for 71,000 euro. The pair was second in the first round with 79.80, third in the second round with 79.0 and they won the finals with 84.80 points. Sergio Marti Perez and the Hanoverian bred Dilara (by ) finished with silver after winning round 1 (81.20) and 2 (80.40) and placing third in the finals with 80.00 points. Alberto Garcia Martin and the Spanish Sport Horse bred Delirio PT (by Delinger) finished with bronze on 79.0, 79.8, and 80.4.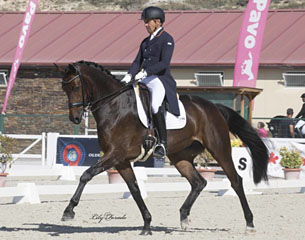 Thirteen combinations contested the 7-year old division and Agusti Elias and the Dutch warmblood bred Fifth Avenue BCN (by Romanov) got the gold. He was third in the first round with 73.953%, and won the second round (76.213%) and Finals (74.808%). Marta Pena Montaner and the Oldenburg bred Sarotti OLD (by Sarkozy) earned silver after placing fourth (72.913%), second (75.178%) and fourth (73.490%). Juan de Dios Ramirez Garcia and Antonio Carrillo Baeza's Hanoverian bred Quaterback (by Quaterback) landed in the bronze medal position after winning the first round with 74.788%, placing fourth in the second (73.419%) and third in the finals (73.603%).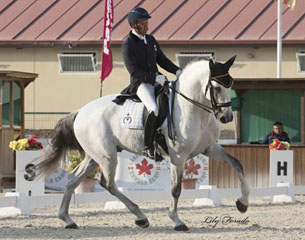 Segovia also hosted the 2017 Developing Prix St Georges Horse Championships in which the 8 to 9-year old dressage horses had to compete in three rounds at small tour/young riders level with the YR team test, YR individual test and YR Kur to Music as Championship rounds. Former Spanish team rider Juan Antonio Jimenez and Moral Aberlardo Puron's Lusitano bred Euclides MOR (by Riopele) achieved the overall victory and title after winning the first two rounds with 69.028% and 71.474% and placing third in the freestyle with 71.625%/ Tomás Francisco Caudet Prats and Francisco Ferrer Carceller's Oldenburg bred Fancy Boy (pedigree unknown) got silver. They were second in the team test with 69.00% and in the individual test with 69.684% and they won the Kur with 72.650%. José Miguel Egea López and Daria Strazding's Trakehner bred Elcapone (pedigree unknown) snatched the bronze medal after placing fifth (67.555%), fourth (68.421%) and second (71.925%).
Photos © Lily Forado - More photos of the Spanish YH Champs on www.lilyforado.com
Results - 2017 Spanish Young Horse Championships - Segovia
4-year olds
1. Jordi Cabré Muñoz - Farron de Amtuna (HANN, by Foundation)  -- 290.30
2. Rubén Arrabe Sánchez - Lemen's Star (HANN,by Lemony's Nicket) -  275.20
3. Juan de Dios Ramírez García - Quarlito (HANN, by Quaterhall) - 264.50
4. Rubén Arrabe Sánchez - Zalando (HANN, by Zack) -  261.20
5. Arturo Díaz Mellado - OVD Negro (CDE, by First Time) - 261.10
6. Javier González Crespo - Don Henry (HANN, by Don Index) -  260.70
7. Jordi Cabré Muñoz - Sunrise de Amtune (HANN; by Sporcken) -  260.30
8. María Velasco Cano - Fantastica Aristrain (CDE, by Bretton Woods) -  258.50
9. Juan Manuel Galeano Cerezo  - Solano Centurio (PRE, by Kabileno III) - 257.70
10. Alba Abollo Fontela - Molinero (PRE, by Centello V) -  255.70
11. Amalia Girona García - Atreo (PRE, by Impaciente II) - 255.60
12. Rubén Soto González - Firewall (HANN, by Fidertanz) - 253.50
13. Abel Edo Ferrer - Lolius (HANN, by ) -  252.750
14. Javier González Crespo   - Diadora (HANN, by Don Index) -  252.40
15. Alejandro Azores Marcos - Bella (HANN, by Bon Bravour) -  252.00
16. Henry Junior Brewah Granados - Maximo BCN (PRE, Utrerano VII) -  251.50
17. Bruno Camilo Caniço -  Iconico (?) -  249.50
18. Anna Franch Benavides - Tirabyixo la Devesa (PRE, by Inedito)  - 248.700
5-year olds
1. Juan Manuel Acosta Ponce - Columbus TR (HANN, by Conen) -  376.400
2. Guillermo García Ayala - Poeta de Susaeta (PRE, by Cacique IX) -  355.300
3. Juan Francisco Fernández Muñoz - Leonardo (HANN, by Londontime) - 351.500
4. Marçal Sabe Cañellas - Bolek (HANN, by ) -  350.600
5. Rafael Adrián Heredia Muñoz - Hermes (CDE, by ) -  349.600
6. Javier Higuera Carmona - Fulvis (HANN, by Furst Nymphenburg) -  347.400
7. Sergio Navarro Vicente - Roncevall (OLD, by Romanov) - 344.000
8. Ángel Dorado Martínez - Wikingo de Mile (HANN, by ) -  338.100
9. María Carnerero Morente -  Shadow (OLD by Scolari) -  337.400
10. Núria Vilà Pérez - Hepburn BCN (KWPN, by Johnson ) -  334.300
11. Rubén Arrabe Sánchez - Fantastic Cruz (HANN, by Foundation) -  330.200
12. Pedro Hernández Triviño  - Hinojo (KWPN, by Candreo) -  327.700
13. Antonio Verdejo Pérez - Resuelto CEN (PRE, by Fer Bago -  325.000
14. Mario Gómez Morcuende - Gitano CXCIII (PRE, by Ciclon IX) - 320.000
15. Eva María Calvache Sánchez - Kimba Royal (OLD, by Desperados) - 319.500
16. Manuel Jesús Jurado Huertas - Sir Rubin (OLD, by Sir Donnerhall) - 319.300
17. Lucas Marín Giraldez - Rhin de Centurion (PRE, by Jordan CEN) -  313.400
18. Adolfo Izquierdo Becerra - Hayko (KWPN by Crespo VDL) -  311.900
6-year olds
1. Cristóbal Belmonte Roldan - Santos OLD (OLD, by Sancisco) - 367.900
2. Sergio Martí Pérez - Dilara (HANN, by ?) -  361.800
3. Alberto García Martín - Delirio PT (CDI by Delinger) - 359.500
4. Daniel Roman Valderas - Scolari (HANN, by ?) -  350.300
5. Marta Peña Montaner - Furtwangler (OLD, by Furst Wilhelm) -  347.500
6. Sergio Navarro Vicente - Esperanza (OLD, by Sandro Hit) -  346.400
7. Cristina Wagemans Rovira - Gigi (KWPN, by Apache) -  344.000
8. Samuel Delgado Mateos - Kebir AE (CDE, by Redford) -  339.700
9. Antonio Vivancos Cervantes - Ligon (HANN, by Dressage Royal) -  337.000
10. Andrea Fontanet Tosi - Charlie Brown (PRE, by Jecomias CEN) -  336.100
11. Victoria Vila Carbo - Goldi HD (KWPN, by Florencio) -  335.400
12. Juan de Dios Ramírez García - Pabellon Erre (PRE, by Cepellon) -  333.400
13. Alejandro Sánchez del Barco - Quincallo de Indalo (PRE, by Esbelto VII) -  332.500
14. Rhonda Jane Cobley - Franklin (HANN, by Floriscount) -  330.300
15. María de las Mercede González Abad - Seni Platero (PRE, by ?) -  330.200
16. Antonio Solano Humanes - Wendyy (HANN, by Wolkenstein II) -  328.300
17. Mª del Carmen Montes Montoro - Perdido CAD (PRE, by Jinete IX) -  324.400
18. Andres Cepeda Moreno - Fisherman's Friend (HANN, by Furst Nymphenburg) - 323.700
7-year olds
1. Agusti Elías Lara - Fifth Avenue BCN (KWPN, by Romanov) - 337.889
2. Marta Peña Montaner - Sarotti OLD (OLD, by Sarkozy) -  332.660
3. Juan de Dios Ramírez García - Quaterback (HANN, by Quaterback) -  332.123
4. Marc Vila Amils - El Passo (KWPN, by Zahros R) -  328.830
5. Carlos Nieto Benavides - Divina Royal (HANN, by ?) -  325.951
6. José Alejandro Alcaide Roda - Quaterbac (HANN, by Quaterback) -  325.416
7. Daniel Pérez González - Kabul (PRE, by Impaciente II) - 316.513
8. Abel Edo Ferrer - Barney (OLD, by Barclay) -  314.498
9. Mª Valvanera Palacios Ortuño - Believe (WESTF, by Blickpunkt) - 311.986
10. Francisco Marqués Pascual - Alamo HP (? by Carino) -  311.751
11. Francisco Marqués Pascual - Albano (?) -  310.285
12. Luis Quilis Galán - Michelangelo (TRAK, by ?) -  306.152
13. Cristina Khamidoulin Pastora - Don President (HANN, by Don Presidente) - 304.026
Developing Prix St Georges (8 - 9 yo)
1. Juan Antonio Jiménez Cobo - Euclides MOR (LUS, by Riopele) -  319.489
2. Tomás Francisco Caudet Prats - Fancy Boy (OLD, by ) -  318.826
3. José Miguel Egea López - Elcapone (TRAK, by ) - 314.037
4. Mónica Blázquez Lopez-Muñiz - Hilton (CDE, by Tornado) - 305.883
5. Mª Valvanera Palacios Ortuño - Duch Dakota (KWPN, by Viveroy T) -  303.974
6. Juan Antonio Jiménez Cobo - Orgulloso MOR (PRE, by Amoroso XLII) - 303.574
7. Juan Francisco Fernández Muñoz - Dedalo (LUS, by Joel) -  303.070
8. Daniel Roman Valderas - Summernight (HANN, by ?) -  302.682
9. Ivan Seco de La Iglesia - Jabonero (PRE, by Nogal) - 300.943
10. Magín Mateu López - Duncan IV (PRE, by Chinchoso III) -  299.619
11. Mariano Cano Tudela - First Flush (HANN, by ?) -  299.115
12. Arturo Díaz Mellado - OVD Karin (?) -296.115
13. Daniel Roman Valderas - Enebro XXXII (PRE, by Deseado CVII) -  295.950
14. Daniel Roman Valderas - Sunfire (HANN, by ?) -  295.620
15. Alfonso Expósito Santiso - Estoque (?) -  294.907
16. Manuel García González - Eye Catcher (KWPN, by ?) -  292.671
17. Aida Robles Esteban - Duero do Tablacho (LUS, by ?) -  292.525
Related Links
Columbus TR, Beyonce, Forte MG, Eddieni, Vetusto Win the 2016 Spanish Young Horse Championships 
Lario, Sarotti, Summernight Win 2015 Spanish Young Horse Championships
Fine Time, Eastwood, Dragao Figueiras Win 2014 Spanish Young Horse Championships
Ules VDOS, Doctor de Encinasola, Mango Statesman Win 2013 Spanish Young Horse Championships
Dancing Dream, Dhannie, Dai Colori Vistosi Win 2012 Spanish Young Horse Championships
Firmamento, Manchego and Alcaide Win 2011 Spanish Young Horse Championships
Bently, Artouche, Delmonte Win 2010 Spanish Young Horse Championships
Zanzibar, Donna Clara and Finja Win 2008 Spanish Young Horse Championships