2017 Pavo Cup Finals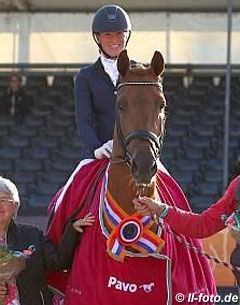 The 4-year old Ivoli-E, the 5-year old Haute Couture, and the 6-year old Great Lady TC became the winners of the 2017 Pavo Cup Finals held during the KWPN Horse Days in Ermelo, The Netherlands, on Saturday afternoon 19 August 2017. The Pavo Cup Finals are the annual young horse championships exclusive to KWPN registered or licensed horses.
After a semi finals on Monday, the top 12 ranked  4 and 5-year olds and top six ranked 6-year olds competed in the Finals on Saturday. The three highest scoring horses after round 1 and 2 were test ridden by guest judge rider David Marcus. 
In the 4-year old division Simone Both and Ivoli-E (by Dream Boy x Jazz) convinced Marcus the most. "She gave me a very fine feeling, she was well developed on both sides. When she gave herself to me, I could stretch her and she started to swing in the back," Marcus commented. The mare scored 90 points. Bart Veeze and mare Imagine (by Dream Boy x Jackson) became the reserve champions after scoring 85 points with Marcus. "I had a good feeling in all paces, especially the canter gave an incredible feeling," Marcus commented. "In trot I had difficulties making her stretch." Worth noting is that the popular licensed breeding stallions Ibiza, Indian Rock and Dettori could not make it into the top three, but were edged out by two mares and one still to be performance tested stallion. Those stallions are dealt with much tension and could not show their gaits in a natural, relaxed way (especially the walk).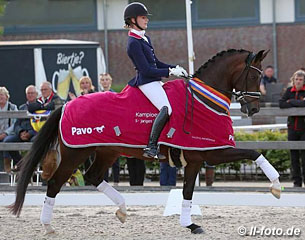 Dinja van Liere and elite mare Haute Couture (by Connaisseur x Krack C) outclassed licensed stallion Total US (by Totilas x Sir Donnerhall) in the test round with her balance and harmony and captured the title. David Marcus rewarded the refined bay mare with 95 points and praised the connection and trust the mare had in the rider. Total US was the leader after the final round but Marcus scored the black 90 points. He praised the stallion for its sensitivity to the aids and focus on the riders, "qualities I like to see in a Grand Prix horse."
In The Netherlands there are no reservations about 6-year olds being ridden in double bridles and three out of six finalists eagerly took opportunity of tacking their youngster with the double, while the simple snaffle is mandatory at the World Young Horse Championships (three weeks ago). None of those horses looked happy and comfortable in the mouth.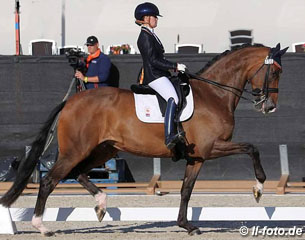 The 6-year old category was won by Jeanine Nieuwenhuis on the tall and powerful mare Great Lady TC (by Bretton Woods x Osmium). Marcus was very enthusiastic about the tall mare. "She felt fantastic, even though she was tired. Great Lady is a very tall mare, which made it a difficult for me to ride her as a small rider. I see her as a real Grand Prix horse," Marcus commented. She scored 90 points and won the title. Ghandi (by Bojengel x Tuschinski) stood out with his rideability and scored 88 points. "He has much suppleness in trot," Marcus added.
Photos © LL-foto
Results - 2017 Pavo Cup Finals
4-year olds
1. Ivoli-E: 173 points + 90 pts 
2. Imagine: 182,6 pts + 85 pts.
3. Imposant W 175,2 pts + 88 pts
4. Illusion A: 172,6 pts.
5. Ibiza: 172,4 pts.
6. Ignado-Rijk: 171,2 pts.
7. Irabel: 169,6 pts.
8. Indian Rock: 169,6 pts.
9. Iksander: 169,2 pts.
10. Incognito: 167,8 pts.
11. Dettori: 162 pts. 
12. Indigro: 158,8 pts.
5-year olds
1. Haute Couture: 177,2 points + 95 pts
2. Total U.S.: 178,2 pts + 90 pts
3. Hero: 172,4 pts + 87 pts
4. Hermès: 172,4 pts + 85 pts
5. Jamsession Taonga: 171,8 pts.
6. Haley B: 166,8 pts.
7. Don Joe 166,4 pts.
8. Habanna: 165,8 pts.
9. Daily Diamond: 164,2 pts.
10. Handretti: 163 pts.
11. Haeden: 162,8 pts.
12. Hometown: 162, pts
6-year olds
1. Great Lady TC: 174 points + 90 pts
2. Ghandi: 166,4 pts + 88 pts
3. Gaudi Vita: 167,4 pts + 82 pts
4. Crosby: 166,2 pts.
5. Grand-Charmeur: 166 pts.
6. Golden Dancer de la Fazenda: 164 pts.
Related Link
Imagine, Total U.S., Great Lady TC In the Lead after 2017 Pavo Cup Semi Finals
Previous Winners
Happynesse E, Toto Jr, Fenix Win 2016 Pavo Cup Finals 
Guadeloupe Beau and Fenix Win 2015 Pavo Cup Finals
Fanita and Eye Catcher Win 2014 Pavo Cup Finals
Everdale and Dancer Win 2013 Pavo Cup Finals
Desperado and Charmeur Win 2012 Pavo Cup Finals
Charmeur and Borencio Win 2011 Pavo Cup Finals
Borencio and Amazing Star Go All the Way and Take 2010 Pavo Cup Finals
TC Athene and Zhivago Win 2009 Pavo Cup Finals
Zuidenwind and Wynton Win 2008 Pavo Cup Finals
Westpoint and Vivaldi Win 2007 Pavo Cup Finals
Santano and Ucelli T Win 2006 Pavo Cup Finals
Uptown and Dreamcatcher Win 2005 Pavo Cup Finals
Florencio and Sandreo Win the 2004 Pavo Cup Finals
Special D and Robin Hood, 2003 Pavo Cup Winners
Rubels and Paster, 2001 Pavo Cup Champions
Natcho and Osmium Wins 2000 Pavo Cup Finals
Broere Stallions Dominate 1999 Pavo Cup Finals
Lucky Times and Mariena Win 1998 Pavo Cup Finals