2017 Bundeschampionate Qualifier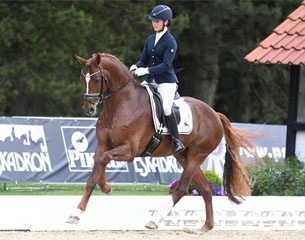 The 5-year olds AC-DC became the winner of the Bundeschampionate qualification class for 5-year olds held at the 2017 CDIO-PJYR Hagen "Future Champions" competition at Hof Kasselmann on Tuesday 13 June 2017.  A whopping amount of no less than 12 horses in a field of 27 achieved the qualification criterium of 8.0 or higher for Warendorf, which is very high for any qualifier in Germany.
The judges of the L-level dressage horse test in Hagen were Ulrike Nivelle, Michael Wassmann, and Torleif Siegl.
Hof Kasselmann's former working student Sina Aringer rode Wolfgang Stritzke's Westfalian stallion AC-DC (by Apache x Florestan) to victory with a resounding total score of 8.6. The stallion scored 8 for walk, 8.5 for trot, 9 for canter and submission and 8.5 for general impression. Aringer kept all competition well at bay as she referred Eva Möller on the Albers family's Wesfalian mare Balai (by Belissimo M x Florestan) to a second place with 8.4. The mare earned 8.5 for walk and trot, 8 for canter, and 8.5 for submission and general impression. 
Nicole Wego and Georg Dobelmann's Westfalian mare Santa Maria (by Sandro Hit x Ehrenwort) was third with 8.30. The mare got 7.5 for walk, and 8.5 for trot, canter, submission and general impression.
Two combinations tied in fourth place with 8.2.: Marita Pundsack on the Belgian owned QC First Look (by Franziskus x Samarant) and Norwegian Isabel Freese on Paul Schockemohle's Oldenburg stallion Top Gear (by Totilas x Don Frederico). QC First Look got 8 for walk, 9 for trot, 8.5 for canter, 7 for submission and 8.5 for general impression. Top Gear earned 8 for walk, 9 for trot, 9.5 for canter, 6.5 for submission and 8 for general impression. 
Photo © Feldhaus
Results - 2017 Bundeschampionate Qualifier - Hagen
5-year olds 
1. AC-DC (by Apache x Florestan) - Sina Aringer - 8.60
2. Balia  (by Belissimo M x Florestan) - Eva Möller - 8.40
3. Santa Maria  (by Sandro Hit x Ehrenwort) - Nicole Wego - 8.30
4. QC First Look (by  Franziskus x Samarant) - Marita Pundsack - 8.20
4. Top Gear  (by Totilas x Don Frederico) - Isabel Freese - 8.20
6. Quantanamera  (by Quaterback x Damon Hill) - Charlott-Maria Schürmann - 8.10
6. Fürst Oliver  (by Fürstenball x Wenckstern) - Bianca Nowag - 8.10
6. Belaggio  (by Belissimo M x Ehrentanz) - Andrea Müller-Kersten - 8.10
9. Brad Pitt  (by  Bretton Woods x Don Cardinale) - Sandra Kötter - 8.00
9. Der Däne (by Don Olymbrio L x Fidermark) - Nicole Wego - 8.00
9. Bordolino  (by Bordeaux   x Dormello) - Manuel Dominguez Bernal - 8.00
9. Chikoto  (by  Chinook x Likoto xx) - Nicole Wego - 8.00
13. Dakota  (by Dancier x Warkant) - Melanie Tewes - 7.80
14. Deserano (by  Desiderius L x Florestan) - David Leßnig - 7.70
14. Celerina (by Chagall x Davignon) - Claudia Rüscher - 7.70
16. Duvalier  (by  Don Juan de Hus x Belissimo M) - Ann-Christin Wienkamp - 7.60
16. Frida K  (by Fidertanz x Sandro Hit) - Heike Osterkamp - 7.60
18. Thuenenhofs Quenzo (by Quando-Quando x Sandro Hit) - Tassja Janßen - 7.50
18. Apollo HSW  (by Apache x Davignon II) - Philipp Ruwe - 7.50
18. Sir Rubinus (by Sir Donnerhall I x Rubinstein) - ulia Watzek - 7.50
18. Rock Springs (by Rock Forever I x Fidertanz) - Janina Tietze - 7.50
22. Robbie Williams  (by Royal Classic x Fürst Piccolo) - Lena-Alexandra Torloxten - 7.40
23. Félicia (by Fürst Romancier x Don Primero) - Betina Nunnenkamp - 7.30
23. Bonderman (by Belarus x Alabaster) - Claudia Rüscher - 7.30
25. Formel Eins  (by Franziskus x Cornet Fever) - Tanja Fischer - 7.20
26. Tout le Monde  (by Totilas x Londonderry) - Jessie Johansson - 7.10
27. Die Callas (by Desperados x Westernhagen) - Achim Ostermeyer - 7.00
Related Link
Eurodressage Coverage of the 2017 Bundeschampionate