2017 Swedish Dressage Championships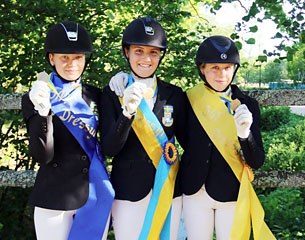 Junior rider Cornelia Pettersson, young rider Cecilia Bergakra Berglund, Under 25 rider Josefin Gyllensward and Grand Prix rider Rose Mathisen became the winners of the 2017 Swedish Dressage Championships in Stromsholm, Sweden, on 3 - 6 June 2017. The Swedish Nationals were a more than action packed event, featuring youth classes with 25 riders each, a group of 15 Under 25s and no less than 27 Grand Prix riders.
At junior riders level  Cornelia Pettersson and her 13-year old Hanoverian gelding Finat Cut (by Federweisser x Carismo) showed strong riding and landed the gold medal and title with an overall of 212.9 points. Petterson finished second in the team test with 70.405%, and won the individual test and kur with 70.351% and 72.100%. New combination Evelina Soderstrom and Hendeliowitz' Grand Prix schoolmaster Weihenstephaner (by Warsteiner x Dwight) earned silver with 207.9 points. Soderstrom and the 19-yearold Swedish gelding won the team test with 70.495%, dropped to 11th place in the individual test with 65.746% and recovered in the kur to a second place with  71.675%. Vendela Eriksdotter Rubin and the 13-year old Swedish mare Lawsonia (by Danone x Landsieger) grabbed the bronze with 207.4 points after scoring 68.694% (4th), 68.465% (3rd) and 70.225% (3rd). 
"I'm so happy with this title and my fantastic horse," said Pettersson beaming with pride. She felt secure that the title was within reach after the first two rounds. "But everything can happen in the freestyle. Then after my ride I had a good feeling about it and we won the final and the Championchip. Final Cut did really well in Stromsholm. He gives me a fantastic feeling every time I ride him. He was with me all the time and especially the trot work was fantastic!"
Pettersson took over the ride on Final Cut from her coach Per Sandgaard a year ago in April, when her coach decided to give a young Swedish star the opportunity to learn from his own horse. "To get all the support from both Per and Pether Markne is the best thing that ever happened to me," Cornelia added. "It's a great team and I'm so happy to be a part of it."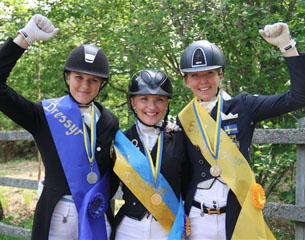 At young riders' level Cecilia Bergåkra Berglund topped the overall ranking but it was a neck to neck race with Sofie Andersson and in the end only a 0.4% point difference separated them from gold and silver. Aboard the 14-year old Swedish mare Primavera (by Don Primero x Figaro L), Bergåkra Berglund was second in the team test (69.974%), won the individual test (70.746%)  and placed second in the Kur to Music with 70.975% to finish on an overall total of 211.7 points for gold. Sofie Andersson and her 10-year old Dutch warmblood CSI (by United x Gribaldi) were second with 211.3 points after a 3rd, 2nd and 1st place over the three rounds. Rebecca Jern and Twiligt, a 17-year old Dutch stallion by Flemmingh x Purioso, started off well by winning the team test, but dropped to fifth in the individual and fourth in the kur to finish with bronze on a total of 208.4 points.
The 15-year old Cecilia Bergåkra Berglund, who also competes at FEI pony and junior riders level, was thrilled to win the young rider's title as one of the youngest in the field.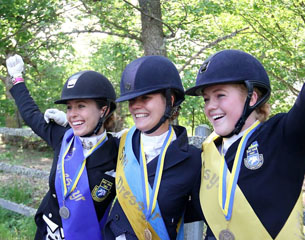 In the Under 25 division the British based Josefin Gyllensward and her 12-year old Westfalian gelding Don Angelo (by Danone x Donnerschwee) were unbeatable as the only pair to score over 70% in all three rounds. She scored 70.7% in the Intermediaire II, 72.6% in the Short Grand Prix and 74.7% in the Kur to Music. With a total of 218 points she landed the Under 25 National title with supremacy. Mathilde Hannel and the 18-year old Swedish mare Deela Mae (by De Niro x Landino) won silver with 212.2 points, while Lina Jonsson and the 16-year old Danish gelding Quentin (by Quattro B x Michelangelo) earned bronze with 208.6 points. 
Gyllensward was ecstatic to have earned the title. " I'm absolutely thrilled with Donald after these three wins! He really is a one of a kind horse. We both loved competing on this amazing arena in front of the castle. It's beautiful! It's been really fun to compete on home soil. We had a super show in Segovia a few weeks ago and we felt confident with that in our back. "
The 25-year old Gyllensward works as a professional rider and coach in the U.K. and is trained by Nicky Barrett. Her coach was not able to travel to Stromsholm but kept up with her student through modern technology.  "Nicky couldn't be here to help me but she still managed to over FaceTime! Thank god for technology sometimes," said Josefin. "On Freestyle day Nicky sat in England helping me in the morning. I'm so grateful for the team around."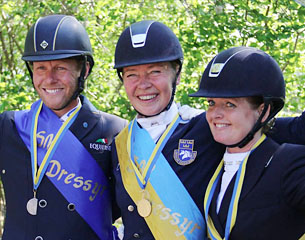 The Big Tour Championships did not present a field at full force with four out of five Olympic team combinations missing. In addition Kittel and his second GP horse Delaunay dropping out after round one as the horse sustained a minor injury in the stall overnight. However, this makes Rose Mathisen's victory nothing less than a strong feat. Mathisen bagged her first Swedish Grand Prix title aboard her number one horse Zuidenwind, a 13-year old KWPN licensed stallion by OO Seven x Jazz, in the 2017 Swedish Big Tour Championships which consisted of just two rounds. The combination placed second in the Grand Prix with 72.860% and won the freestyle with 76.525% to total 149.4 points. Sole Swedish 2016 Olympic team pair - Mads Hendeliowitz and the 13-year old Oldenburg bred Jimmie Choo (by Sandro Hit x Don Schufro) - finished with silver on 144.4 points after scoring  70.080 (3rd) and 74.325% (3rd). Paulinda Friberg and her 16-year old Hanoverian mare Di Lapponia T (by Donnerhall x Argument) slotted in third and got bronze with only a fraction less, 144.2 points, after scoring  69.580% (4th) and 74.650% (2nd).
"We are so happy," Mathisen told Eurodressage. "Zuidenwind felt great today (in the Kur), I was really pleased with him both in the Grand Prix and in the freestyle. I was a bit more nervous today since we were in the lead and i really wanted to stay there. He was more cool than me! I had a great feeling in the test."
Trained by Patrik Kittel and Kyra Kyrklund at Knytkalaset, Mathisen has been riding  Zuidenwind since his sale to Sweden in 2009. Her partner Per Runessons is Rose's eyes on the ground at home. Zuidenwind is owned by Gransbo Stuteri in partnership with VDL stud and both parties have been looking into selling the stallion, but Rose hopes to secure the ride for the future.
"I'm working with sponsors and I really hope we can solve it. It's an amazing horse and I wish more than anything else that I am able to keep him. Out next show is the Nations Cup in Rotterdam and hopefully we're on the team for the European Championship, which is our goal for this season."
Photos © Swedish Equestrian Federation
Related Links
Scores 2017 Swedish Dressage Championships 
Isaksson, Soderstrom, Tovek, Mattsson, Kittel Win 2016 Swedish Dressage Championships
Ivarsson, Mattsson, Kittel Win 2015 Swedish Dressage Championships
Patrik Kittel Wins the 2014 Swedish Dressage Championships
Patrik Kittel Wins the 2013 Swedish Dressage Championships
Eva Ulf Wins 2012 Swedish Grand Prix Championships
Tinne Vilhelmson Wins 2011 Swedish Grand Prix Championships
Tinne Vilhelmson Wins 2009 Swedish Grand Prix Title with Favourit
Tinne Vilhelmson Captures Second Grand Prix Title at 2004 Swedish Championships
Marina Mattsson Wins 2014 Swedish Young Riders Championships