2017 U.S. Dressage Championships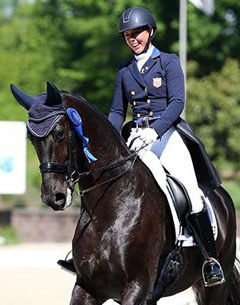 The 2017 U.S. Dressage Championships began Thursday 18 May 2017 at the United States Equestrian Foundation (USET) headquarters at Hamilton Farm. All three national championship divisions performed their first tests to kick off the competition. Kasey Perry-Glass and Goerklintgaards Dublet, Jane Cleveland and Monique, and Molly Paris and Countess began the quest for a title, but their competitors are not far behind them.
Perry-Glass In the Lead in Grand Prix Championship

Perry-Glass (Orangevale, Calif.) and Goerklintgaards Dublet put in a lovely test to win the Grand Prix with a score of 73.700%. Diane Perry's 2003 Danish Warmblood gelding was back in his element after competing at an indoor show for the first time at the World Cup™ Dressage Final. He was relaxed and attentive to Perry-Glass throughout the test to put the pair into the lead following the first leg of the championship.
"It's nice to be at Gladstone at the USET [Foundation] headquarters. They did such an amazing job putting everything together," Perry-Glass said. "I loved my ride. We are working on the small things with him, doing some fine-tuning. I thought he was really focused. I worked a lot with Adrienne [Lyle] the past two weeks. It has been fun to combine her and Debbie [McDonald]'s help together and see what we can get with him."
Adrienne Lyle (Ketchum, Idaho) and Salvino had a flowing performance only a short time into their new partnership, finishing second with a score of 70.600%. Though Lyle has only been competing Salvino Partners, LLC's 2007 Hanoverian stallion for six months, you would not know it. They performed a clean test, showing much promise for the future.
"I was really thrilled with my ride," stated Lyle. "This is only our second big competition with him; we have only done one CDI so far and a handful of shows. So far he has been putting in clean tests, which is great. He seems reliable, and he is always gaining strength. I can still get a lot more brilliance out of him. It is hot today but he still went out there and put a good effort in. I am really happy, it is a good starting place."
When asked if she wished she had not been such a help to Perry-Glass, Lyle laughed and said, "I don't know how much help I have been. We all try and support each other, and it has just been great. We all have in common that we train with Debbie, so it is helpful if 'Mama Bear' is out of town that we can be eyes on the ground for each other."
Olivia LaGoy-Weltz (Haymarket, Va.) and Lonoir performed a smooth test to finish third with a score of 70.400%. After working to develop quietness in her own 2004 Danish Warmblood gelding over the years, LaGoy-Weltz is now working towards putting more spark in the movements to earn higher scores. Her hard work paid off as Lonoir had several strong moments throughout the test.
The Grand Prix combinations earned the first 45% of their overall championship score from Thursday's Grand Prix Test with 40% coming from Friday's Grand Prix Special and 15% coming from Sunday's Grand Prix Freestyle.
Jane Cleveland Wins First Round of the Small Tour Championship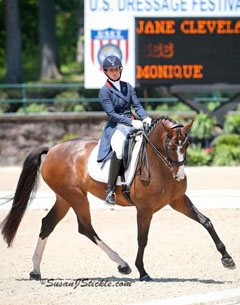 Cleveland (Wellington, Fla.) and Monique had a great performance to win the Prix St. Georges Test with a score of 70.789%. The pair painted a lovely picture aside from one bobble in the change after the medium canter. Cleveland and her own 2009 Danish Warmblood mare aim to improve in their next test on Saturday.
"I had a great test and it was great fun. Monique felt as good as she ever does," Cleveland said. "We haven't shown since February. We had one little mistake that was my fault. I hope to do better on Saturday, but it was a good test, and she knew that it was important and did well."
Lyle scored another second-place finish on Thursday when she and Harmony's Duval scored a 70.605%. Duval Partners LLC's 2008 Dutch Warmblood gelding gave Lyle a great feeling as he kicked off his first national championship appearance. Lyle has brought Harmony's Duval along with McDonald's help and he is showing great promise in his first year competing at the FEI level.
"I could not have asked for anything more of him today. That was the most honest he has felt in the ring," Lyle said. "We have done everything with him after finding him as an unbroken five-year-old in Colorado, so it is extra special to get him here to this venue. I was really thrilled with him. He has only ever shown at [the Adequan Global Dressage Festival], so we haven't shown many places and you never know how they are going to handle it when they come in."
Jennifer Baumert (Wellington, Fla.) and Handsome finished third with a score of 70.158% and are not far behind Cleveland and Lyle in what is shaping up to be an exciting championship. Baumert and Betsy Juliano's 2005 Hanoverian gelding looked quite comfortable in their first Gladstone appearance together and aim to deliver another solid performance in Saturday's test.
The Intermediaire I combinations earned the first 40% of their overall championship score from Thursday's Prix St. Georges Test with 45% coming from Saturday's FEI Intermediate I Test and 15% coming from Sunday's FEI Intermediate I Freestyle.
Paris Wins Under 25 Intermediaire II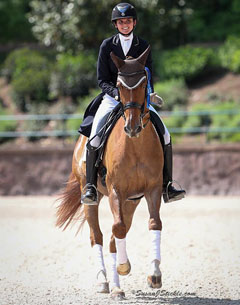 Molly Paris (Charlotte, N.C.) and Countess were the last combination to go down centerline on Thursday and they did not disappoint, winning the FEI Intermediate II Test with a score of 67.079%. Paris and her own 2002 Danish Warmblood mare are in their second year of competing in the U25 classes and have developed into a solid combination. Paris is hungry to best today's strong performance.
"My mare came out as good as she could," Paris said. "There is still room for improvement but I am super thrilled with how the day went."
Kaitlin Blythe (Rougemont, N.C.) and Don Principe performed a fluid test to finish second with a score of 66.684%. Blythe and Maryanna Haymon's 1999 Hanoverian stallion's performance started with an error of course after they came down centerline at the beginning, but they quickly got back on track to show several quality movements.
"I'm really thrilled with my horse. He tried really hard in the heat," Blythe said. "I'm very disappointed in myself for turning the wrong way, but I am really happy with how hard my horse tried for me. He's a wonderful, wonderful horse."
Natalie Pai (Wellington, Fla.) sensed some tension during her ride with Unlimited, but she was able to guide him through a respectable test. Pai and Peacock Ridge, LLC's 2001 KWPN gelding also had a minor bobble, but recovered to finish in third place with a score of 66.447%
- USEF press release, edited by Eurodressage
Photos © Sue Stickle
Related Links
Scores 2017 U.S. Dressage Championships 
Performance Farms Sponsors Live Stream Coverage of 2017 U.S. Dressage Championships
Wild Card Entries Add Glamour to 2017 U.S. Dressage Championships
Qualified Combinations for 2017 U.S. Dressage Championships Announced