2017 U.S. Dressage Championships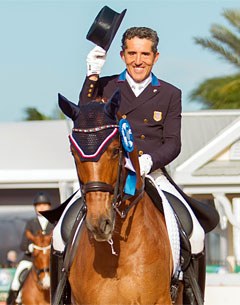 The iconic U.S. Dressage Championships, also known as the Festival of Champions, is back at the historic Hamilton Farm, headquarters of the United States Equestrian Team (USET) Foundation, in Gladstone, New Jersey. The 2017 competition will be held on May 18–21 and streamed live through USEF Network at www.usef.org/network thanks to the generous sponsorship of Performance Farms.
 The U.S. Dressage Festival of Champions is one of the country's most celebrated dressage competitions and U.S. Pan American Games Dressage Team Gold medalist Dr. Cesar Parra is doing his part to make sure that no one has to miss it. Those unable to attend this year's spectacular event at the beautiful Hamilton Farm can view the competition through live streaming that will be sponsored by Parra's Performance Farm.
Parra is grateful for the opportunity to share the Festival of Champions experience. Performance Farms' New Jersey facility is located very near the USET Foundation's headquarters at historic Hamilton Farm.
"This is such a special competition with nation's top athletes competing in such a beautiful setting," Parra explains. For Parra himself, Hamilton Farm holds a very significant place in his heart, as it was the site of Parra's first win after becoming a U.S. citizen in 2008. "It was such a special experience, finally, being able to compete in a National Championship wearing the colors red, white, and blue," said Parra with pride.
The U.S. Dressage Festival of Champions will draw top horse-and-rider combinations from across the country to compete for the three coveted championship titles. Prizes will be awarded for the U.S. Grand Prix, Intermediaire I and Under 25 National Championship.
Performance Farms, founded and owned by Dr. Cesar Parra, is no stranger to top-level dressage competitions. Performance Farms is known for its horses and riders' consistent record of excellence. Most recently, the Performance Farms team accumulated high scores and first place titles throughout the levels at the 2017 Global Dressage Festival series in Wellington, Florida.
Performance Farms consistently supports not only its own riders, but also the advancement of the sport of dressage as well. It was an easy decision to help give back to U.S. dressage by sponsoring the opportunity for horse enthusiasts to see the beauty of dressage via USEF Network live streaming of the Festival of Champions. "If they couldn't come to the event, I wanted to bring the very special event to them," said Parra. 
Performance Farms produces horses and riders that earn prestigious accolades both nationally and internationally. During the spring and summer of 2017, Parra and his team – with locations in Jupiter, Florida, and Whitehouse Station, New Jersey – invite riders to learn more about training and horses offered for sale by following the Piaffe Performance official Facebook page or visiting www.Piaffe-Performance.com.
Related Links
Wild Card Entries Add Glamour to 2017 U.S. Dressage Championships
Qualified Combinations for 2017 U.S. Dressage Championships Announced
2017 U.S. Grand Prix Championships Move to Gladstone
Parra's Don Cesar Take First Steps in 7-Year old Division, Ermelo as Goal
Piaffe Performance Rocks the Florida Circuit with Another Successful Winter Competition Season Underway
Dr. Cesar Parra Sworn in as U.S. Citizen